Celtics
How an ESPN Red Sox documentary helped spur the Celtics' comeback against the Heat
"It definitely left a lasting impact for me for not just this series, but throughout the rest of our career."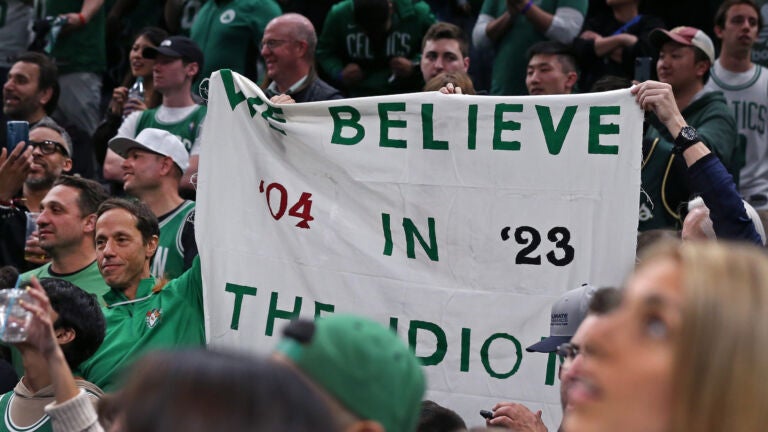 With the Celtics mired in an 0-3 deficit against the Heat in the Eastern Conference Finals, Joe Mazzulla and his staff turned to a fan-favorite film in the Boston sports world in search of inspiration.
No, not "The Town."
Speaking just ahead of Monday's decisive Game 7 showdown against Miami, Mazzulla confirmed that the entire Celtics team watched "Four Days in October", the ESPN 30 for 30 documentary about the 2004 Red Sox and their improbable comeback against the Yankees in the ALCS.
"Just the staff's idea, the assistants," Mazzulla said of the team's plan to watch the film after a Game 3 loss to Miami. "I thought it gave perspective. I thought it gave a sense of inspiration and hope. Gave us an opportunity to fight to be in the position we're in today."
The 2004 Red Sox were the first team in MLB history to successfully erase an 0-3 hole in a playoff series, surging back to beat New York en route to their first World Series title in 86 years.
The 2022-23 Celtics are looking to follow a similar script. If Boston can snuff out the Heat at TD Garden on Monday evening, they will be the first team in NBA history to come back down 0-3 and win a playoff round.
"It was beautiful," Marcus Smart said of watching the documentary, per CLNS video. "It was definitely special to watch, special to witness. To be able to have an opportunity to go out there and have our own little 2004, so we'll see."
Be it words of encouragement from '04 Sox stalwarts like Kevin Millar and David Ortiz, or Smart and Jaylen Brown echoing a familiar "Don't let us win one" mantra as they've climbed out of this deficit, the C's seem poised to repeat history.
Grant Williams, who was just five years old when the Red Sox orchestrated their comeback against their Bronx-based nemesis, admitted that he didn't know much about that '04 squad before watching "Four Days in October."
"It just puts a certain level of fire to your heart," Williams said of the film. "It's possible. It's not only something that's possible, but it's something that we know that we can accomplish as a group. We know that we're not only going to compete with one another but we're also going to push one another to our goal and our success. It definitely left a lasting impact for me for not just this series, but throughout the rest of our career."
Newsletter Signup
Stay up to date on all the latest news from Boston.com