Celtics
Kendrick Perkins, Stephen A. Smith believe that the Celtics should trade Jaylen Brown for this superstar
"It's time to break Jaylen Brown and Jayson Tatum up."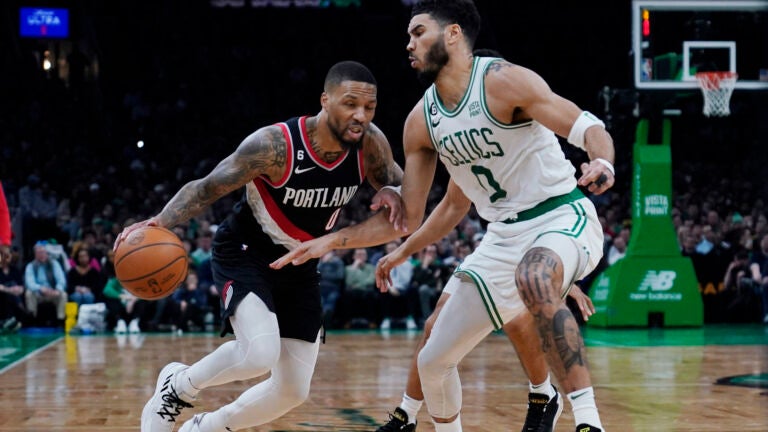 The Celtics will have plenty of questions to address this summer.
Beyond Joe Mazzulla's status and the potential tinkering of the roster, Brad Stevens and Boston's front office might need to confront some hard truths over whether or not this current core can win a title together.
And after Boston's letdown performance in Game 7 against the Heat, ESPN's Kendrick Perkins and Stephen A. Smith both believe that the Celtics need to add another superstar next to Jayson Tatum.
Speaking on ESPN's Sportscenter on Monday night, Perkins believes that the time is now for Boston to trade Jaylen Brown — especially if it lands a star talent currently out West.
"It's time to break Jaylen Brown and Jayson Tatum up," Perkins said, as transcribed by NESN.com's Adam London. "Jaylen Brown was horrible tonight — eight turnovers, 8-for-23 from the field. Jayson Tatum, hurt. This is the time he's supposed to step up. I just don't know, if you're the front office of the Celtics, how much longer you're going to be patient with this duo.
"There are going to be guys out there that are going to be somewhat on the market, like a Trae Young and a Damian Lillard. Brad Stevens and Wyc Grousbeck are going to have to take a hard look at whether or not they want to bring Jaylen Brown back and pair him up with Jayson Tatum, which I think they shouldn't. I think they should go out there and try to get a Damian Lillard, and if they fall short of getting him, go get a Trae Young. But I think it's time to end this relationship right now."
Smith echoed a similar sentiment when it came to both Brown's future in Boston and the C's potential contingency plan in Lillard.
"He's just not your number-one option," Smith said of Brown and his potential supermax contract on Tuesday's "Get Up" ESPN program. "That kind of money is reserved for the number-one guy. … I mean, there's a guy by the name of Damian Lillard in Portland. I wouldn't mind getting somebody like him who's a closer by the way. Who's a point guard as a closer, who's a sniper, we got all of that stuff going for ourselves if you're Damian Lillard. Obviously he's older than Jaylen Brown.
"But Jaylen Brown, I think the real challenge is that he has aspirations for being that number-one guy and that is never going to happen with Jayson Tatum. … Either you get an abundance of players, which I don't think is necessary, or you get a superstar-caliber sniper like Damian Lillard to come to Boston in return for his services. If I'm the Boston Celtics, I'm looking at something along those lines — rather than giving [Brown] $59 million, which is more than Damian Lillard is making at this moment in time."
Even though Lillard offers plenty of intrigue in terms of his lofty resume and standing as a sharpshooting point guard, there is plenty of risk involved with such a blockbuster move.
Lillard's skillset could complement both Tatum and the Celtics as a whole, but Boston will still likely be in a cap crunch if it ever managed to pull off such a trade.
Yes, Lillard's deal isn't as hefty as Brown's potential supermax contract (five years, up to $295 million), but the veteran is still accounting for cap hits of $45.6 million and $48.7 million over the next two seasons.
And with Lillard turning 33 in July, the Celtics swapping out Brown for an aging point guard like him offers plenty of risk.
As promising as Kemba Walker was with Boston as a capable point guard capable of sinking shots, the Celtics are well aware that things can off the rails in a hurry with smaller guards with tons of mileage tacked onto them.
Of course, it also remains to be seen if Portland would even want to trade Lillard in a deal with Brown, rather than offer a package of assets like the No. 3 pick in the 2023 NBA Draft and Anfernee Simons.
For what it's worth, Tatum vouched for Brown to remain in Boston for the foreseeable future following Monday's loss.
"He's one of the best players in this league," Tatum said of his teammate. "He plays both ends of the ball and still is relatively young. And he's accomplished a lot so far in his career."
But it's still unclear about whether or not Brown himself wants to play with the Celtics for next five or more seasons.
"I expected to win today and move on," Brown said of his future plans on Monday. "That's what my focus is on, that's what my focus has been on. We failed, I failed, and it's hard to think about anything else right now. We'll cross that bridge when we come to it."
Sign up for Celtics updates🏀
Get breaking news and analysis delivered to your inbox during basketball season.
Newsletter Signup
Stay up to date on all the latest news from Boston.com