Celtics
Both the Bruins and Celtics made history this spring. Just in the worst way possible.
"It just feels like a nightmare, to be honest. I just wish it would end."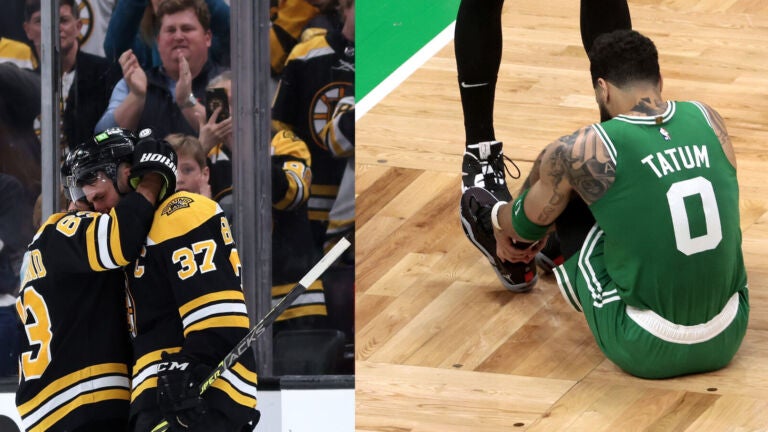 COMMENTARY
It felt all but inevitable, didn't it?
Yes, few things are guaranteed in sports — especially when it comes to championship aspirations.
But for most of the last few months, a trophy being hoisted over the parquet floor or frozen sheet at TD Garden appeared to be written in the stars.
Both of Causeway Street's top tenants were building toward a spring playoff push for the ages.
The Bruins, spurred by the returns of Patrice Bergeron and David Krejci, were more than just a feel-good story. They were a juggernaut, steamrolling their way to a league-record 65 wins and 135 points over 82 games.
The Celtics, anchored by their superstar duo of Jayson Tatum and Jaylen Brown, were primed to atone for last season's crushing Finals loss to the Warriors.
Arguably the most talented squad on paper, a path through the Eastern Conference cleared up in mid-April after Giannis Antetokounmpo and the top-seeded Bucks fell to the No. 8 Miami Heat.
Plenty needs to go right for a team to win an NBA championship or lift the Stanley Cup. Few sports spheres have had the luxury of taking home two titles in the same spring.
But even a city whose fandom is often grounded by battle-tested pessimists — or perhaps weary realists is the apt term — started to believe that history was going to be made this spring.
Sure enough, history was made at TD Garden over the last month.
Just not the type of history that Bostonians were expecting.
As the final seconds mercifully ticked off the clock at TD Garden, the Celtics joined the Bruins in rare, miserable company.
As noted by John Hollinger of The Athletic, Boston became the first city to have BOTH its hockey and basketball team lose a Game 7 at home to an eighth-seeded opponent in the same season.
It was a catastrophic ending to a pair of campaigns crafted with so much promise.
The similarities in the team's respective downfalls carry over to the foes that vanquished them — and the manner in which Joe Mazzulla and Jim Montgomery's teams let go of the rope.
Both the Panthers and Heat hail from the same market … and both have carved a path to their respective championship rounds as scrappy underdogs. You can make the case that both the Panthers and Heat were under-seeded sleeping giants, sure.
But that stands as little relief to a pair of Boston-based teams who looked invincible for extended stretches this winter, especially with baffling lineup decisions, self-inflicted turnovers, and an aversion to necessary adjustments later dooming both rosters.
But which loss was more crushing? An overtime debacle on April 30 — or the collective no-show on the court Monday?
For most fans, it's a query akin to asking if David Tyree was worse than Buckner or Boone. They all sucked.
But in terms of the long-standing consequences and the pained sentiment of "What could have been?"
It's hard to overlook just how devastating the Bruins' first-round exit to Florida was, especially upon glancing ahead at the future.
Make no mistake, Celtics fans have plenty to harp on as far as their team's downfall.
Unlike the Bruins, the C's actually made it to the brink of a championship appearance once again.
What once was a disheartening 0-3 series deficit against Miami morphed into a cathartic revisitation of the 2004 Red Sox — the group of "idiots" who made believers out of many of us.
That hope of another improbable comeback was snuffed out with each 3-point shot that clanged off the rim on Monday night.
The impact of both Derrick White's heart-stopping, game-winning tip-in on Saturday night and Tatum's 51-point masterclass in Game 7 against Philly will be muted, given the end result.
But for all of the questions regarding Jaylen Brown's future and other looming offseason moves, this Celtics team still has the roster in place to contend for the foreseeable future.
"We've shown that we can get there. I mean, [expletive] — we get to the Conference Finals, it's my fourth time in six years," Tatum said on Monday. "I've been to the Finals once. We know we had a special opportunity this year. We just fell a little bit short. It's not like we're not capable, we don't have the talent, you know, we do. Just didn't go our way this year."
Despite the steep financial commitment that comes with handing both Tatum and Brown supermax contracts, any roster anchored by two All-NBA wings both under the age of 27 is a situation that most teams envy.
It remains to be seen if Brown wants to commit to said contract, or if Boston's front office is the one that wants to dole out that money.
Still, the Celtics are going to be fixed near the top of the Eastern Conference for years to come.
That same fate is not guaranteed for the Bruins, who went all-in this season in hopes of sending off both Bergeron and Krejci with a title.
Unlike the Celtics, the Bruins' season ended just seven games into their playoff run.
Perhaps it was better for the Bruins to just rip off the band-aid right away, as opposed to the Celtics' propensity to put their fans through an up-and-down roller coaster every spring.
But a first-round exit only further stresses what a momentum waste this season was, especially for a team that rewrote the record books and will likely scoop up numerous individual accolades next month.
As we noted before, the Bruins should still be competitive in 2023-24, even amid a cap crunch and uncertainty regarding their top-six pivots.
A core featuring a 60-goal scorer in David Pastrnak, two Norris Trophy contenders in Charlie McAvoy and Hampus Lindholm and at least one (if not both) of Linus Ullmark and Jeremy Swayman in net is a good base to work with.
But even if the Bruins do continue to surge up in the standings next winter, those surprising returns from October through April will be met with skepticism by many fans who saw those record-setting performances amount to nothing when the stakes really mattered.
Add in the fact that Carter Verhaeghe's OT dagger in Game 7 also potentially sealed the final season for both Bergeron and Krejci in a black-and-gold sweater? Yuck.
"It's a shock. It just feels like a nightmare, to be honest. I just wish it would end," Charlie Coyle said. "You just replay stuff over and over in your head, could have closed it out here, could have closed it out there. It's how it happened. It's unfortunate, and you wish we could go back, but you can't. … It's just a shame. You feel for everyone, but there's certain individuals you really feel for.
"We wanted to make the most of this great opportunity, and we gave ourselves a great opportunity this year. I don't think a lot of people expected the season we had. Then we grew it. We believed, and all of the sudden, we had this big opportunity, and we had some big goals, and we came up short."
Regardless of the roster moves struck over the offseason, hope will flicker again in September when the doors open once again at the Auerbach Center and Warrior Ice Arena. It's part of the inevitable cycle of sports.
Maybe a pair of titles for the Heat and Panthers offer up optimism that simply punching one's ticket to the playoffs gives you as good a shot as anyone next spring.
But let's face it. This is Boston.
It's a city that hangs onto its crushing defeats almost as much as its triumphs.
And a pair of Cinderella runs orchestrated down in Florida will do little to assuage a fanbase that believed it was penning its own storybook ending this past spring.
Sign up for Bruins updates🏒
Get breaking news and analysis delivered to your inbox during hockey season.
Sign up for Celtics updates🏀
Get breaking news and analysis delivered to your inbox during basketball season.