Celtics
Celtics' season comes to an abrupt, painful end: 9 takeaways from Game 7
The Celtics failed to make history on Monday.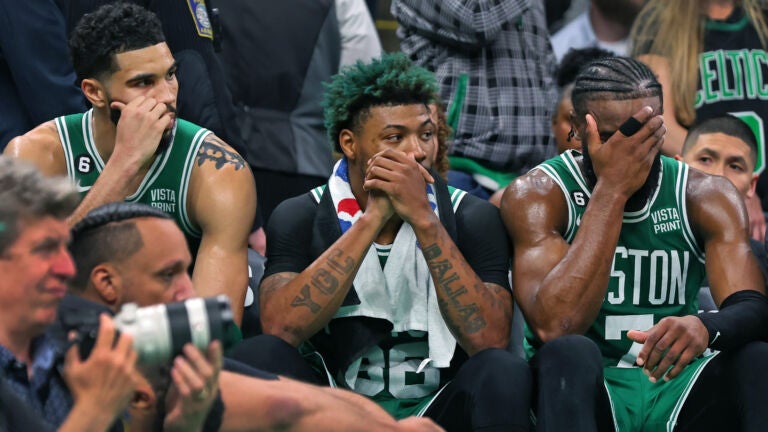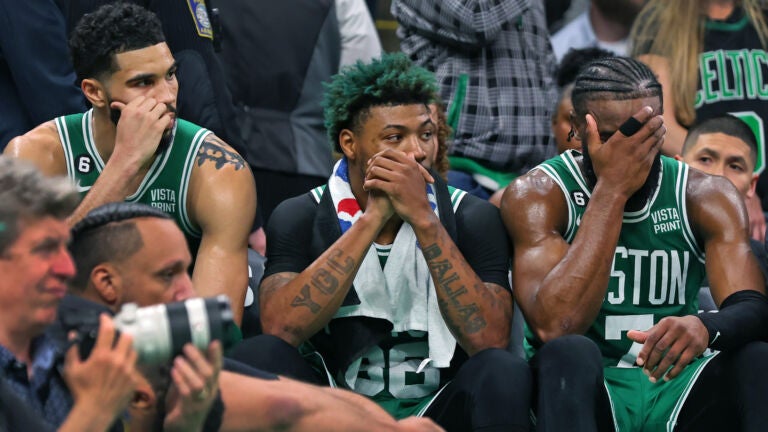 The Celtics dropped Game 7 to the Heat in devastating fashion, falling 103-84 as their shot at both history and the NBA Finals came to an end.
Here are the takeaways.
1. The Celtics' season ended in perfect, microcosmic fashion — right on the verge of something special, but unable to take the final step into history.
All season, the Celtics felt like a team that should be great but never quite got there after their torrid start. They were inexplicably mediocre against the Hawks. They needed seven games to beat the 76ers. And, of course, they dropped two games at home to a Heat team that couldn't match their firepower.
On some level, it's difficult to blame the Celtics for being unable to overcome a 3-0 deficit in the same way it's difficult to blame them for not winning a title. After all, it's historically difficult to do both things. Teams have tried throughout NBA history to rally after going down 3-0, and none have ever done it. Only one out of 30 teams every year can win it all.
But Monday's loss — and the path to the Finals the Celtics stepped off as a result of it — will stick with this team for a long time. The Celtics have had a few of those games in recent years.
2. Maybe the most consequential moment of the game was the first play, when Jayson Tatum jumped and landed on Gabe Vincent on his way down. Tatum's ankle bent in a nasty direction, and he took a minute to try to collect himself.
But the Celtics' star never really got on track after that, clearly hobbling all over the floor on both ends. The brutal truth for the Celtics is that while a number of things went wrong, they had almost no chance of winning as soon as it became clear Tatum would be limited the rest of the game. He ended up with 14 points on 5-for-13 shooting, and every movement he made looked painful and strained.
3. For Tatum, the ankle was the obvious reason for his struggles.
Jaylen Brown gets no such pass for playing perhaps the worst game of his career in perhaps the biggest moment. The Celtics needed him badly with Tatum hobbled, and Brown responded by shooting 8-for-23 from the field, 1-for-9 from behind the arc, and just 2-for-2 from the free-throw line.
But all of Brown's struggles were somehow secondary to his worst stat of the game: Eight turnovers. Brown simply can't dribble against the Heat's defense, which killed a Celtics team that needed a calming presence.
Brown's future will be a topic of significant interest around the league as soon as the offseason begins. He enters a crucial summer from a contract perspective with a lot to think about personally, and he has given the Celtics' decision-makers a lot to consider as well.
4. The Celtics were 0-for-9 from 3-point range in the first quarter and scored just 15 points, their lowest-scoring quarter of the season. That set the tone for a horrendous performance from behind the arc — 9-for-42, nearly as bad from a percentage perspective as their 7-for-35 shooting in Game 6.
The Celtics went way out of character and survived one awful shooting performance thanks to Derrick White's heroics. They couldn't survive a second.
5. White did his best in the third quarter, dragging the Celtics back into the game with a flurry of baskets and closing the gap to six on multiple occasions. With Tatum limited and Brown turning the ball over every time he touched it, the Celtics needed a player to try to take over and run the offense, and White assumed the mantle for a bit.
But White, of course, isn't as dynamic as Tatum or — in an ideal world — Brown. You can't help but feel for White, who would have had one of the most iconic moments in the storied history of the Celtics if Monday's game went differently. Instead, his put-back becomes a footnote.
6. Malcolm Brogdon, of course, would have been a great candidate to help the Celtics out with Tatum struggling, but he too was hardly himself — he was listed as available after sitting out Game 6 with a partial tear in his right elbow, but he only played 7:05 and missed both of his 3-point attempts. Those seven minutes were probably about five too many — it was clear very quickly that the NBA's Sixth Man of the Year wasn't healthy enough to help much, and his presence quickly became a significant negative.
7. Jimmy Butler was named the Eastern Conference Finals MVP after the game, which is kind of ridiculous since his inability to score in Games 5 and 6 was a big reason the Celtics got themselves back into the series. Caleb Martin was a far more consistent performer, and his impact was certainly equal to — and, for our money, greater than — the impact of Butler.
Butler finished with 28 points, seven rebounds, and six assists in the close-out game. Martin scored 26 and knocked down 4-for-6 from behind the arc.
8. Robert Williams played well in just 14 minutes, but he went to the locker room twice in the first half. He finished with eight points and six rebounds in his limited minutes.
9. There will be a lot of time to eulogize the Celtics and wonder about their future. For tonight, we won't belabor the point. The Celtics had a real chance at history. They couldn't get the job done for a number reasons — some of them their fault, some not, and some a direct result of a Heat team that has played better in the postseason than makes any sense whatsoever.
"I thought they showed a lot of character for even getting to this point," Joe Mazzulla said of his players after the game, which is true. But Monday's loss, and the myriad things that went wrong in it, showed how important it is to take care of business long before it is necessary to have the requisite character for a historic rally.
CORRECTION: An earlier version of this story had Jayson Tatum with 21 points. He had 14. Boston.com regrets the error.
Sign up for Celtics updates🏀
Get breaking news and analysis delivered to your inbox during basketball season.