Celtics
Jaylen Brown: 'We failed. I failed. We let the whole city down'
"Just a terrible game when my team needed me most"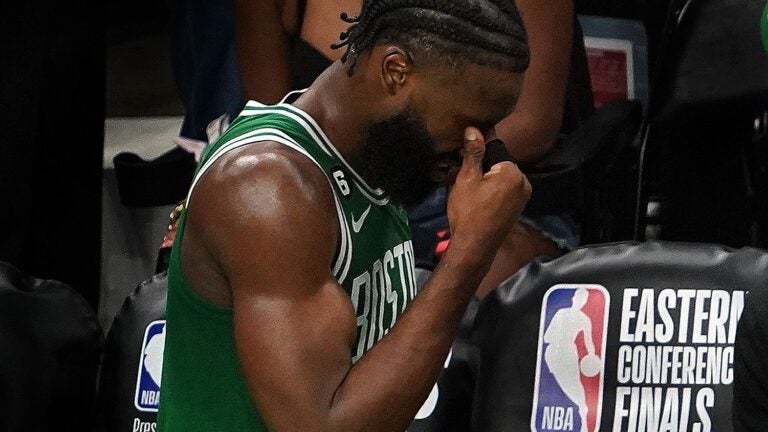 Jaylen Brown sat and rubbed his face as he prepared for postgame questions after notching a career-high eight turnovers in a season-ending loss.
The Georgia native wore an Atlanta Braves cap turned backwards, but he spoke about how he and the Celtics disappointed the rowdy crowd that showed up for Game 7 in Boston.
"We failed. I failed. We let the whole city down," Brown said.
Jayson Tatum hurt his ankle in the first quarter and was clearly hobbled throughout the game. Brown attempted to shoulder the scoring responsibilities, taking 10 more shots than any other Celtic.
"Just a terrible game when my team needed me most," Brown said. "JT hurt his ankle first play of the game and you could see it swelling up on him. He couldn't move out there. It was tough on him. My team turned to me to make plays and I came up short."
Brown finished 8-23 from the field, including 1-9 from three. He had three more turnovers than assists. The Celtics' offense stagnated while he was in attack mode and failed to generate enough open looks to catch up to Miami.
Boston's 84 points were the lowest it scored in a game all postseason.
"Offensively, it just seemed like we couldn't hit a shot," Brown said. "It put more pressure on our defense. We had a bunch of good looks and nothing went in. We all have to sit back and reflect on that."
Brown has one more season left on his contract with the Celtics before becoming a free-agent next summer. Having made an All-NBA team, he is eligible for a supermax extension.
But after finishing the postseason with nearly as many turnovers as assists, Brown didn't offer many details on what his future plans are.
"I expected to win today and move on," Brown said. "That's what my focus is on, that's what my focus has been on. We failed, I failed, and it's hard to think about anything else right now. We'll cross that bridge when we come to it."
The Celtics fought hard after they fell into a 3-0 deficit against Miami. They won three games in a row and fell one win short of becoming the first team to come back from being down 3-0 in the NBA playoffs.
"It's hard to pull anything else from this situation," Brown said. "But it's been a blessing to play the game of basketball to this point. One game from the Finals. It stings, like incredibly. It's hard being up here talking about it."
Sign up for Celtics updates🏀
Get breaking news and analysis delivered to your inbox during basketball season.
Newsletter Signup
Stay up to date on all the latest news from Boston.com