Celtics
Celtics' Jayson Tatum on impact of ankle injury in Game 7 loss to Heat: 'I was kind of like a shell of myself'
"He wasn't as explosive. The ankle was really killing him."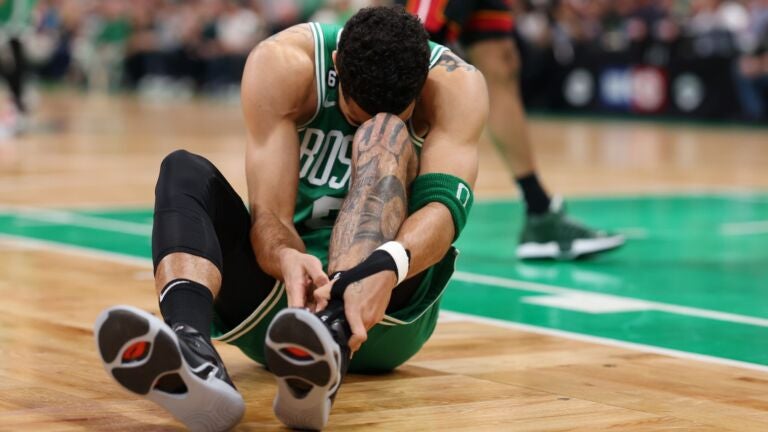 It didn't take long for a raucous and rabid TD Garden crowd to be silenced on Monday night.
Just 34 seconds into a decisive Game 7 against the Heat, the Celtics' top star in Jayson Tatum dropped to the parquet floor in pain.
While trying to euro-step past Miami point guard Gabe Vincent, Tatum rose up and rolled his ankle on the landing.
Even though he remained in the game, the damage was done for the All-NBA forward.
"I saw the video, I saw it after the game that I came down on my ankle. It's tough, because it kind of impacted me the rest of the night," Tatum said following Boston's season-ending 103-84 loss to the Heat. "It swelled up and it was just frustrating that I was kind of like a shell of myself. It was tough to move. It was just frustrating, especially that [expletive] happened on the first play."
On a night where Boston's offense was stuck in the mud due to stagnant 3-point shooting and a lack of contributions across the depth chart, the Celtics needed another masterclass from Tatum to keep their title hopes alive.
But with that ankle hindering him, the 25-year-old Tatum struggled to gain any sort of consistency on the court. During his 42 minutes of action, Tatum only sank five of his 13 field-goal attempts en route to just 14 points. Just one of his four 3-pointers swished into the net.
His defensive fortitude might have taken an even greater hit due to his hindered mobility. Whether it be Jimmy Butler (28 points), Caleb Martin (26 points) or smaller Heat regulars like Vincent (10 points), Miami managed to capitalize against a hobbled Tatum throughout the night.
Despite the obvious optics of Tatum's physical limitations, he wasn't looking to make excuses for his own performance and the brutal timing of his injury.
"I mean, I don't want nobody to feel bad for me," Tatum said. "Unfortunately, injuries are a part of this game. I've been fortunate enough, up until this point I never missed games. I played 95 percent of the games since I've been in the league.
"Top two in minutes since I've been in the league. It just was an unfortunate fall tonight on the first play of the game. Something I was trying to battle through throughout the game."
Even though Tatum didn't try to look for sympathy despite the poor circumstances involving his ankle, his teammate in Marcus Smart stressed that Tatum's injury easily could have sidelined him right from the jump.
"He could have came out the game," Smart noted. "He stayed in, he tried to fight. Obviously, you can see he wasn't himself. He wasn't as explosive. The ankle was really killing him. He tried to fight, it just didn't go in his favor. It didn't go in any of our favors but we continued just to fit and help him and try to get through.
"Then [Derrick White] goes out with a knee injury as well and then obviously we know about Malcolm. So, it's tough. At the wrong time. But it's part of the game. Certain things you can't control and getting hurt like that is nothing you can control. So, it just happened at the wrong time."
Tatum's injury was a brutal bout of luck for a Celtics team looking to make history as the first NBA squad to successfully claw back from an 0-3 series deficit.
But even with their star at far less than 100 percent, Boston sealed its fate off of miscues far greater than a bit of ill-timed misfortune with a sprained ankle.
"I mean, you can't go through life talking about what you could have, you should have done," Tatum said. "[Expletive] happens and the past is the past. We fought like hell to give ourselves a chance today. Just not the outcome that we anticipated."
Newsletter Signup
Stay up to date on all the latest news from Boston.com