Celtics
The Celtics' ongoing identity crisis doomed them once again in a season-ending loss
"Even if you're missing shots, you have to lock in on the defensive end."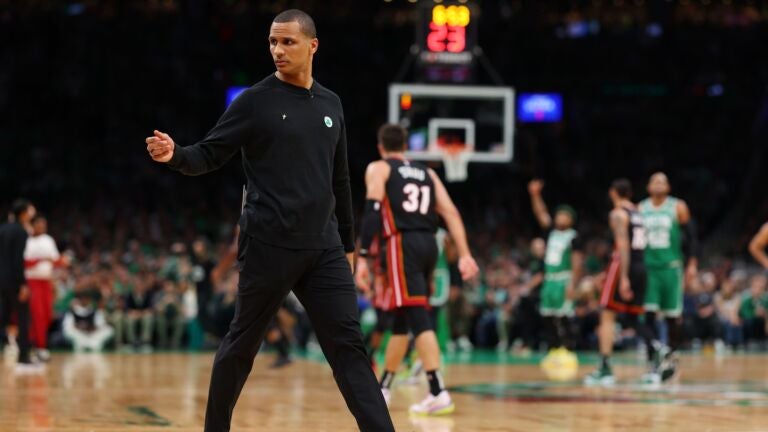 Joe Mazzulla is often a man of few words when fielding questions up at the podium.
But when asked if his team became too reliant on the 3-point shot this season, the Celtics head coach offered absolutely no room for interpretation on Monday night.
"No," Mazzulla declared after Boston's season came to an end in the Eastern Conference Finals.
It comes as little surprise that Mazzulla doesn't plan to steer away from the Celtics' commitment to chucking up shots from deep.
After all, it stood as the center of Mazzulla's revamped offensive game plan this year. Boston ranked second behind only Steph Curry and the Golden State Warriors in 3-point attempts per game (42.6) during the regular season.
And with a deep roster fully capable of sinking shots from that range, the results often spoke for themselves.
The Celtics developed into an offensive juggernaut in 2022-23, ranking second in the league in offensive rating (117.3) behind the Kings. They set a franchise record for most threes made (1,315) and posted a record of 38-2 this season in games where they sank at least 40 percent of their 3-point shots.
But as dominant as Boston's offense was under Mazzulla, it had a fatal flaw.
Unless your team is anchored by two of the game's greatest shooters ever in Steph Curry and Klay Thompson, a squad that lives and dies by the 3-point shot is very susceptible to regression and a wide variance in terms of production.
And in Game 7 against the Heat, Boston's commitment to lofting up shots from 3-point range doomed them in a season-ending 103-84 defeat.
Over the final two games of the Eastern Conference Finals, the Celtics shot just 16-of-77 (20.8 percent) from 3-point range.
The Heat? 28-of-58 (48.3 percent) from the same area of the court.
Don't forget that the Heat shot just 34.4 percent from 3-point range during the regular season, good for 27th overall in the league.
While many teams have the talent to sink 3-pointers with regularity, it's a risky way to augment your entire offensive scheme.
And even though Mazzulla doesn't seem willing to budge, the same can't be said for guard Malcolm Brogdon.
Relying on shots to consistently fall from deep over a seven-game series is far from a guarantee. But a team identity rooted in a stingy defense?
That's usually a style of play that's much easier to fall back on, especially when shots aren't falling your way.
"I think this was a team in the last year that prided themselves on defense. I think defense was our calling card," Brogdon said postgame. "This year offense was our calling card. I don't think you win championships with a high — with a better offense than you have a defense. I think pretty much we were the best offensive team in the league, for sure.
"Depth, you can talk about the ways we can score, our versatility on offense, really 1 through 7, 1 through 8. But defensively, I thought we had the versatility, I thought we have the talent defensively. But in any given night we would let go of the rope and have a lot of breakdowns on that end."
The Mazzulla-led Celtics needed to relinquish some of their defensive fortitudes in order to develop into a 3-point shooting machine this year.
The baseline numbers seemed digestible, with Boston still ranking fifth in the NBA during regular-season play in points allowed per contest (111.4). Still, it was a sizable step down from the defensive intensity deployed under Ime Udoka last season, when Boston coughed up just 104.5 points per game.
And when Boston's 3-point salvos weren't swishing into the net during the playoffs, the C's had little to fall back on in hopes of grinding out wins. Of the 16 teams that punched their ticket to the postseason, the Celtics ranked 10th overall in defensive rating (112.9) this playoffs.
"We're at our best, these last three games besides tonight, when we're locked in on the defensive end," Jayson Tatum said postgame. "We showed how special we can be as a unit. We didn't shoot the ball well, but that's part of it. Being in this league, offenses fluctuate from night to night, but defenses can always, for the most part, maintain. Even if you're missing shots, you have to lock in on the defensive end."
Barring a move at the coaching position, it's safe to assume that the 2023-24 Celtics will continue to fire away from 3-point range.
With the personnel they have in place, it's to be expected for Mazzulla to once again lean on that area of the game in search of production.
But make no mistake. This team has the same personnel at the ready to make a sizable impact down the other end of the court — night in and night out.
It all comes down to whether or not Mazzulla and Co. want them to play that way.
"I think defensively is where the difference is for us more than anything, whether or not you make shots," Brogdon said. "That was a game, whether or not we made shots, if we got stops, we could stay in that game. That's not a team that's going to score 120 points. It's not a team that's going to get out in transition and beat you that way.
"They're going to slow the game down and play in the half court. So, if we can get stops, that's a game we can stay in, even if we're not making shots. But the fact of the matter is we didn't get stops. That ultimately was the death of us."
Sign up for Celtics updates🏀
Get breaking news and analysis delivered to your inbox during basketball season.