Celtics
NBA insider says he'd be 'stunned' if the Celtics traded Jaylen Brown
Brian Windhorst expects Jaylen Brown to remain a Boston Celtic.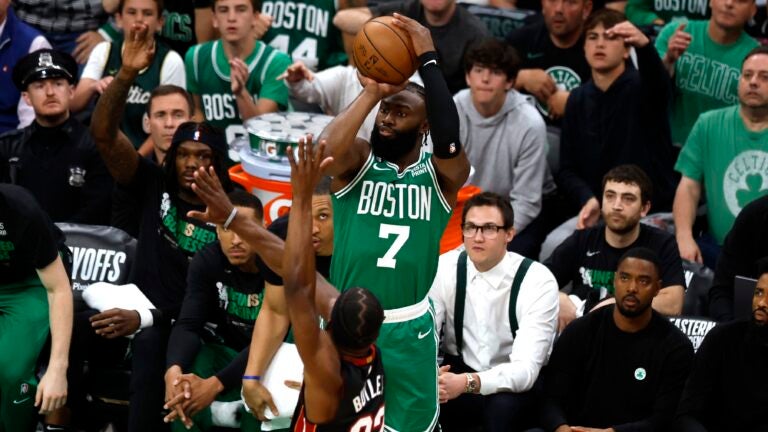 Jaylen Brown has one year left on his deal with the Celtics and is eligible to sign a supermax extension next summer if it is offered to him.
But, after an atrocious performance during the Eastern Conference Finals, there are questions about whether Boston should offer him that kind of money.
However, ESPN's Brian Windhorst and Tim Bontemps agree that the Celtics should offer the deal to Brown.
"I think he's getting the money, just so you know," Windhorst said during an episode of his podcast. "I'm not taking a position against that. It's just that today is a hard day to talk about it."
Brown had more turnovers (25) than assists (24) during the Conference Finals. When Jayson Tatum hurt his ankle, Brown took on more of the scoring responsibility and ended up going 8-23 with eight turnovers. Bontemps pointed to Brown's age as a reason for keeping him.
"It's tough. He had a bad, bad series," Bontemps said. "I would still feel like, you know what, they haven't been able to break through yet but they have one of the best duos in the league. Both of those guys haven't even hit their prime. I would be in no rush to break that up. Either you pay him, or you trade him. And usually when you trade a guy of that caliber, that means you're going into.a rebuild."
Windhorst said he's been hearing people questioning whether Tatum and Brown had played their last game together in Boston. He said he would be surprised if that were the case.
"I would be stunned," Windhorst said. "And from talking to people on both sides, I think there's a very good chance they're going to agree on an extension."
Bontemps questioned whether the Celtics would be able to get enough in return for Brown to improve their title chances.
"Who do you trade him for to get over the hump?" Bontemps asked. "You can talk about (Damian Lillard) or Trae Young. Both of them are debatable."
Sign up for Celtics updates🏀
Get breaking news and analysis delivered to your inbox during basketball season.