Celtics
Brad Stevens sets one of the Celtics' key offseason priorities — adding to Joe Mazzulla's coaching staff
"We'll see how everything shakes itself out with what the staff looks like."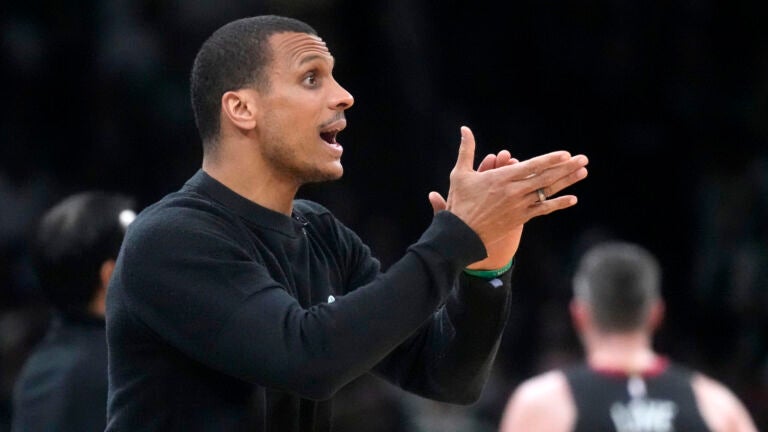 One of the first dominos of the Celtics' offseason fell on Thursday afternoon when Brad Stevens confirmed that Joe Mazzulla will return as Boston's head coach for the 2023-24 season.
Now, the onus falls on Stevens and Boston's management to give the 34-year-old coach some reinforcements on the bench.
"We're going to look for at least one addition to the bench, and he'll lead this charge," Stevens said Thursday. "We'll look for somebody that has a lot of NBA experience for sure."
Mazzulla was already thrust into a difficult spot this season, taking the reins of the roster as a first-year coach just before training camp. But it didn't help that the Celtics suffered from a significant brain drain throughout the year when it came to established coaching resources.
Beyond the dismissal of Ime Udoka, the Celtics lost prized assistant Will Hardy last June when he was named the head coach of the Utah Jazz.
Boston did not add another assistant to its staff once Mazzulla was promoted to interim head coach. Later on, fellow assistant Damon Stoudamire left the team in March to take the head-coaching gig at Georgia Tech.
Once again, Boston was unable to fill Stoudamire's vacancy, especially with the NBA playoffs right around the corner.
Add in reports that Celtics assistant coaches Ben Sullivan, Aaron Miles, and Mike Moser are expected to join Udoka's staff down in Houston, and Boston will likely be looking at a mostly clean slate as far Mazzulla's staff in 2023-24.
"I think one of the things is obviously we had a change in coaches five days before the season started," Stevens said of Boston's inability to add coaches during the 2022-23 season. "And we did try to add to the staff at that time. But you're also weighing, like, you've got a lot of people that are really talented in here. I'm sure you'll see, as we've talked about, our assistants this year and our assistants pretty much every year are going to be called and asked by a lot of teams. So we have a good staff, and I think that's one thing that kind of gets lost in the shuffle, because we did have a lot of people that we lost, too.
"But the staff we had was good. And we did try. Losing Damon in March we again tried. But those timings are tough for people to up and move or up and join a new team that they don't know anything about or don't know. But that was just to be supplemental because we believed in the people that were here. So, moving forward we'll have at least—we'll see how everything shakes itself out with what the staff looks like. But we'll at least have one addition that we'll make now that we have a summer to make it, and then we'll go from there."
The addition of a former head coach like Frank Vogel or Stephen Silas as a top authority on Mazzulla's staff could alleviate some of the pressure on Boston's head coach.
Similar to how Hardy was an essential resource for Udoka last season, having another dependable coach to steady Mazzulla should yield stronger returns on the bench moving forward.
Even though Boston should benefit from having a full offseason to add to its coaching staff, Stevens also reiterated that Mazzulla himself should improve now that he's been granted an entire summer to refocus and craft a new game plan for the 2023-24 campaign.
"I mean, I might have said this in September, I couldn't have done that," Stevens said of Mazzulla getting elevated to head coach just before training camp. "I always needed a whole summer of planning, a whole summer of thinking and organizing thoughts and being able to catch yourself ready to emphasize what you want to emphasize on a daily basis.
"There's no question that will be a big deal. To do what they did in five days and get ready for the season and to start the season the way we did was a little bit more remarkable than people outside the building would have thought. I certainly was leaning on the leadership at that point, that was not an easy thing."
Sign up for Celtics updates🏀
Get breaking news and analysis delivered to your inbox during basketball season.
Newsletter Signup
Stay up to date on all the latest news from Boston.com