Celtics
How did two No. 8 seeds get here, and other major talking points about the NBA and NHL finals
Boston.com and Boston Globe writers break down the two matchups.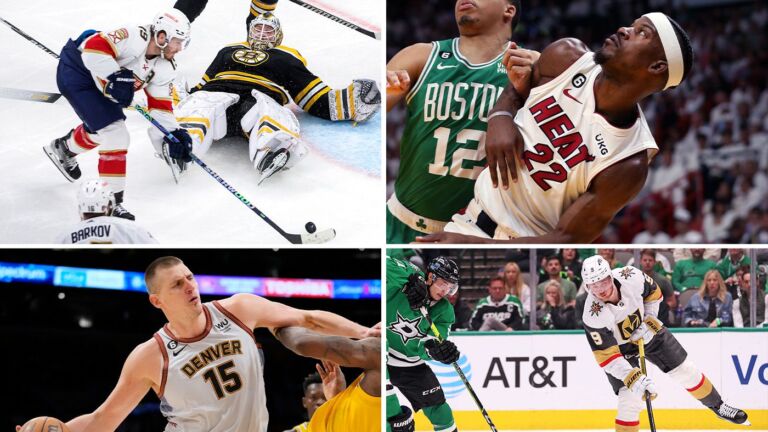 The two South Florida teams that eliminated the Celtics and the Bruins from the NBA and NHL playoffs now have a chance to end their Cinderella stories with a championship.
Game 1 of the NBA Finals between the Miami Heat and Denver Nuggets tips off Thursday night, while Florida Panthers will face off against the Vegas Golden Knights in Game 1 of the Stanley Cup Final on Saturday.
Let's take a closer look at the two matchups:
To start, how did we end up with two No. 8 seeds in the Finals?
Conor Ryan: I'm sure the Bruins and Celtics are asking the same question.
The Panthers had all the makings of sleeping giants this season, given that they won 58 games en route to the Presidents' Trophy last year. With many players returning, this team expected to be in the playoff picture.
But, man, the Panthers made things hard on themselves. Florida was fixed in a playoff spot for less than 30 percent of the regular season. The team gained some momentum in the second half, but still needed the Penguins to drop two games in the final week to cellar-dwellers in Chicago and Columbus in order to clinch a playoff berth.
Since then, the Panthers have reverted right back into a juggernaut.
Make no mistake: the Bruins helped aid the Panthers in their stunning first-round upset with self-inflicted miscues, costly turnovers, and baffling lineup decisions. But give Florida credit.
Beyond star power in Matthew Tkachuk, just about every player has pulled on the rope for a Panthers team that has won 11 of its last 12 games. In the postseason, 15 skaters have scored at least one goal, with five reaching double digits. Add in a heater in net from Sergei Bobrovsky and five OT victories, and Florida sure feels like a team of destiny.
Nicole Yang: With 3:45 to go in the fourth quarter of the second play-in game, the Heat trailed the Chicago Bulls, 90-87. Miami was that close to not even making the playoffs.
Not many people picked the Heat to advance past the first round — and rightfully so. They had the league's ninth-best defense during the regular season, but their offense ranked an abysmal 25th. Even with Jimmy Butler, it did not look as though Miami had enough firepower to keep pace with a team like the Celtics.
But the Heat's 3-point shooting miraculously came alive in the postseason. Against Milwaukee in the first round, they shot 45 percent from behind the arc — an 11 percent increase from their regular-season numbers. Against Boston in the conference finals, they shot 43 percent.
A back injury to Bucks star Giannis Antetokounmpo in Game 1 of the first round opened the door, but Miami's hot 3-point shooting has carried it. Three-point shooting is not Butler's calling card, so this high level of production from Miami's role players has been critical.
CR: Caleb Martin turning into Steph Curry was … not expected. Completely robbed for East Finals MVP.
What are the chances either can actually win the championship?
CR: It's tough to think Florida can't. It has already vanquished arguably the three best teams in the league (Boston, Toronto, and Carolina).
Florida's hopes rest on the play of Bobrovsky. He's been a force during this run, posting a .935 save percentage and recording an absurd 21.4 goals saved above expected. The Panthers don't necessarily have the sturdiest defense, but that hasn't mattered all that much because of Bobrovsky.
NY: I think the Panthers have a better shot than the Heat. My inclination is to say Miami's chances are very low. The Nuggets will have rested 10 days after completing their sweep of the Lakers, while Butler didn't exactly look like himself for most of Games 4-7.
In the 3-point era, there have been six Finals matchups between a team that swept their conference finals opponent and a team that went seven games. The team that swept is 4-2. Not as strong as 151-0 after going up 3-0 in the series, but I still think fatigue will be a factor.
I also expect Denver's Nikola Jokić to have his way against Miami big man Bam Adebayo. According to the NBA's matchup data, Jokić is 17 of 27 (63 percent) when defended by Adebayo across the last two seasons. The Nuggets are also 4-0 in those games.
CR: It would have been concerning to see a hobbled Jayson Tatum and a banged-up Celtics team try to contain Jokić in the next round.
NY: Based on Malcolm Brogdon's performance and postgame comments, I don't think we would have seen him much.
Who is the most compelling player on both teams?
CR: For the Panthers, it has to be Matthew Tkachuk. Not only is he built for the postseason thanks to his physicality and propensity to pester opponents after the whistle, he's delivered time and time again. Twenty-one points in 16 playoff games is impressive in its own right. But of the five OT goals the Panthers have scored this postseason, Tkachuk has buried three and assisted on another.
For Vegas, the headliner is Jack Eichel, who hails from North Chelmsford and had a standout freshman season at Boston University in 2014-15. After years of toiling away in Buffalo, Eichel has been reborn with the Golden Knights. The franchise center is leading Vegas with 18 points over 16 games this postseason, and has also developed his defensive game under a certain coach we'll discuss in a bit.
NY: For the Nuggets, Jokić is the obvious answer. He's a two-time MVP and a do-it-all big man. He can pass, get to the rim, and shoot threes. Defense is not his strong suit, but he has improved tremendously after shedding about 25 pounds two seasons ago.
Jokić also has a non-traditional journey to the NBA, having grown up in Serbia. He played three seasons in the Serbian League before getting drafted 41st overall in 2014.
For the Heat, Butler is, of course, the choice. He, too, has a unique basketball backstory, attending junior college before Marquette because he was not heavily recruited out of high school. Butler's mom also kicked him out of the house as a teenager, forcing him to bounce around with friends before finding a more permanent home with a teammate his senior year.
Seeing either player win a ring would be gratifying.
Are there any players with Boston-area connections?
CR: There's plenty of Hockey East representation on both sides.
Florida has two Massachusetts natives in forward Colin White (Hanover) and defenseman Casey Fitzgerald (North Reading), while bruiser Ryan Lomberg (University of Maine) and Brandon Mountour (UMass Amherst) played college hockey in New England.
Beyond Eichel, Vegas has goaltender Jonathan Quick, who hails from Milford, Conn. and went to UMass Amherst.
NY: Denver's Bruce Brown grew up in Boston and played high school basketball in Wakefield before transferring to Vermont Academy. He's played big minutes off the bench this postseason, averaging 12.2 points per game.
Miami's Duncan Robinson grew up in New Hampshire, attended two local prep schools, and also spent a year at Williams College before transferring to Michigan. Miami's Max Strus also spent training camp with the Celtics in 2019.
CR: I remember Brown dropping almost 40 points at the 2016 Hoophall Classic. It's always cool to see local players go on to thrive at the highest level.
There's also a coach who spent some time in Boston …
CR: Close to a year after being fired by Boston, Vegas coach Bruce Cassidy is four wins away from his first Cup title.
Cassidy stepped into a pretty favorable situation with a deep Golden Knights roster, but he deserves plenty of credit. He's navigated plenty of twists and turns, especially with captain Mark Stone missing significant stretches of the season and injuries imploding Vegas' goalie situation.
Through it all, Cassidy's messaging and emphasis on a stingy, structured defense has paid off for this team. The Golden Knights have a very, very good coach leading the way this spring.
NY: How do you think Bruins players feel about watching their former coach in the Stanley Cup Final?
CR: I think it's clear that Cassidy's messaging turned stale last season, and it's easy to connect the dots with a few of the dominos that fell last offseason (DeBrusk rescinding his trade request and Krejci returning).
Still, Cassidy led this team to a number of impressive runs, especially in 2019, and still has close ties to a few players he also coached in Providence. If he gets over the hump, I'm sure there'll be plenty of players who will be happy for him.
Some have speculated the ratings for these series are going to be low. What makes these matchups worth watching?
Yes, the ratings likely won't crush this June, especially with big markets like Boston, Toronto, New York, etc. out of the picture. But if you're a hockey fan, this matchup will be fascinating to see play out.
Beyond Florida's "team of destiny" label, they play a physical, gritty game that has led to some fantastic playoff bouts throughout this spring. Vegas deserves full credit for their own run, but their bread and butter lies more in suppressing the other team with a structured defense and landing punches in transition. Already, Vegas has negated four 100-point players during this run in Connor McDavid, Leon Draisaitl, Jason Robertson, and Ryan Nugent-Hopkins. Stopping Tkachuk stands as their next tall task.
It's two contrasting styles of play that have both worked this postseason. But something's got to give.
NY: Either Jokić or Butler is going to win his first championship. As mentioned earlier, they both have come a long way to reach this point. The Heat would also make history as the first-ever eighth-seed to win the title.
Prediction?
CR: Panthers in 7. Ultimately, I think it comes down to what goalie falls back to Earth first.
NY: Denver in 5. (Disclaimer: I also picked the Celtics to be the Heat.)
Get the latest Boston sports news
Receive updates on your favorite Boston teams, straight from our newsroom to your inbox.