Celtics
Everything the Celtics do this offseason should be framed around what is best for Jayson Tatum
Nothing serious is going to be solved now. Those most difficult decisions — most notably Whatever Do We Do With Jaylen? — are for the summer ahead.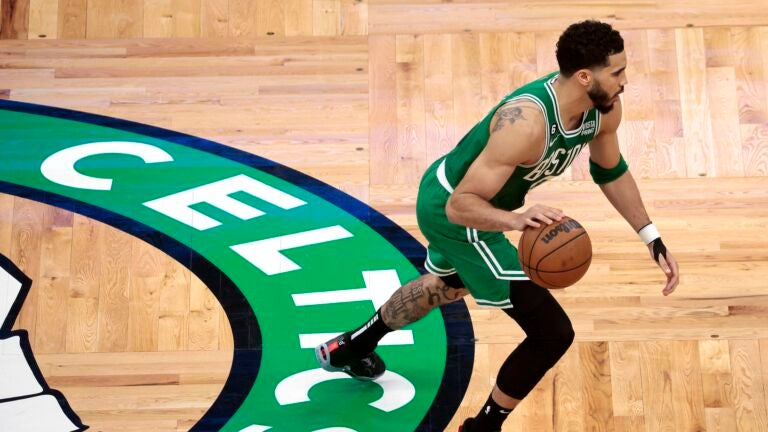 And so the season plays on without them. The NBA Finals between the Denver Nuggets and Miami Heat commence Thursday night. Some around here might even pretend to care.
Meanwhile, the Celtics — whose Game 7 throttling by Jimmy Butler and the Miami Undrafted Machine was crushing but not entirely surprising — begin an offseason that could bring decisions subtle or seismic, depending on how ruthless Brad Stevens chooses to be in repairing his talented team's recurring flaws.
Nothing serious is going to be solved now. Those most difficult decisions — most notably Whatever Do We Do With Jaylen? — are for the summer ahead.
But with a couple of days' detachment from the bitter, bitter end, I believe two things to be true.
1. Boston would have won Game 7 had Tatum not messed up his ankle on the first possession.
I suspect sports radio is at fault for the gross permeation of this, but one habit of many Boston sports fans that drives me nuts is the race to dismiss a serious injury as an excuse for a loss rather than a reason.
Tatum, the fulcrum of everything the Celtics do, a player who set a record for the most points ever in a Game 7 the last time he played a Game 7, got injured — not hurt, injured — 26 seconds into the game, torqueing his ankle in a way that made you groan and probably curse like Roy Kent when you saw the replay.
He played on, but after the injury, he had the lateral mobility of 1988 Artis Gilmore, and as a smart, well-coached team does, the merciless Heat seized upon it. Yet the significant impairment was treated as something he should have overcome, as if the physical impairment was really a mental one.
Kevin O'Connor, whose work for The Ringer I devour, described Tatum's situation as "failing to produce through pain." I'm not sure how anyone sees failure there, unless it's in reference to the coaching staff's utter failure to adjust the demands on their tough but compromised superstar (get him shots in the corner, or how about from the high post?).
You wanted a Willis Reed moment out of Tatum, did you? Guess what? You got more than that. Reed, who famously started Game 7 of the 1970 Finals for the Knicks despite a torn muscle in his thigh that had caused him to miss Game 6, scored 4 points and had 3 rebounds in that game. Walt Frazier won that game, not Reed. Tatum was let down by his teammates, not vice versa.
And yes, the Celtics would have won had he been healthy. The roof would have flown off the Garden and landed on the Storrow Drive exit had Derrick White's 3-point attempt to cut the deficit to 4 in the third quarter gone in.
Despite playing poorly without their best player, the Celtics had a chance to get close. They could not. With the usual version of Tatum, Jaylen Brown wouldn't have had the opportunity to dribble the ball off various limbs eight times, and the Celtics would have prevailed. (Unless they led by 10 with four minutes left. Then all bets would have been off.)
As for that second big-picture truth …
2. The Celtics do not have 1A and 1B stars. It is not Jayson and Jaylen. It's Jayson, and then everyone else.
Tatum is 25 years old, a two-time All-NBA selection, scored 46 points in a road elimination game last season, had 51 (did I mention that?) in a Game 7 this year, is a willing playmaker who works on that aspect of his game, is an underrated rebounder and an above-average, versatile defender. He works relentlessly, carries the weight of the losses, still has room to improve, and gives a flying damn.
Sure, like every other player in the NBA, he has flaws. He must stop complaining to the refs; it's so counterproductive. The I've-got-this ISO ball habits get in the way of a flowing offense, which should be the Celtics' aspiration. He needs to become more efficient in the mid-range. Tatum's ego is healthy, but humbly speaking, he is one of the best players in the league, and he is fairly self-aware for his age.
Please stop comparing him to Larry Bird. It's a comparison no Celtic will ever win. Accept him for what he is and dream on what else he can be, because he's already one of the best players in the league and tirelessly works to become even better. Players like Tatum are so hard to find. I don't know why we forget that.
Everything the Celtics do this offseason should be framed around what is best for Tatum. Does that mean giving Brown a super-max contract? Tatum strongly indicated that he wants his longtime running mate here for the long haul. But Brown, an excellent scorer who does not help in any other way when the points aren't flowing, does not elevate his teammates.
I have yet to hear an appealing trade suggestion for him, and Stevens has wisely avoided making trades in which the best player in the deal is leaving rather than arriving.
But Stevens at least has to consider searching for a player who is a more natural fit alongside Tatum.
The Brown situation will be the story of the summer. Perhaps the embarrassment of how it ended will spark the proud, hard-working Brown to repair some obvious flaws.
A couple of days now after the end, I have to say, I'm inclined to run it back one more time with this core group. The Celtics have reached the East finals in three of the last four years, and the Finals once. They get one more crack at it before the new collective bargaining agreement begins to affect roster building.
They don't need a talent shakeup. They need a shakeup in how they utilize that talent. It starts with figuring out how to maximize a true superstar — one who keeps getting better, one who cares, and one who was injured at the worst possible time — heading toward his prime.
This is Tatum's team. That's a great thing, a fortunate thing, and it's time to make the most of it.
Sign up for Celtics updates🏀
Get breaking news and analysis delivered to your inbox during basketball season.