Celtics
Brad Stevens addressed Jaylen Brown's future with Celtics, but plenty of questions remain
"We love our core, and that's really our focus and priority."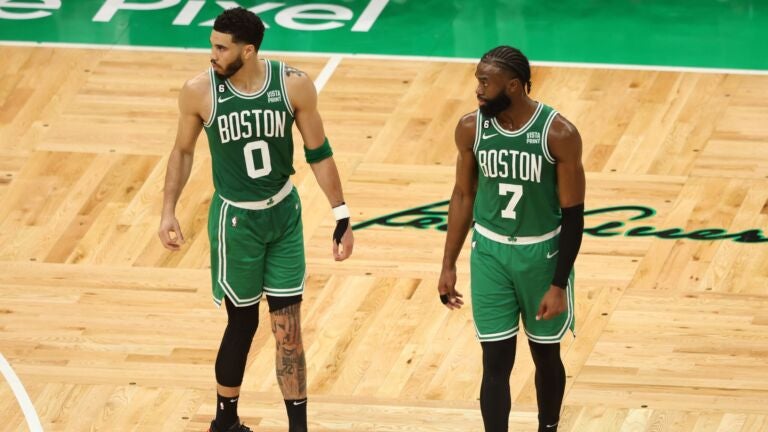 On Thursday, just hours before the Nuggets took Game 1 of the NBA Finals from a Heat team that cooled off as soon as it left Boston, Brad Stevens sat down in front of assembled media at the Celtics' practice facility and offered his postmortem press conference on the season.
The painful timing was not lost on him.
"Obviously we're in an interesting situation," Stevens said wryly, when a reporter asked how much the Celtics can fix internally. "Because I think, again, we're 48 minutes away from doing our pregame shootaround press conference today in the Finals. So there was a lot that went right, and we can't lose sight of that."
Stevens largely preached patience and positivity for a roster that won 57 games and nearly made the Finals despite changing head coaches just days before training camp.
But Stevens' press conference left a lot of unanswered questions. We mean that literally: There were several questions Stevens didn't really answer. For instance: What do the Celtics think about the new collective bargaining agreement, which has the potential to break the team up in a nearer future than anyone around the team wants to think about?
"I'm not worried about it," Stevens said on the Celtics Talk podcast with Chris Forsberg after his availability. "Obviously, we've shown a willingness to spend. This was a huge tax year for us."
"I'm not worried about it" seems very unlikely. A new second apron that reportedly will be in the updated CBA has the potential to force the Celtics into deals they would rather not make in a vacuum. As noted by cap-aficionado Ryan Bernadoni in an excellent Medium post (which we linked above but will do again here), the second apron is essentially a hard cap. It's so punitive that if a team went over it, they likely would only be able to do so for a single season with – as Bernadoni put it – "a clear path to get back under the line in the near future." Starting in 2024-25, teams over the second apron would not only be charged luxury tax penalties, they would also be unable to execute very basic roster building maneuvers like signing a player to a mid-level exception, trading certain future draft picks, sending out cash in a trade, signing a player on the buyout market or taking back more salary than they send out in a trade.
"We love our foundation," Stevens said. "We love our core, and that's really our focus and priority."
The sentiment is understandable (the core is incredibly talented!), but scary hours begin when Bernadoni notes that if the Celtics max out Jayson Tatum and Jaylen Brown, the combined salaries of Tatum, Brown, Marcus Smart and Robert Williams would make up a staggering 93 percent of the cap by 2025-26, and Williams only takes up nine percent.
Put simply: The new CBA is here to prevent super teams, and it doesn't care one iota if you – like the Celtics – build your super team in an organic way. Presumably, Stevens is worried about it, especially as negotiations with Brown loom.
Brown's negotiations were another topic Stevens largely refused to discuss, although that's understandable since Brown's extension window opens on July 1. Stevens did say unequivocally that the Celtics would love to keep him.
"I can say without a doubt, we want Jaylen to be here," Stevens said. "He's a big part of us, and we believe in him. I'm thankful for him."
Again, all of this is undoubtedly true – Brown made an All-NBA team and averaged 26.6 points per game last year. There's little question the Celtics want him in Boston. There are, however, lots of questions as to whether they can afford to keep him for more than a year or two under the new CBA. We still have very little clarity on Brown's future.
Stevens did offer clarity on Joe Mazzulla, who will remain the Celtics' head coach next season. While he acknowledged that Mazzulla could have done some things better, Stevens praised Mazzulla's performance over the course of the year and said he himself couldn't have done what Mazzulla did in September when he was tossed into a head coaching role.
"He'll only get better at anything that he can learn from this year because he's constantly trying to learn, and he's accountable," Stevens said. "Those leadership qualities are hard to find. They are easy to talk about, but when you can show all those through the expectations and the microscope he was under, that's hard to do."
But the coaching staff around Mazzulla will be chaotic this offseason as well. Stevens promised at least one hire with "significant" NBA experience, but Mazzulla will need a lot more than that. Aaron Miles, Ben Sullivan and Mike Moser – three hires Ime Udoka made while in Boston – reportedly will move on. Will Hardy departed for Utah last summer and Damon Stoudamire was hired by Georgia Tech midway through the year. Mazzulla – who joined the Celtics' organization in 2019 – might not quite have a contact list like Udoka, who both played in the NBA and started coaching in 2012.
For now, Stevens seems committed to keeping the team as whole as possible.
"It's really hard to be in the mix," he said. "So we just have to figure out how to get a little bit better. But stay in the mix. We have a lot of foundational things that are good."
The Celtics can largely remain in the mix for the time being. Still, fans who want to see wholesale changes to the roster might get their wish in the upcoming years. It remains to be seen whether they will like the result.
After all, like Joe Mazzulla's leadership qualities, an opportunity to be in the mix is very hard to find.
Sign up for Celtics updates🏀
Get breaking news and analysis delivered to your inbox during basketball season.