Celtics
Tracy McGrady: Celtics fans who want to trade Jaylen Brown are 'crazy'
"At some point, [Brown and Tatum] are going to raise a banner."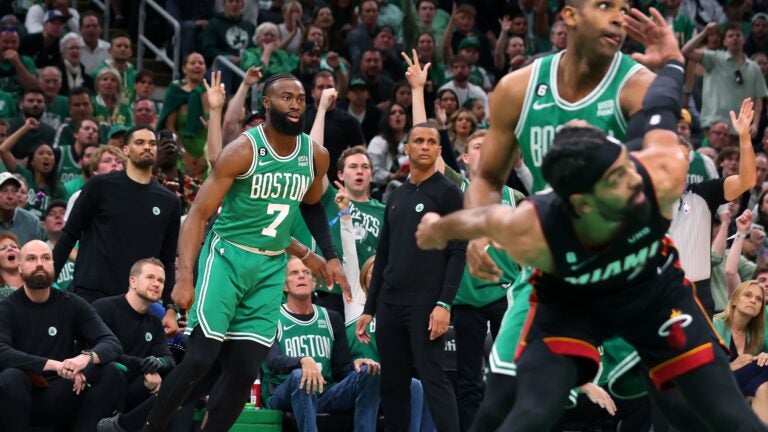 Seven-time NBA all-star Tracy McGrady thinks the Celtics should keep Jaylen Brown long-term, despite his struggles in this year's playoffs.
Brown and Jayson Tatum are too good of a duo to break up, McGrady said during an appearance on Showtime Basketball's "What's Burnin."
"You don't dismantle that. I'm sorry. Hell yeah, you keep that. They're 25 and 26 year olds," McGrady said. "Why would you get rid of that? I don't understand. Why would you get rid of two guys who played for an NBA championship, went to four Eastern Conference Finals. At some point these guys are going to raise a banner."
Brown is under contract with the Celtics for one more season before potentially becoming a free-agent next summer. He's eligible for a 5-year, $295 million-dollar extension.
But Brown had what he called a "terrible" performance in Game 7 of the Eastern Conference Finals, shooting 8-23 from the field with eight turnovers. The second-team All-NBA selection had nearly as many turnovers as assists during the series.
Still, McGrady offered some criticism of Boston fans who think Celtics coach Joe Mazzulla should be fired and that Brown should be traded.
"That's Boston," McGrady said. "If they're not hanging banners, everybody needs to be fired. They want to trade Jaylen Brown, they want to do all this stuff, they're crazy. There's no way I'm getting rid of Jaylen Brown."
McGrady pointed to older stars leaving the league as a big part of why the Celtics should keep Brown and Tatum.
"Lebron is on his way out," McGrady said. "Steph is getting older. KD and those guys are getting older. These guys are 25 and 26 years old. You're not going to find a better duo than these two."
Sign up for Celtics updates🏀
Get breaking news and analysis delivered to your inbox during basketball season.