Celtics
'It's time for them to take the next step': What Kevin Garnett, Paul Pierce said about the Celtics' Game 7 loss and the future of the team
While both Hall of Famers noted the Celtics didn't play with the right intensity in Game 7, Garnett called the loss part of "the process."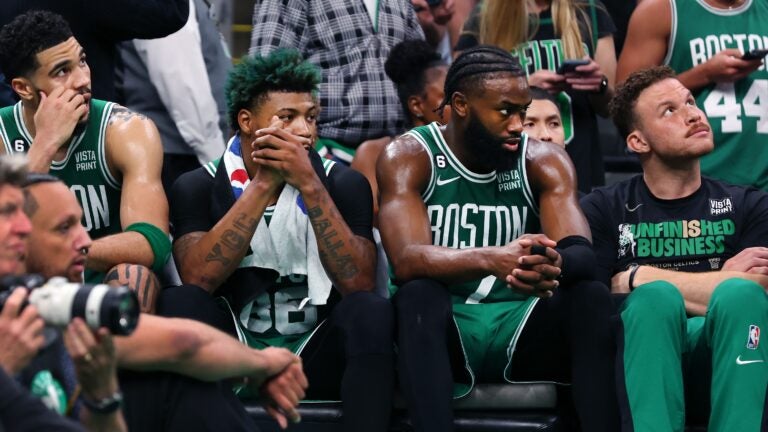 Kevin Garnett and Paul Pierce believe the Celtics didn't play with the right energy in their season-ending loss to the Heat in the Eastern Conference finals.
Though the Celtics fell five wins short of a title, the Hall of Famers believe Boston should mostly run it back next season.
The two Celtics icons discussed their former team's disappointing performance in Game 7 in the latest episode of Showtime's "Ticket & Truth" podcast.
"I watched the first two minutes of how the C's came out [and thought] 'I don't like that energy! That's not energy to beat you!'" Garnett said on how he observed the Celtics.
Garnett recalled how Pierce would raise his intensity before big games, saying there are "two types of P's." The more intense "P" would "get in the huddle and go … 'Hey look, let's go ahead and send a message to these [expletive] right here.'"
Garnett believes that's what the Celtics lacked in their Game 7 loss.
"That energy was like, 'Aw [expletive], we gorilla tonight!' They didn't have that," Garnett said.
Pierce felt similarly about how the Celtics played in that game. He thinks they should've done more to slow down Heat forward Caleb Martin, who scored 26 points on 11-of-16 shooting in Game 7 and averaged 19.3 points per game in the series.
"They should have put Martin on his ass a few times," Pierce said. "He just kept going to the rack. He hit 3s. I would have been like, 'He goes to the ground. Imma send him to the baseline and put him on his ass.' He supposed to fall. He supposed to take the hit."
From a basketball standpoint, Garnett believes the Celtics' undoing was their offense – specifically, their 3-point shooting. They shot 30.3 percent from deep during the series and had their worst two 3-point shooting outings of the season in Games 6 and 7.
But it was the process of how they took those 3-pointers that Garnett had an issue with, not just that they weren't going in.
"I thought the C's stayed on the long ball for too long," Garnett said. "I think there wasn't enough going to the basket. … 3s open up by how you're going to the hole and how aggressive you are. That drive and kicking it [out]. I think they got away from that. Al Horford didn't get many easy 3s or easy points. Guys like that need those points."
Even though they had issues with how the Celtics played in Game 7 and in the series, Garnett and Pierce aren't advocating for any shakeups.
"This is the process," Garnett said. "You've got to go through some pain to get some great moments."
Pierce said that the Celtics have a "championship roster" and that they should offer Brown an extension this offseason, believing he'll be a "perennial All-Star."
"These cats went to the Finals," Pierce said. "They were one game away from the Finals. You've just got to take a deep breath and say, 'Where do we get better at?' It starts at the top."
Both Garnett and Pierce believe that Joe Mazzulla is the right man to be the Celtics' head coach, too. But they have a familiar face in mind to join him on the staff.
"You can't keep bringing in new voices," Pierce said. "I'm going to add to what I got right now. … I've got to add to it. It's already good! I've got to add to it. It's already there.
"So, I'm bringing Mazzulla back but maybe I'm bringing in a veteran coach, like Same Cassell. Some influence on the bench. Respect. A champion. Been a coach. Understands what it takes."
Cassell had a brief stint with Celtics during his career as a player, playing with Garnett and Pierce en route to a title in 2008. He unofficially began his coaching career with the Celtics in the following season while he was still on the active roster.
Following his tenure with the Celtics, Cassell was an assistant coach with the Wizards from 2009-14. He also coached under Doc Rivers with the Clippers from 2014-20 and with the Philadelphia 76ers over the last three seasons.
Garnett, who also played with Cassell for a couple of seasons with the Timberwolves, cited the former NBA All-Star's ability to help young players, such as John Wall, Bradley Beal, and Shai Gilgeous-Alexander, grow as a good reason to add him to the staff.
But more importantly, Garnett thinks the onus falls on Jayson Tatum and Brown to help lift the Celtics over the hump to win a title, believing Cassell could help bring out the best in them.
"When I watch them play, I think it was maturity," Garnett said. "I think the next step for the C's, at least to me, is maturing. You've got to have those influences in there. …
"I'm talking from the development of a player now, these guys are top-tier players. They're first-team, second-team All-NBA players. Now, it's about bettering those players. Not even your bench, I'm not talking about Rob Williams. I'm talking about Tatum and Brown. It's time for them to take the next step."
Sign up for Celtics updates🏀
Get breaking news and analysis delivered to your inbox during basketball season.