Celtics
Sam Cassell to reportedly join Joe Mazzulla's Celtics coaching staff
Cassell won three NBA championships as a player, including one with the Celtics in 2008.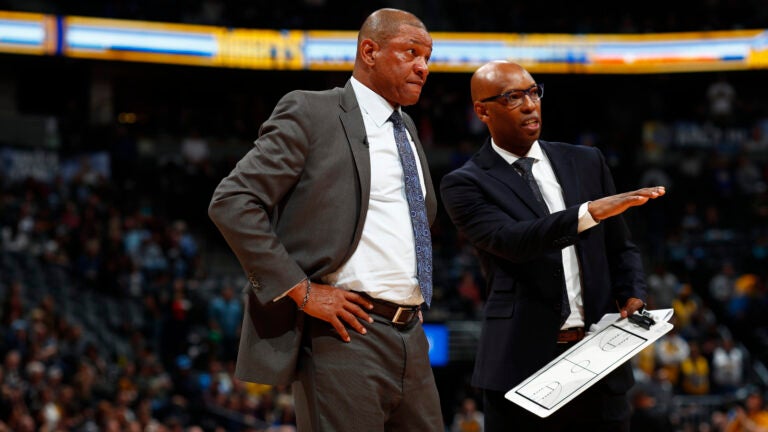 It didn't take very long for the Celtics to add to Joe Mazzulla's coaching staff.
According to Shams Charania of The Athletic, Boston is adding Sam Cassell as an assistant coach, with the former point guard bringing some much-needed experience on the C's bench.
Cassell has spent the last 14 years as an assistant coach with the Wizards, Clippers, and 76ers. The 53-year-old Cassell won three NBA titles during his playing days, concluding his career with a championship with the Celtics in 2008.
Brad Stevens and the Celtics entered this offseason with a clean slate as far as their assistant coaching staff.
Boston was already down two assistants during the 2022-23 season, with the C's not filling Mazzulla's position after he was promoted to interim head coach back in September.
The Celtics also lost top assistant Damon Stoudamire in March when he accepted the head-coaching position at Georgia Tech.
Cassell stands as an impressive hire for the Celtics as they look to surround Mazzulla with more established coaching regulars in the NBA ranks.
With Boston reportedly losing three other assistants to Ime Udoka and the Houston Rockets, Cassell will likely be the first of many coaching hires for the Celtics this summer.
"We're going to look for at least one addition to the bench, and he'll lead this charge," Stevens said Thursday. "We'll look for somebody that has a lot of NBA experience for sure."
Last week, former Celtic Paul Pierce advocated for Boston to hire Cassell as an assistant.
"You can't keep bringing in new voices," Pierce said of Boston's coaching situation. "I'm going to add to what I got right now. … I've got to add to it. It's already good! I've got to add to it. It's already there.
"So, I'm bringing Mazzulla back but maybe I'm bringing in a veteran coach, like Sam Cassell. Some influence on the bench. Respect. A champion. Been a coach. Understands what it takes."
Sign up for Celtics updates🏀
Get breaking news and analysis delivered to your inbox during basketball season.