Celtics
Damian Lillard says he'd 'obviously' choose the Heat over the Celtics
Lillard said he'd pick Miami and Brooklyn over Boston.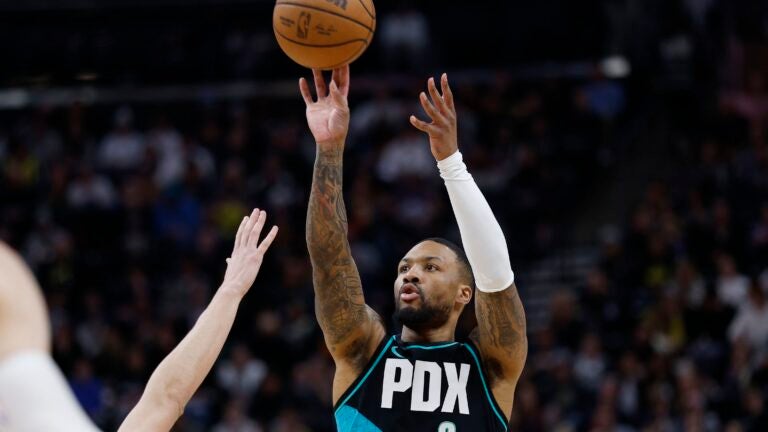 Damian Lillard is still under contract with the Trailblazers, so Portland would likely have agree to a trade for him to land with a new team.
During a recent interview on Showtime's "The Last Stand" with Brian Custer, Lillard said he wouldn't pick Boston if it were up to him.
Custer asked Lillard about several rumored trade destinations, including Boston, New York, and Brooklyn.
"If one of those trades went through, out of those teams, which one would you be like, 'Eh, that's not too bad?" Custer asked.
Lillard laughed as he responded.
"Miami, obviously," Lillard said. "(Heat center) Bam (Adebayo) is my dog for real but Miami, obviously. Brooklyn is another obvious one because Mikal Bridges is my dog too."
Several analysts, including ESPN's Stephen A Smith, have mentioned Lillard as a trade target for the Celtics. Smith said earlier this week that he doesn't think Jaylen Brown is worth a supermax contract and that Lillard could be a replacement.
"Either you get an abundance of players, which I don't think is necessary," Smith said. "Or, you get a superstar-caliber sniper like Damian Lillard to come to Boston in return for [Brown's] services. If I'm the Boston Celtics, I'm looking at something along those lines rather than giving [Brown] $59 million, which is more than Damian Lillard is making at this moment in time."
Lillard, who turns 33 next month, signed a two-year extension with Portland that could take his annual salary as high as $63 million in his final season in 2027.
But, for the next two seasons, Lillard's salary will be under $50 million.
Sign up for Celtics updates🏀
Get breaking news and analysis delivered to your inbox during basketball season.