Celtics
Why Isiah Thomas reportedly thinks Jaylen Brown supermax would be 'win-win' deal for Celtics
The Hall of Fame guard said Brown should "take the money."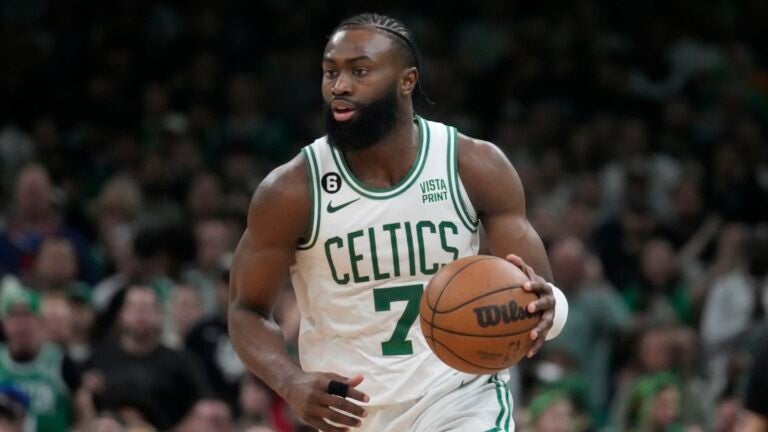 Hall of Fame guard Isiah Thomas has a simple piece of advice for Jaylen Brown as he moves into the final year of his contract with the Celtics.
Brown is eligible for a potential five-year, $290 million supermax extension next summer. If the Celtics offer it, he could choose either to remain with Boston long term or enter free agency and start fresh elsewhere.
"Take the money," Thomas said, according to Steve Bulpett of Heavy Sports.
According to Bulpett, Thomas is a longtime mentor and supporter of Brown.
"When I got to know Jaylen Brown and how he played I said to him — and this is before the draft process started — I said to him, 'You're a Celtic.'" Thomas said. "He fits the Celtic culture that I played against, that I competed against. That I know."
Since being selected with the No. 3 overall pick in the 2016 NBA Draft, Brown has helped the Celtics make five Eastern Conference Finals appearances.
"Yeah, he's been great there," Thomas told Bulpett. "He's had a great career there, and he's become one of the best players in the league. They've done well, and he's done well there. It's been a win-win, I think, for him and for the Celtics."
The Celtics made the NBA Finals and lost to the Golden State Warriors in 2022, but failed to return to the Finals this year after being eliminated by Miami in the Eastern Conference Finals.
That regression, paired with Brown's poor play in Game 7 and the sheer amount of money that comes with a supermax deal, have caused some to question whether Brown is worth it.
Thomas said the fallout from Ime Udoka's suspension, as well as the Celtics losing top assistants Will Hardy and Damon Stoudamire, had a negative effect on the team.
"Hey, I don't care how talented your team is, when half of your coaching staff walks out of the door, that's going to affect you," Thomas said. "That's just how it goes. You lose your head coach and your top two assistants, you're going to be impacted by that."
Thomas said his Pistons teams had a tougher road to the Finals going up against the Celtics in the 80s than Brown and Tatum's Celtics teams do today.
But he still appreciates the leap from contenders to champions that Brown and the Celtics are trying to make.
"Trying to win a championship at the NBA level for a professional basketball player, there's no tougher thing that you'll try to do in your life," said Thomas.
Sign up for Celtics updates🏀
Get breaking news and analysis delivered to your inbox during basketball season.