Celtics
Shaquille O'Neal makes a case for why the Celtics should trade Jaylen Brown
"I can tell that it frustrates him to be the other guy."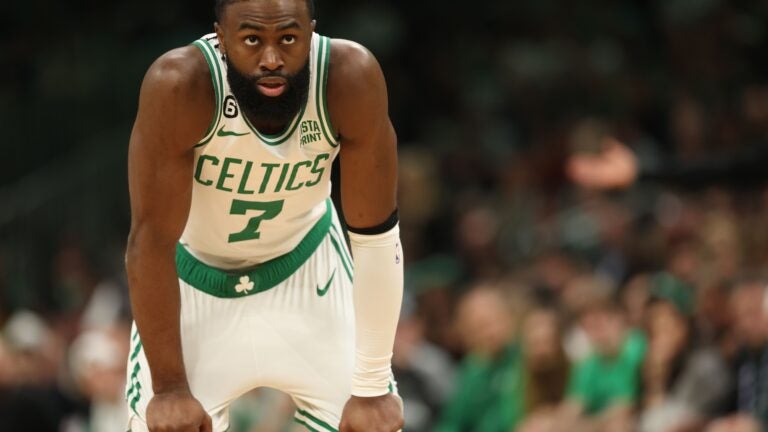 Shaquille O'Neal knows quite a bit about being part of a superstar duo in the NBA.
He's played with Penny Hardaway, Kobe Bryant, Dwyane Wade, and LeBron James over the course of his career. His ability to navigate these situations is part of why he's a four-time NBA champion.
So, what does O'Neal think Boston should do with Jaylen Brown and Jayson Tatum after the Celtics got bounced by the Heat in the Eastern Conference Finals?
"I would, business-wise, break them up and use one of them to get the pieces I want," said O'Neal during an episode of "The Big Podcast with Shaq."
O'Neal said his preference would be to trade Brown in order to get those pieces.
"I would say Tatum is the No.1," O'Neal said. "Use Brown to bring in a Brown-type player and then just do it like that. And then it will be good for Brown so that he'll have the opportunity to be No. 1 somewhere, because he's a No. 1 caliber player but I can tell that it frustrates him to be the other guy."
O'Neal recalled his experience of an organization viewing him as a No. 2 option while he considered himself a No. 1.
"That affects you, it really does mentally," O'Neal said. "Because I went from No. 50 and went to No. 1 and stayed for a long time. Then when I was in LA they tried to force me to be No. 2, but I was like, 'nope, I'm the king' and stayed at No. 1. Went through a lot of battles every year. Finally, they said 'we're going to kill the king in his sleep' and they traded me to Miami."
O'Neal said that it would be difficult to maintain an adequate supporting cast if the Celtics signed Brown and Tatum to supermax extensions with a combined $613 million.
He pointed to the Heat, who have All-Stars Bam Adebayo and Jimmy Butler, and have leaned on role players such as Gabe Vincent, Max Strus, and Caleb Martin as an example of a sustainable core.
"That's how you do it. I don't want five stars on my team," O'Neal said. "I don't want it. I want a guy I can go to every night, a guy that's going to lead, and I want three dogs, three others. I would prefer if they were specialists, if one wanted to be a shooter, one wanted to be a rebounder, and one wanted to be a fighter."
O'Neal said that if he were Brown, he wouldn't worry about whether the Celtics will trade him or not.
"It's going to be good for him either way," O'Neal said. "You're going to get that supermax, and if they trade you they're going to trade you to a team where you can be the man, that's what you've always wanted."
Sign up for Celtics updates🏀
Get breaking news and analysis delivered to your inbox during basketball season.