Celtics
Celtics reportedly hire Charles Lee to join coaching staff. Here are 5 things to know about the Celtics' new lead assistant.
Lee was a coach on the Bucks' staff for the last five seasons, helping them win a title in 2021.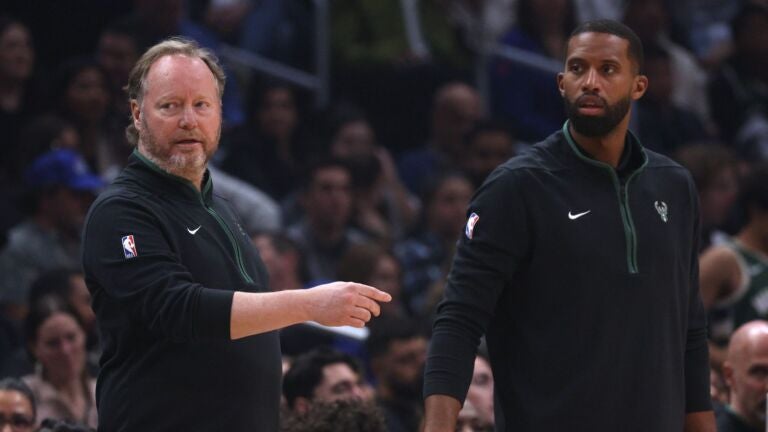 The Celtics are adding another name that might be notable to NBA fans to their coaching staff.
Milwaukee Bucks assistant coach Charles Lee will join Joe Mazzulla's coaching staff with the Celtics, ESPN's Adrian Wojnarowski reported Sunday. Lee will also be Mazzulla's lead assistant coach, Wojnarowski reported.
The addition of Lee comes a week after it was reported that the Celtics were hiring 76ers assistant coach Sam Cassell to join Mazzulla's staff. It also follows the news that three of the Celtics' top assistants from this past season (Ben Sullivan, Mike Moser, and Aaron Miles) were joining former Celtics coach Ime Udoka with the Houston Rockets.
With the Celtics' coaching staff starting to take shape, here are five things to know about Charles Lee.
He's spent his entire NBA coaching career working under Mike Budenholzer.
When Lee arrives in Boston, he'll have a new boss for the first time since he became an NBA coach in 2014.
Lee, 38, has spent the past nine seasons working as an assistant to Budenholzer. He first joined the veteran coach in Atlanta, when Budenholzer was the head coach of the Hawks. Budenholzer hired Lee in his second season coaching the Hawks after Lee was an assistant coach at Bucknell for two seasons.
Following Budenholzer's departure from Atlanta, Lee remained with his boss, joining him in Milwaukee to work on the Bucks' coaching staff.
Lee continued his ascension during his time with the Bucks, becoming the team's associate head coach this past season after Darvin Ham left for a head coach job with the Los Angeles Lakers.
Even though Lee received a promotion this past season, he felt his new job wasn't too different from being just a regular assistant coach.
"A lot of things are really the same," Lee said in an interview with the Bucks' website in April. "I think the title changed but how I approach the day-to-day is I'm supposed to be a faithful servant to Coach Bud and just really focus on how I can help these players get better individually then it's going to turn over and be able to help us as a team as well."
He's been a candidate for several head coach jobs over the last few offseasons.
With the Bucks winning a title and being one of the best teams in the league during Lee's five seasons with the team, he became a commodity in the head coach market.
Lee began to be seriously viewed as a head coach candidate in 2021, when he was a candidate for the Pelicans' job and a finalist for the Wizards' job.
More recently, Lee interviewed for nearly every open head coach position this offseason. He was a finalist for the Pistons' and Raptors' jobs, but Detroit opted to make a splashy hire and gave Monty Williams the richest contract in NBA history while the Raptors reportedly came to terms on a deal with Grizzlies assistant Darko Rajakovic on Saturday.
The Celtics "long targeted" Lee to join Mazzulla's staff while other teams also pursued him for top assistant coaching jobs, according to Wojnarowski.
He was a star college basketball player.
Before he became a rising star in the coaching ranks, Lee starred at Bucknell.
The former guard not only became one of the best players on the Bison, but he also became one of the best players in the Patriot League and among mid-majors. His 12.5 points and 6.4 rebounds per game earned him first-team All-Patriot honors in 2005. He also helped Bucknell win the Patriot League Tournament that year and was named MVP of the tournament. He scored 15 points in Bucknell's upset win over three-seeded Kansas in the NCAA Tournament.
Lee improved in his senior season, scoring 13.2 points per game and was named the Patriot League's Player of the Year in 2005-06. He also helped Bucknell win the conference tournament again and helped it pull off another first-round upset in the NCAA Tournament. He scored 24 points in Bucknell's win over higher-seeded Arkansas before it lost to No. 1 seed Memphis in the next round.
Lee was inducted into Bucknell's Hall of Fame in 2017. He also played four seasons of professional basketball in Europe.
He has three pillars to his coaching philosophy.
When The Athletic profiled him in 2022 as part of its "NBA 40 under 40 series," Lee shared some insight into his philosophy as a coach.
Lee said that he has three main parts of his philosophy: Daily improvement, competitiveness, and togetherness.
There's a specific approach Lee uses to help bring out the most in his coaching philosophy.
"I'm a big 'power of positivity' guy," Lee told The Athletic's Mike Vorkunov. "Yeah, there's some adversity, there's some, quote-unquote, failures or losses, but how are we going to respond to that and how do we just develop this thicker skin to be able to deal with these adverse situations?"
That philosophy helped the Bucks over the last five seasons as Lee also saw Giannis Antetokounmpo become one of the game's best players and win two MVPs during his time there.
Lee has a straightforward approach to how to handle star players like Antetokoumpo as he prepares to coach a pair of other stars in Boston.
"Being honest. Not beating around the bush," Lee told Vorkunov when he was asked how to get Antetokoumpo to trust him. Understanding the game and doing your homework and watching the film and going back and forth, but then just finding opportunities to hit him on things that are just honest. Like, not always, 'Hey, you're the best. You know, you're doing this great,' No, he wants to be coached."
He worked with a few perimeter players in particular on the Bucks during the 2022-23 season.
As the Bucks' associate head coach this past season, Lee obviously worked with every player on the team. But like with many NBA teams, some assistant coaches will work with a few players who play a similar position throughout the season.
The players Lee worked with the most this past season were Khris Middleton, Grayson Allen, and rookie MarJon Beauchamp, who are all wing players.
Lee shared with the Bucks website that he worked on different things with each player. He said he worked to expand Allen's game to make him more than just a spot-up shooter while with Middleton he focused on his body management as the star dealt with injuries this past season.
With Beauchamp, Lee said all of his work with him was about development, particularly focusing on making him stronger for an 82-game season and a more competitive player.
"Those are kind of like my guys so it's a cool little dynamic too because you have two veteran players, Khris and Grayson," Lee said. "And then for myself like, [I] remind myself how to work with a young guy and the attention to detail it takes and the consistency. They don't pick things up as much, so you have to have some patience and really explain things. It's actually been really good for me and my growth as well as I've learned a ton from MarJon."
Sign up for Celtics updates🏀
Get breaking news and analysis delivered to your inbox during basketball season.