Celtics
Why losing to the Nuggets in the Finals could have been beneficial for the Celtics
"Oh, make no mistake. The Nuggets would have throttled them."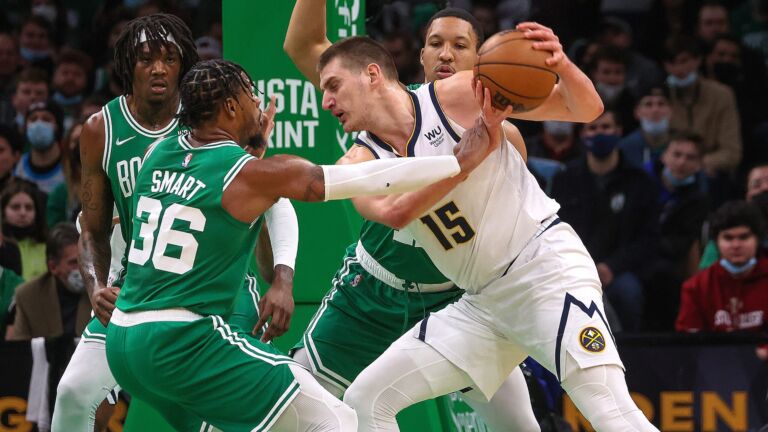 A 3-point heave's worth of thoughts on the Celtics …
▪ Two weeks after their season ended with a Game 7 no-show, it remains a bummer that the Celtics couldn't overcome the Heat — but mostly themselves — to reach the NBA Finals.
Oh, make no mistake. The Nuggets would have throttled them. Nikola Jokic may look like that awkward but sneaky-effective dude from your Friday lunchtime pickup game, but the spectacular reality is that his game is part Bill Walton, part Arvydas Sabonis, and — you'd better believe it — part Larry Bird.
If you've paid any attention at all to the Finals, you know he's the best player on this orb and the quintessential modern Makes His Teammates Better guy. He would have shredded the Celtics with his pinpoint passes, genius basketball IQ, and everything else in his distinctive repertoire.
Getting to the Finals for the second straight season would have been an achievement — a parallel one, sure, but it's still something — for the Celtics. And getting wrecked by the Nuggets in five games (if not four) would have been good for them.
It might have been humbling in a way that losing to the Heat after winning three straight to force a Game 7 was not. And it would have given them first-hand, in-person, desperately necessary knowledge of what a well-rounded offense is supposed to look like.
Against the Heat, Marcus Smart got roasted on back-door cuts by Duncan Robinson, who moves well without the ball but isn't exactly the modern-day John Havlicek. Jaylen Brown scheduled frequent power naps on defensive possessions throughout the playoffs. Jokic, Jamal Murray, and to a lesser degree Aaron Gordon would have made a habit of dismantling the Celtics defense, over and over and over again.
If the Celtics are going to take the next step — actually, if they are going to avoid taking another step back — they need to get away from the excruciating my-turn, your-turn offense that Jayson Tatum and Brown too often play.
ISO ball is fine, sometimes, especially for a talent like Tatum, or when there's an obvious mismatch. But when it's a fundamental part of the offense, it doubles as a guarantee that you're not maximizing all five players on the court.
As for the other fatal flaw of the offense, I must admit, I'm not sure anything would cause Joe Mazzulla to deviate from his silly, shortsighted math game of structuring an offense around 3-point attempts.
Such an offense looks swell when everyone is shooting like an honorary Curry brother. But sometimes when the first couple of threes don't drop, the entire team goes cold. It becomes contagious, and the cure doesn't come until the next game. Or, in the case of the Celtics, who shot a combined 16 of 77 from three in Games 6 and 7 against the Heat, it doesn't come until the next season.
I know, the Celtics don't have anything resembling a Jokic, the fulcrum of all the Nuggets do so well. But we already know that this Celtics team can move the ball and play a selfless, versatile style of offense, because they did it this season for the first 25-30 games before devolving into their lousiest of habits as the season played on.
Getting to the Finals and getting rocked could have been the necessary reminder of what a serious NBA offense looks like. Perhaps playing the Nuggets would have helped the Celtics realize that they should play like the Nuggets.
▪ So these welcome additions to the Celtics coaching staff mean Joe Mazzulla is headed back to the second row, right? No? Are we sure?
Fine, I'll plead guilty to overt facetiousness there. Brad Stevens vowed to add experienced coaches to Mazzulla's staff, and within two weeks he had lived up to the vow, adding Sam Cassell (a 2008 Celtics champion) and the lesser-known but just as highly regarded ex-Bucks assistant Charles Lee.
These were welcome, necessary hires, but their arrival could lead to some interesting dynamics. While Mazzulla has a full season (including 20 playoff games) of coaching experience now, the argument can be made that he's the third-most qualified among them to be the Celtics head coach.
Cassell, who also won a pair of championships as a player with the Rockets, has been an NBA assistant coach since 2008-09. Know what Mazzulla was doing that year? Averaging 2.7 points per game as a junior guard on West Virginia's Final Four team.
Cassell has the NBA pedigree that some Celtics players acknowledged valuing in a coach when Ime Udoka was hired before the 2021-22 season. He's also known to be blunt with players, as Udoka was, and this team certainly needs a voice like that in its ear.
And Cassell isn't even the lead assistant. That's Lee, a well-regarded tactician who won a title on Mike Budenholzer's bench with the 2020-21 Bucks. Lee entered the league as an assistant to Budenholzer on the 2014-15 Atlanta Hawks team that won 60 games, a team that included Al Horford and, somewhere down the bench, Mike Muscala.
I'll admit it. I think Cassell and Lee would be better fits as the head coach than the holdover head coach they are now working for.
Hopefully Mazzulla learned a lot from this season, and learns even more this offseason. Including how to utilize and trust assistant coaches who probably should be delegating to him rather than working for him.
▪ I can't imagine Stevens is going to trade Brown for a lesser player and a couple of magic beans, so the best hope with how his status is resolved is that he signs the super-max extension and commits himself to learning how to dribble with his left hand and pass at an average NBA level.
Yeah, two weeks after it ended, I'm ready for the Celtics to run it back. I could see trading Smart; he's 29 years old now and his 30s could be rough, given his style of play. But my preference is to keep the current three-guard rotation, with Derrick White getting by far the most minutes of the trio next season and Malcolm Brogdon again providing offense off the bench. (His ill-timed injury seemed to cause amnesia with some fans regarding how important he was this season and how desperate the Celtics needed a player like him in last year's Finals.)
We'll get more into roster alterations and player priorities in the offseason. For now, you know where I stand. I like their players. It's their style of play that must change.
Sign up for Celtics updates🏀
Get breaking news and analysis delivered to your inbox during basketball season.