Celtics
Celtics free agency primer: How active will Brad Stevens be as he adds to the roster?
The Celtics could go in a lot of different directions over the next few days.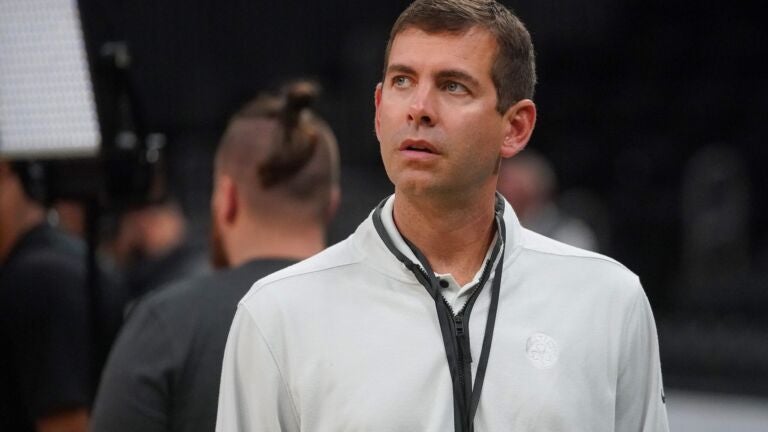 The Celtics already made one enormously consequential move this offseason, but the action could pick up in earnest as free agency begins on Friday.
Here's what you need to know as the league barrels toward the busiest time on its calendar.
When does free agency start?
Friday, Jun 30 at 6 p.m. EST
Players can't officially sign until 12:01 p.m. on July 6, but they can officially start negotiating new deals with teams on Friday. Expect some … let's call them "quick" or "spontaneous" negotiations and a whole bunch of deals announced by the NBA's premier news breakers right as free agency begins.
Who do the Celtics currently have?
The Celtics currently have 11 players under contract for next year, including a non-guaranteed deal for Justin Champagnie. Presumably, the Celtics will cut him and his $1.9 million deal loose. Luke Kornet's contract also isn't guaranteed, but he has proven himself to be a serviceable NBA bench player who can fill in when called upon, which should make his $2.4 million deal much more palatable for the team.
That leaves the following positional breakdown.
Guards: Derrick White, Malcolm Brogdon, Payton Pritchard
Wings/forwards: Jayson Tatum, Jaylen Brown (All-NBA positions don't lie!), Sam Hauser
Bigs: Robert Williams, Kristaps Porzingis, Al Horford, Luke Kornet
Restricted free agent: Grant Williams (the Celtics, as expected, reportedly extended him the qualifying offer before Thursday's deadline, making him a free agent).
Anybody else?
Keep an eye on Juhann Begarin, who the Celtics draft-and-stashed in 2021. Still just 21, Begarin played in France's top league this year and has shown signs of improvement. His offense still needs some work, but he has a phenomenal NBA profile physically and athletically as a hybrid guard-wing, and this might be a good time for the Celtics to see what they have (although they won't get a look at him at Summer League) in Begarin as a cheap option off the bench.
Yam Madar is still out there as well, but he seems like a longshot.
What positions do the Celtics need to fill?
Saying that the Celtics need to add wings and guards feels odd since Tatum, Brown, White and Brogdon are on the roster, but there are some notable holes here. Particularly on the wing, the Celtics need some additional depth in case of injury, or in case one of the Jays needs a night off for load management.
Meanwhile, at guard, Brogdon presumably is less than enthused about his situation after sacrificing minutes all year to come off the bench only to end up in trade discussions. The Clippers reportedly blew up a deal that would have sent Brogdon to Los Angeles while acquiring Kristaps Porzingis, but they didn't want to go through with it based on Brogdon's medical information. The Celtics have maintained that Brogdon should be ready for the start of the year physically, but Brad Stevens acknowledged that he and Brogdon spoke, and that hearing his trade rumors was "hard" for the seven-year veteran.
White presumably will be the Celtics' starting point guard next year full time with Smart gone. That doesn't leave a lot of experienced primary ball-handlers on the roster, and while White was part of an almost comically dominant lineup that should get plenty of run – the White, Tatum, Brown, Horford and Robert Williams group outscored opponents by 45.2 points per 100 possessions in a limited sample size last year, per Cleaning the Glass – the Celtics might want to add another ball-handler in some capacity.
How will the Celtics go about filling out their roster?
Setting aside specific targets (which we will get to), this will be fascinating. The Celtics could try to work out a sign-and-trade with Grant Williams with a number of teams who could use a versatile forward who can knock down corner 3-pointers. The Mavericks and Pacers have both been linked, but other options – such as the Spurs or Jazz – are out there.
Additionally, the Celtics could look to get off Brogdon's contract ($22.5 million), which would open up a new world of possibilities. Brogdon is a good player who bolsters the Celtics' depth significantly, but he has an injury-riddled history, and the Celtics could use depth pieces with a little more durability. Add any displeasure Brogdon might feel toward the franchise and the fact that the Celtics acquired Brogdon via trade rather than free agency – you always want to keep the agents happy – and Brogdon certainly could still be part of a trade this summer.
Stevens doesn't have to rely on Williams and Brogdon alone to make a trade look appealing. The Celtics have all of their future first-round picks save for a top-one protected swap with the Spurs in 2028, and Stevens restocked the team's second-round pick cupboard on draft night by trading out of the first round using the 25th pick he acquired from the Marcus Smart-Kristaps Porzingis trade. The Celtics also have the Warriors' top-four protected 2024 first-round pick, which threads a nice needle of "likely to convey" and "potentially intriguing as the Warriors continue to age." Stevens could deal that pick or the Celtics' own pick and still have a leftover first-round asset in the 2024 draft.
In other words, the Celtics can put together some appealing combinations. What could they get if they put a first-round pick in a Williams sign-and-trade? What if they pieced together two or three picks with Brogdon? Teams looking to build their draft equity might want to give Stevens a call on Friday at 6 pm (and not a minute before!!).
Kristaps Porzingis for Marcus Smart was a big trade. Stevens might be eyeing another one.
Who are some interesting trade targets?
This, of course, is what everyone really wants to talk about.
Dorian Finney-Smith or Royce O'Neal, Nets: Brooklyn reportedly wanted a first-round pick and a player for Finney-Smith, which is a bit rich for a player who is largely expected to be a back-up wing, but he's a highly versatile, lockdown defender. The price for O'Neal was reportedly a first-round pick as well. If the price comes down, either player would be very solid backing up Tatum and Brown.
Keldon Johnson, Spurs: Credit to Brian Robb of MassLive for initially bringing up Johnson's name. The Spurs might not want to deal the 23-year-old, but a deal involving Brogdon and multiple firsts would give them a veteran to play next to young phenom Victor Wembanyama as well as plenty of assets for future trades down the road. Johnson, meanwhile, could take over the sixth-man role behind Tatum and Brown, and if the Celtics look to rearrange their current core given the severity of the new CBA toward teams with multiple highly-paid players, a scoring wing like Johnson – whose extension kicks in next offseason – would make team-building significantly easier.
The guess here is that Johnson is unavailable, but after grabbing White two years ago, a second call to the Spurs might be in order for Stevens.
Tyus Jones, Wizards: Jones went to the Wizards as part of the Smart-Porzingis deal. Do the Wizards, who appear committed to their rebuild, really want him? Jones isn't particularly cheap ($14 million next year, then unrestricted free agency in 2024), but he would provide the Celtics with a pure point guard that their roster currently lacks. The Wizards also employ Delon Wright and Monte Morris, both of whom could be interesting options as well.
Kelly Olynyk, Jazz and Maxi Kleber, Mavericks: If the Celtics find another home for Grant Williams, Olynyk or Kleber could be good replacements as big depth. Both would require some roster shuffling, but both would fit Joe Mazzulla's spacing principles as big men.
Olivier-Maxence Prosper, Mavericks: We brought Prosper up on Wednesday as part of a sign-and-trade for Williams, since the rising rookie reportedly was a Celtics target prior to the draft. Stevens' descent from No. 25 deep into the second round began as soon as Prosper went off the board at 24, one pick before Stevens could make a selection. Could the Celtics attach an appealing pick for the Mavericks and bring in a versatile 3-4 defender on a rookie-scale deal? Is that even worth it for the Celtics, given that Prosper might be on a different timeline?
Are you going to list every potential trade target?
Definitely not. You get the idea – the Celtics stand in a hallway with myriad doors that lead to myriad other doors. The next few weeks could go in many different ways.
Could the Celtics sign free agents as well?
That depends. Without Williams, they are $7.3 million under the second apron – a severe addition to the new CBA that puts the Celtics in a very difficult place in a couple of years. If Stevens can pair down the Celtics' salary in a Brogdon deal, or if he can sign-and-trade Williams for a draft pick (which would generate a traded player exception), the Celtics would have access to the taxpayer mid-level exception worth about $5 million, which might be a good way to fill out the big rotation if the team acquires guards and wings via trade.
That's a long way of saying the Celtics could have a little bit of room to make a signing, but not enough to be impactful players in the open market. Any bigger name would necessitate a trade.
How active will the Celtics be when the free-agency window opens?
Our guess: Pretty active. There are plenty of holes in the roster, and things are already somewhat in flux with Smart gone. But Joe Mazzulla will have a full training camp this year, and the team should have plenty of time to try to build chemistry. If the Celtics hope to win a title with their star duo of Tatum and Brown, they have a roster and plenty of draft assets that should allow them to go all in now without destroying their future.
Sign up for Celtics updates🏀
Get breaking news and analysis delivered to your inbox during basketball season.