Celtics
What made coming to Boston a 'super easy' decision for Kristaps Porzingis
"Getting traded to Boston, it made me realize how much I missed being on a big stage."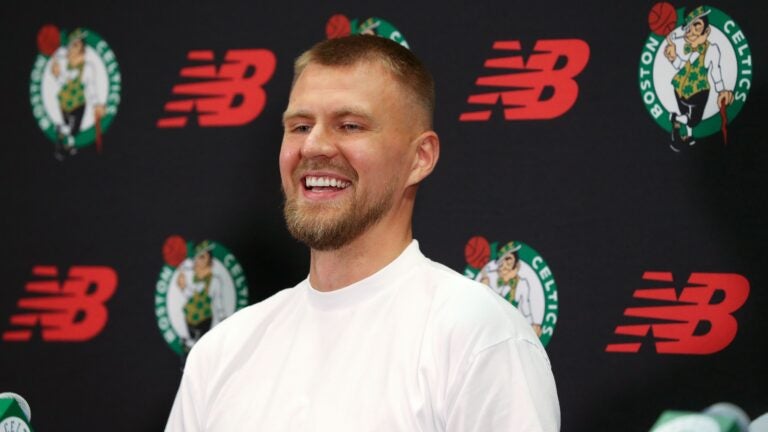 As the Celtics and Wizards discussed his future, Kristaps Porzingis was in another timezone, anxiously waiting to see if Boston could hit its midnight deadline to acquire him.
"It was a crazy day for me," Porzingis said. "I was about to go to sleep, but then I heard the news that the trade didn't go through. So, that kept me up for a little bit longer. But by like 4 am back home I was like, 'Oh, okay, I'll go to sleep and see what happens.' I woke up in the morning and saw that the trade happened. I was just extremely excited and extremely happy."
The Celtics were Porzingis' top choice, and it was an easy decision, he said. He had gotten a taste of big market basketball in New York, and a brief shot at the playoffs in Dallas, before enjoying a career year in Washington.
This time, he wanted a chance to win it all, and the Celtics felt that he might be the missing piece to bring home Banner 18.
"It's the most exciting feeling that you can get," Porzingis said. "Just the idea of that. It made it super easy and it made this my favorite option, to come here to Boston. The fire that I got from that idea is going to gas me up for the rest of the summer and [for my time here]."
On Thursday, Porzingis arrived at the Auerbach Center wearing a crisp white t-shirt and sweatpants, taking sips of lemon-lime Gatorade as he answered questions. He spoke about how his arrival in Boston made him think about his early days as a New York Knick.
"Getting traded to Boston it made me realize how much I missed being on a big stage," Porzingis said. "Dallas was great, Washington was great also, but I just feel like this is a different level, just a different level of excitement in how good the team is and all of that. New York helped me tremendously growing up and being prepared for almost anything you can face in the NBA."
Celtics president of basketball operations Brad Stevens said that the Celtics haven't discussed an extension with Porzingis yet. Stevens said the Celtics would like to keep him "beyond" next year, although he only has one year left on his contract at the moment.
"We'll have a chance to talk here in the next couple of days or weeks or whatever it is," Stevens said. "But, obviously we really like Kristaps. We want him here. We'll obviously have him next year and hopefully beyond, but we'll see."
At 7-foot-3, with the ability to score inside and out, Porzingis will help the Celtics space the floor. He said he hopes to make life easier for Jayson Tatum and Jaylen Brown, drawing enough attention for them to slash through defenses more efficiently.
"The addition of Kristaps will help us in our post," Celtics coach Joe Mazzulla said. "He will help us against specific defenses that we may have had trouble with in the past, and just give us a different look which is important I think as we continue to make this deep runs, to be a dynamic team."
He'll also add rim protection and depth to the frontcourt alongside Al Horford and Rob Williams.
"Those guys are already high level defensive players. Both are really good at protecting the rim," Porzingis said. "I'm going to be about there, also protecting the rim. And those guards on the team, guards forward, everybody on the team I think they're all like dogs and they're going to make life even easier for us defensively as the bigs because they're going to be putting more pressure on the guards when they're driving by and stuff like that. I think this is a special team that I'm going to be able to join."
Porzingis was candid about his previous postseason experiences. He tore his meniscus during the Western Conference First Round in 2020, as Dallas was eliminated by the Clippers in six games. The Clippers beat Dallas again in 2021, with Porzingis held to just 13.1 points, well below his regular-season average.
"I don't know if I'll be ready [this time around]," Porzingis said "Who knows. But, I'm going to do everything I can to help this team. I have a taste of it. I know what it's like. The first playoff series' were really good. I just didn't have luck. The second one was completely different, a different style. Each series is completely different. I'm going to have to be ready for any kind of scenario and as the season goes along we're going to find that rhythm and that chemistry. That's going to carry us into the playoffs."
On paper, the Celtics are the most talented team Porzingis has ever played on. Jayson Tatum and Jaylen Brown are legitimate all-NBA players who have experience making deep playoff runs. Porzingis can play more of a supporting role than a starring role here, and that has the potential to change things.
"It will make it much easier. The same way last year, playing with [Bradley Beal] and [Kyle Kuzma] helped me," Porzingis said. "Jayson and Jaylen are super high level guys. They're going to have pretty much the whole team, the opposite team, all of their attention is going to be on them and that might make me offensively much more open … So, it's going to be a little bit of time until we find that chemistry on the floor, but it could be a very good mix for sure."
Sign up for Celtics updates🏀
Get breaking news and analysis delivered to your inbox during basketball season.