Celtics
Kristaps Porzingis thinks playing with Jayson Tatum and Jaylen Brown 'lines up perfectly'
"These guys are all about winning, and I want to be a part of it. I think it could be a perfect mix."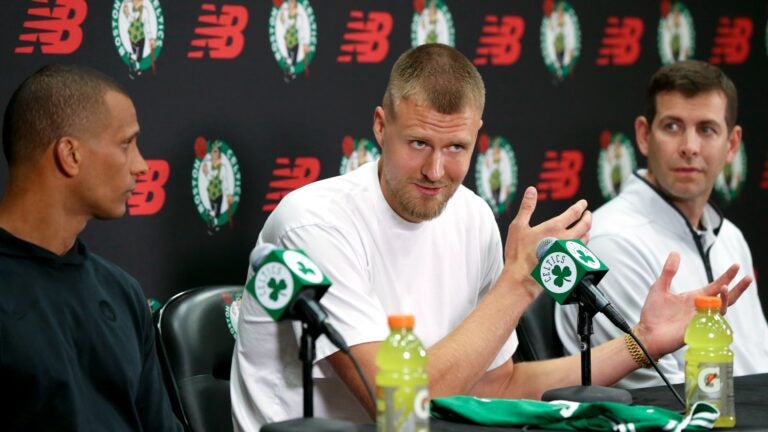 With the addition of Kristaps Porzingis, the Celtics have three players at age 27 or younger who have made an NBA All-Star team.
Porzingis, Jaylen Brown, and Jayson Tatum have an opportunity to chase a championship together as they enter the prime of their careers.
"I think it lines up perfectly. We're similar age," Porzingis said during an interview with Celtics in-house reporter Marc D'Amico. "I think this is a good age for a basketball player because you start to mature. You see, basketball slows down, you have more experience, maybe your priorities change a little bit. These guys are all about winning, and I want to be a part of it. I think it could be a perfect mix."
Staying healthy has been an issue for Porzingis throughout his career. But last year, he played in 65 games and averaged 32.6 minutes, both of which are the most he's played since 2017. He feels that his best years are ahead of him.
"I think the work paid off for me," Porzingis said. "I looked at my game, I looked at how I can be more efficient and really just analyzed myself. It paid off last season, and all the work I put in off the court to stay healthy with my body maturing and getting to that age helped. I believe I have some great, great high-level years ahead of me."
Celtics coach Joe Mazzulla said that the 7-foot-3 Porzingis adds balance to a previously guard-heavy roster.
"I think it's a balance of how we want to play," Mazzulla said. "Those guys have gotten better in their careers at playing together and playing as a team. I think that was one of the strengths we had this year, we were able to take advantage of our roster and our depth. With Kristaps coming in, that's a piece that we can implement into our system and our identity."
Celtics president of basketball operations Brad Stevens said that the Celtics have a North Star goal of winning a championship this season, and that he's gotten approval from the team's ownership to continue building around Tatum, Brown, and Porzingis.
"We're really lucky. We've got the green light to continue to add," Stevens said. "I think the biggest thing for us is to continue to be smart about building a team. Obviously you're always looking at it from the standpoint of this year, but also down the road. But, I do think we're fortunate that we were deep into the tax last year, and we'll be deep into it last year with the green light to continue to do it."
Porzingis said he came to Boston to win, and in order to do that, he'll have to continue to be a consistent low post threat who can space the floor to create more opportunities for Brown and Tatum.
"I want to come here to make life easier for those guys," Porzingis said. "Hopefully with my skill set and my talent, I can take some pressure off of those guys, and that's it. I came here to try to make this team better. I'm excited to play with such high-level guys who have been there from year to year and have that experience already. I think it could be a great combination."
Sign up for Celtics updates🏀
Get breaking news and analysis delivered to your inbox during basketball season.