Celtics
Reshaped Celtics give us cause for excitement — and unease — about next season
After the Marcus Smart trade, they are a purely more talented team, but couldn't things go haywire with just a few missteps?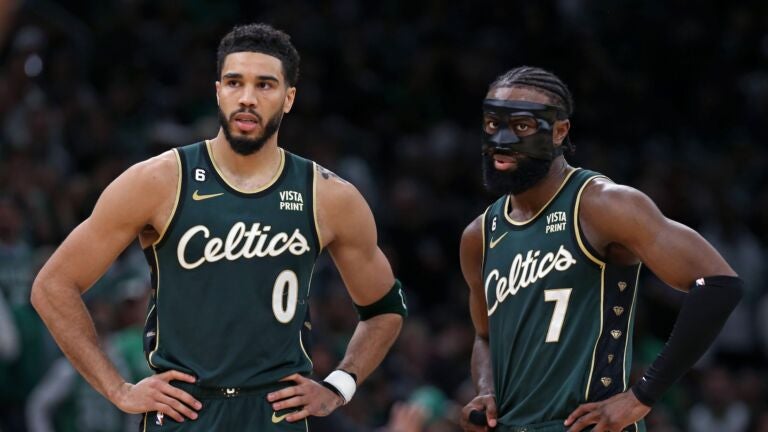 To my slight surprise, the contrasting feelings that were so familiar during the nine seasons that Marcus Smart played for the Celtics did not depart along with him.
The anticipation of something fun and memorable to come remains strong with the pending 2023-24 Celtics. So does the hovering unease, the sense that the best-laid plans could go haywire with just a couple missteps.
Anticipating and appreciating the good, but with unease of potential chaos usually hovering nearby? Yep, that's a fair synopsis of the full Marcus Smart Boston Celtic experience … and it's how I feel about the state of the team right now, a little more than a week after we learned he was becoming a former Celtic.
News that president of basketball operations Brad Stevens had traded Smart to the Grizzlies in a three-team whopper of a deal that brought Kristaps Porzingis to Boston broke just before midnight last Wednesday.
For those who crash into bed at a normal hour, word of the deal arrived early Thursday morning, a more effective wakeup call than the highest-octane cup of coffee.
Smart? Gone? How can that be? His hair was green, and his heart may well have been too. He wasn't the Celtics' best player by any stretch. But he embraced and savored being a Celtic more than any past or present peers, save for perhaps Isaiah Thomas.
Should his No. 36 dangle from the rafters someday (now there's a polarizing debate for another time), it will not be because of his production, but largely because of his passion. He took being a Celtic seriously, even if his methods were sometimes misguided. With some time and distance now, isn't it patently absurd that he appeared to have a say in coaching the team in the playoffs?
Still, he was beloved here by many, and it was jarring to see Smart go so abruptly. The blunt reality of it required days to process. My Celtics-adoring daughter, who sends me assorted Celtics links on at least three different social media apps daily, is stuck in the bargaining phase of basketball mourning. She has rationalized the trade by deciding that it's only temporary and Smart will call the Garden home again someday.
I nod and regale her with tales of Antoine Walker's unexpected homecoming in 2005. ("And fans were happy to have him back, and he even stopped being a conscienceless gunner for a little while, and we called him CyberToine, and he said he took so many threes because there were no fours, and …") This isn't quite how Kevin Garnett intended it, but anything is possible, right?
Maybe we haven't seen the last of Smart, the most beloved 10.6-points-per-game scorer in Celtics history. But we have for now, and many, many worthwhile words have been spent on his departure. But it's time now — probably past time — to think about what's left behind … and that complicated cocktail of anticipation.
I am certain of this: The Celtics are a more purely talented team after the trade than they were before. The 7-foot-3-inch Porzingis is a distinctly skilled offensive player, a threat in the post and on pull-ups, and one who shot better from 3-point range this year (38.5 percent) than Jaylen Brown has in two years and Jayson Tatum in three.
Porzingis said he wants to "make things easier on those guys," meaning Tatum and Brown.
I am curious how that will be applied. Tatum averaged 30.1 points last season, Brown 26.6, and Porzingis 23.2 as a Wizard. Someone in that trio is not going to score as much as he thinks.
When Danny Ainge added Garnett and Ray Allen to Paul Pierce to form the New Big Three, Allen was the one who sacrificed the most, his scoring average dropping from 26.4 during his last season with the Sonics to 17.4 with the Celtics, and his shots per game dipping from 21 to 13.5.
Pierce's scoring average fell from 25 to 19.6 and his shot attempts from 18.1 on the miserable 2006-07 Celtics to 13.5 on the '08 champs, but he was still the big-shot alpha at the end of games. Garnett? He cared less about touches than Kendrick Perkins, and that is not hyperbole. He was the ultimate selfless superstar.
Among this trio, Tatum is a willing and improved passer, but he's the one who should be taking the most shots, especially if he spends the offseason improving from mid-range.
Porzingis can score from areas where the Celtics struggled last year, and hopefully Joe Mazzulla uses him that way rather than as another 3-point bomber.
Brown probably will remain the second option, but the Celtics would be so much better off if he returned a more willing and able passer. Hopefully he doesn't take the super-max as nine-figure validation that he has done everything right and there's no growth left to be made.
Derrick White will thrive as the connector even if he isn't a true point guard, and it's a shame so many have forgotten how effective and necessary Malcolm Brogdon was before he was cursed with Chris Sale's health in the playoffs. But Smart's departure does mean they need another guard, just as they did before this past season.
Payton Pritchard can be an effective player, but anyone who sees him as a playmaker is projecting some Ernie DiGregorio skills on him that just don't exist. He's much better at creating his own shot than finding one for others.
I am out, adamantly, on the idea of Patrick Beverley, a cheap, inauthentic Smart facsimile. I was in on prying Monte Morris and his career 5-to-1 assist-to-turnover ratio away from the Wizards before he was reportedly dealt to the Pistons for a second-round pick.
What else? I want them to keep Grant Williams but don't expect them to. I am fully opposed to hearing Robert Williams's name in trade rumors. I hope Blake Griffin, who handled the decline from stardom with grace and humor, somehow sticks around as a good-culture guy.
And no matter what happens and how the rest of this offseason plays out, we'll anticipate what's to come with hope, and that old familiar unease, too.
It's what the Celtics have done to us during this successful yet still unfulfilled era. There's a decent chance it's what they will continue to do to us even if they hang a banner in the years ahead. And yes, dear, it's probably how it will be when Marcus Smart returns someday too.
Sign up for Celtics updates🏀
Get breaking news and analysis delivered to your inbox during basketball season.