Celtics
Celtics, Jaylen Brown reportedly 'confident' to get extension done, even if it doesn't happen right away
Brown became extension eligible at midnight on Saturday.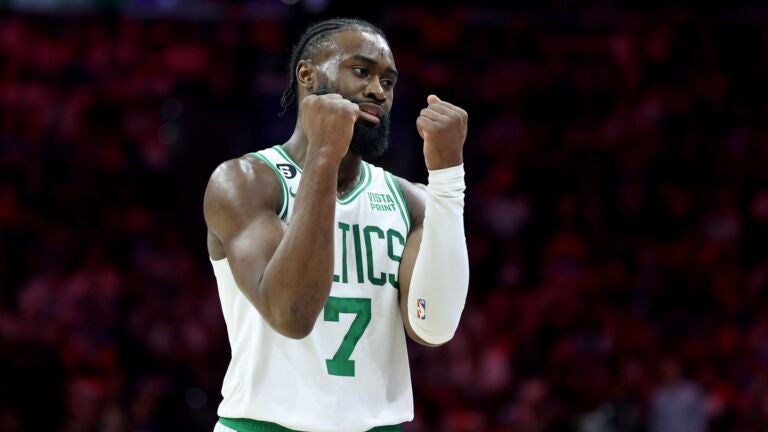 Jaylen Brown became eligible to sign a super-max deal with Celtics shortly after midnight Saturday morning. Unlike Kristaps Porzingis, though, Brown doesn't have an extension in place just yet with the Celtics.
It isn't expected that the Celtics and Brown instantly reach an agreement on an extension, though both sides are "confident" they can get a deal done soon, The Boston Globe's Adam Himmelsbach reported.
Multiple reports indicated in recent weeks that it's the Celtics' priority to extend Brown, whom they drafted with the No. 3 overall pick in the 2016 NBA Draft. However, it remains to be seen if the Celtics will give him the super-max contract he's eligible for after he made the All-NBA second-team this past season.
Boston can offer Brown a five-year, $295 million extension this offseason. Not only is that over $100 million more than what any team can offer him in free agency, but it would also be the biggest contract in NBA history.
Because Brown's potential extension is so large, there's been a lot of debate on whether or not the Celtics should give the 26-year-old wing that big of a deal. While Brown scored a career-high 26.6 points per game during the regular season, he struggled at points in the playoffs. Brown scored just 19 points per game in the Celtics' Eastern Conference finals loss to the Heat, including an eight-turnover game in Game 7.
One NBA executive recently proposed a creative idea to Heavy.com's Steve Bulpett that allows both sides to have an out during the contract if need be.
"What if Boston offered him an opt-out after three years (of the extension) and a team option after four years? That allows him to look at where the market is then after the new media deals are done and streaming comes in with Amazon and Apple and all those folks bidding to get in," the anonymous executive told Bulpett. "Things could look a lot different then. But that team option would also give the Celtics a chance to reset if things don't work out for whatever reason — injuries to the core rotation or things like that. They'd still have to buy Jaylen out, but the number would be less than the $65-or-so million on the contract."
No matter what the Celtics and Brown decide to do, it'll have heavy consequences on the future of the organization.
Sign up for Celtics updates🏀
Get breaking news and analysis delivered to your inbox during basketball season.