Celtics
Grant Williams to reportedly leave Celtics for Mavericks in sign-and-trade deal
Grant Williams is reportedly signing a four-year, $53 million contract with Dallas.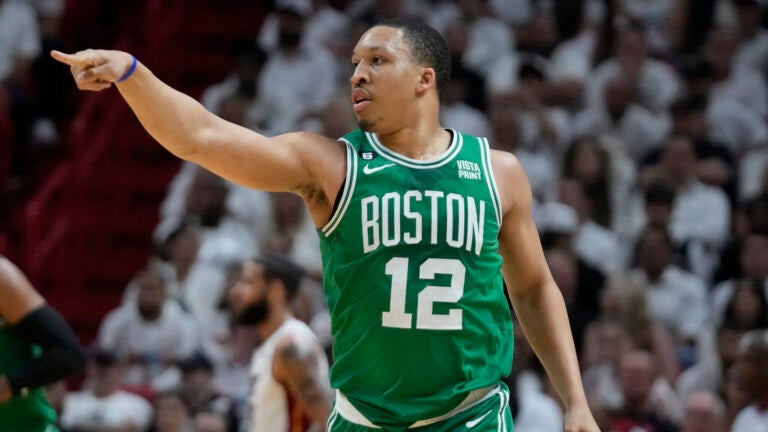 After four seasons in Boston, Grant Williams is reportedly heading west.
Williams, who became a restricted free agent last week, is heading to the Mavericks in a three-team, sign-and-trade deal involving Boston, Dallas and San Antonio, per the Athletic's Shams Charania.
According to ESPN's Adrian Wojnarowski, Williams agreed to a four-year, $53 million contract in order to facilitate the deal.
While the Mavericks will add Williams to help bolster their frontcourt, Adam Himmelsbach of The Boston Globe reported that Boston will gain two second-round picks and a 2025 second-round pick swap.
The Spurs will also receive Reggie Bullock and an unprotected Dallas pick swap in 2030.
According to HoopsHype's Yossi Gozlan, the Celtics will gain a traded player exception worth about $6.3 million as a result of the sign-and-trade.
If Boston ultimately signed Williams to the same deal as Dallas, it would have landed in the second apron of the luxury tax and kicked up its their luxury tax bill by a steep $40 million.
Last fall, the Celtics and Williams' representatives discussed a contract extension that could have reached around $50 million over four seasons, per The Athletic's Jared Weiss. However, the conversations were halted after both sides could not agree on the guarantee structure.
Williams' new deal with Dallas falls into a similar price range.
Drafted by Boston in the first round (22nd overall) of the 2019 NBA Draft, Williams developed into a dependable bench option for Boston over his final two years with the team.
He played a key role in a pair of deep playoff runs for the Celtics in 2022 and 2023, giving Boston 3-point shooting, rebounding, and defensive intensity in a reserve role.
But after a breakthrough showing during Boston's Finals run, Williams had an up-and-down 2022-23 campaign under first-year coach Joe Mazzulla.
Even though Williams posted career highs in points (8.1) and rebounds (4.6) per game, he struggled to earn consistent minutes in Mazzulla's rotation, especially during various stages of the postseason.
Williams, who underwent hand surgery last month but is expected to be ready for the start of the 2023-24 season, noted last week that he was keeping an open mind about his future in Boston.
"Whatever happens," Williams said. "I have not much control on this because I allowed my agents and everybody else to focus on that because my whole focus and goal has always been winning. Team success always been most important thing. Brad [Stevens] and those guys, if they decide to keep me and bring me back, of course I'm going to come back and be excited, happy, ready to play for the Celtics."
Sign up for Celtics updates🏀
Get breaking news and analysis delivered to your inbox during basketball season.