Celtics
Celtics rumors: C's are positioning themselves for 'seismic' trade using draft picks
Marcus Smart and Grant Williams are already gone, and the Celtics reportedly aren't done making moves.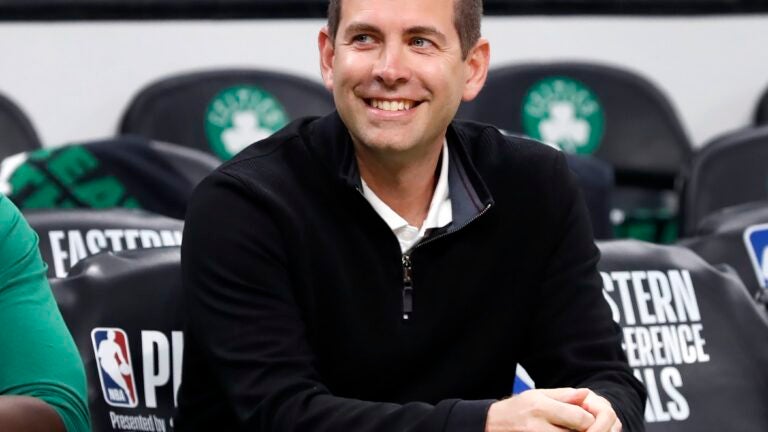 The Celtics have traded Marcus Smart and Grant Williams among other players this summer, and they reportedly aren't done looking for deals.
According to Adam Himmelsbach of The Boston Globe, the Celtics have been acquiring draft picks to use as capital to make another splash in the trade market.
The Smart trade landed the Celtics theNo. 25 overall pick in last month's NBA draft, which they used to trade back several times and secure a haul of four future second-round picks on draft night, as well as the No. 38 overall pick, which they used to select Arkansas forward Jordan Walsh.
Boston also acquired the Warriors' 2024 first-round pick in the Smart trade.
The Celtics added two more second-round picks and a 2025 second-round pick swap with the Mavericks in the Williams trade.
"No, the Celtics do not have a plan to start a youth movement centered on draft picks," Himmelsbach wrote. "This capital will eventually serve as currency in a larger deal, with the Celtics well-positioned for a seismic strike, league sources said. The spree of recent activity has bred speculation that they could be staking out their big move right now, but a league source said that appears unlikely."
The Celtics already had Jayson Tatum under contract. They signed Kristaps Porzingis to a two year extension after acquiring him from Washington in the Smart trade. Himmelsbach reported that the Celtics are expected to offer, and eventually agree to, a super-max contract extension with Jaylen Brown.
The Celtics have the green light to continue adding pieces despite being deep into the luxury tax last year, president of basketball operations Brad Stevens said at Porzingis' introductory press conference.
MassLive's Brian Robb reported that a league source said the Celtics are "far from done" making moves this offseason.
They had already attempted to deal Malcolm Brogdon in exchange for Porzingis but trade talks fell apart, leading the Celtics to deal Smart instead. The reigning NBA Sixth Man of the Year has two-years and $45 million left on his contract.
The loss of Smart, as well as questions about Brogdon's health, have changed Boston's depth at the guard position. Payton Pritchard was open about wanting a trade last season, saying that he wanted more playing time. More minutes have opened up, but it remains to be seen how many of them will go to him.
The Celtics are not expected to pursue seven-time all-star guard Damian Lillard, who asked for a trade from Portland this week, according to Himmelsbach.
While Lillard's trade request is one of the NBA's biggest storylines this offseason, the Celtics will likely look elsewhere for deals to make, Himmelsbach wrote.
Sign up for Celtics updates🏀
Get breaking news and analysis delivered to your inbox during basketball season.