Celtics
I understand trading Marcus Smart and letting Grant Williams get his payday elsewhere. But I cannot bring myself to like it.
Maybe this is harsh, but it's the truth: The coach had best be the most improved person in his given role on the basketball side of the organization next season.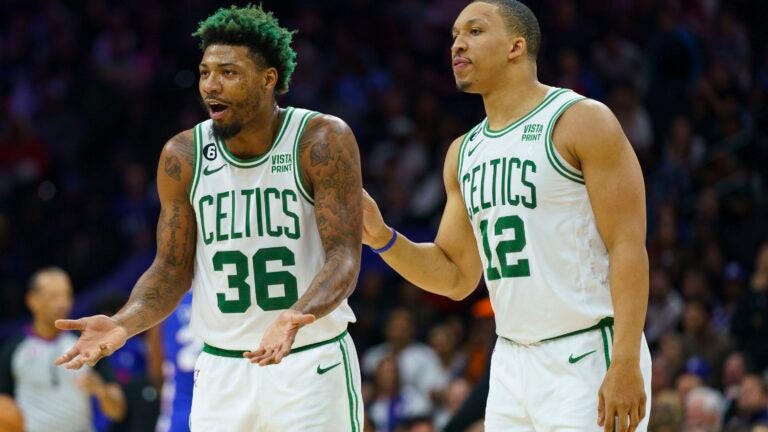 For the most part, I get Brad Stevens's approach to the Celtics' offseason. Respect it, too. He's bolder than first expected in pursuing that elusive Banner 18.
Enjoying it is another matter, at least for now.
Stevens, in the midst of his third summer as president of basketball operations, is sacrificing quality depth and some toughness to add high-end talent, all the while wisely remaining below the punitive second tax "apron" (sheesh, what a tiresome word that already is) in the new collective bargaining agreement.
It's a tactic that is responsible and risky at once, and maybe that is what the Celtics, participants in five of the last seven Eastern Conference finals without a championship trophy to show for it, need to take the next jump-step forward.
Acquiring Kristaps Porzingis, a 7-foot-3-inch scoring whiz, raises the sum of pure talent on the roster and has a certain set of skills absent from the 2022-23 Celtics. He'll make their offense more diverse. If most goes well, he might — might — even help them become champions.
But the new season doesn't begin for another three months, and it's easier now, with old highlight reels playing in our minds, to ponder what the Celtics have lost rather than what they have gained.
Bringing in Porzingis in a three-way trade with the Grizzlies and Wizards cost the Celtics Marcus Smart, the team's heartbeat, if often an erratic one. Wednesday brought more change. Reserve forward and apparent Batman cosplayer Grant Williams departed for the Mavericks on a three-way sign-and-trade after agreeing to a four-year, $54 million deal as a restricted free agent.
I understand trading Smart and letting Williams — whose salary would have shot the Celtics past the dreaded second apron — get his payday elsewhere. But I cannot bring myself to like it.
I think I believed in and enjoyed last season's Celtics team better than most, and so perhaps I'm coming at this from a perspective different than most. As exasperating as they could be right down to the suspense-free Game 7 of the conference finals against the Heat, I found every one of their players, from All-NBAers Jayson Tatum and Jaylen Brown all the way down the bench to the Bus 1 Boys, likable in one way or another. (Related: Bring back Blake Griffin, please.)
It's too bad the mission went unfulfilled, because the Smarts and Horfords and Griffins have been waiting a long time to become champions, and the conversation around Tatum and Brown's place in the league hierarchy would have changed for good.
I don't believe the Celtics were soft last season, but I will acknowledge that they were hardly a tribute to the Charles Oakley/Anthony Mason Knicks. And now they've moved on from perhaps their two edgiest players in Smart and Williams. The pursuit of Patrick Beverley — a more reckless and worse player than Smart — bothered me, because it suggested that Stevens feels an injection of toughness remains a requirement.
Stevens, whether intentionally or not, has adjusted the roster to fit the coach's preferences to some degree. That would be ideal if there was reason to believe that Joe Mazzulla is the right coach to guide a veteran team to a championship. I did not see that reason last season.
Stevens believes in Mazzulla, and that's reason enough to give him some benefit of the doubt. But I did not see that reason last season. Maybe this is harsh, but it's the truth: The coach had best be the most improved person in his given role on the basketball side of the organization next season.
Smart, the longest-tenured and most invested Celtic on a game-to-game basis, had no qualms about nudging Mazzulla into his shadow. And Mazzulla's haphazard management of Williams — the kind of versatile role player all contenders need — in the postseason suggested the coach didn't value him as much as predecessor Ime Udoka did during the 2022 Finals run.
Williams's constant chirping at the officials was annoying and detrimental, and little good happened when he'd put the ball on the floor and try to make a play. But he was fearless, good natured, and usually ready even after he'd had "DNP-coach's decision" next to his name for a stretch of games. Calling him a tweener would be accurate, but until Leon Powe is ready to make a comeback, the Celtics will miss him, especially when the games matter most.
There have been decisions I've liked this offseason. I'm looking forward to watching second-round pick Jordan Walsh being one of the three or four players committed to playing maniacal defense in Las Vegas.
Raptors fans are bothered that 6-9 point guard Dalano Banton signed with the Celtics, and allow me to apologize in advance for my future comparison of him to a young Shaun Livingston after he dishes out nine assists in a summer league game. I'm also glad that the Celtics front office has been quicker to shoot down rumors this offseason, rather than letting Damian Lillard trade rumors fester like they did with the Kevin Durant/Brown chatter last offseason.
And — sigh — I suppose that with sentimentality removed from the equation, Porzingis's acquisition makes plenty of sense. Once again, Stevens got the best player in a deal.
But right now, excuse me if I'm not yet anticipating what's to come, and what Porzingis and these new Celtics might do come October and beyond. I'm still thinking about May, and all the endings it brought.
Sign up for Celtics updates🏀
Get breaking news and analysis delivered to your inbox during basketball season.