Celtics
Why a few ESPN analysts dislike Celtics' trades of Grant Williams, Marcus Smart this offseason
"I think this is a very bad day for them from a roster standpoint."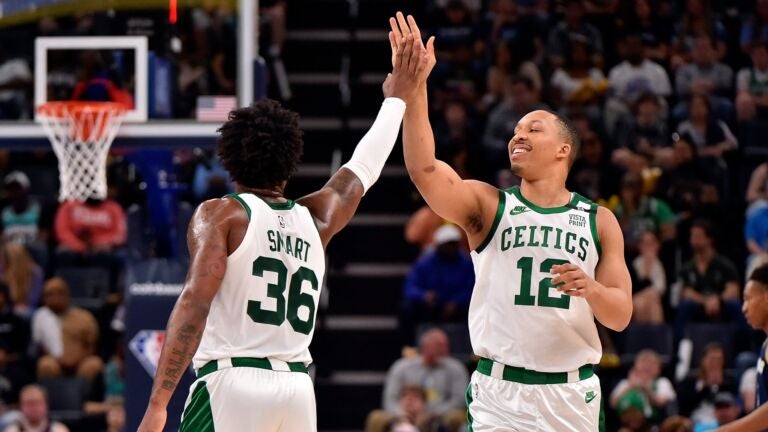 The Celtics have gone through a decent roster overhaul after they fell short in the Eastern Conference finals. While some might view the moves they made as a necessity, a few notable ESPN analysts are a bit unsure if they improved their hopes for a title.
Former Celtics center Kendrick Perkins was among those who criticized the team the most after it traded Marcus Smart in order to get Kristaps Porzingis (along with two first-round picks). He felt similarly about the Celtics' decision to reportedly let Grant Williams go to the Dallas Mavericks in a sign-and-trade earlier this week.
"Here's the thing, you need dogs in order to win a championship. The Celtics this past offseason just got rid of two pit bulls that they had in the locker room in Marcus Smart and Grant Williams. You can't replace that," Perkins said on ESPN's "NBA Today." "I don't care about guys that play hard. That's another thing. If you play hard and have tenacity, the noise talking, the get in your face, not being afraid to ruffle feathers — you can't replace that.
"There's no team in the history of sports that hasn't had dogs in their roster in order for them to compete to win a championship."
While Perkins was concerned with the Celtics' toughness following the trade, Zach Lowe and Tim Bontemps were concerned about Boston for a pair of separate reasons. As the Celtics refused to match a reported four-year, $53 million deal Williams received from the Mavericks, Bontemps called it a "very disappointing thing" for the Celtics because they let a player of Williams's talent walk and only got a pair of second-round picks in return in the midst of title window.
"I think this is a very bad day for them from a roster standpoint," Bontemps said on "The Lowe Post" podcast. "Grant Williams has proven he can play in the playoffs. He's on a contract that, by the end of it, might be fringe rotation money.
"So, you look at that and yeah, Grant Williams might not have played all of the time for this team. But he's a very healthy guy, he's durable, he's versatile, he can play off of Jayson Tatum and Jaylen Brown. He's an excellent spot-up shooter, particularly in the corners. He can guard all across the positional spectrum. They put him on guards. They put him on centers. He guarded Jimmy Butler and Joel Embiid at times in the playoffs to show his versatility."
In order to obtain Williams, Dallas actually needed to offload salary. It traded guard Reggie Bullock and a 2030 unprotected first-round pick swap, but both the player and draft pick rights went to the San Antonio Spurs. Bontemps said that he would've understood if the Celtics opted to take that package from the Mavericks.
"I think you have to look at this as a financial move when you look at this trade," Bontemps said, referring to the Celtics approaching the second tax apron. "Even if you said, 'I don't think the Celtics wanted to pay Grant Williams four years, $54 million,' well, by the way, when they were talking about an extension in the fall, it wasn't much lower than this.
"But just look at what San Antonio got in this trade, not only did they get Reggie Bullock, who is a fine 3-and-D wing … they also got a first-round pick swap in 2030, which will be Luka Doncic's 12th season in the league and there are plenty of reasons to think if he'll be on the team at that point."
As for Lowe, he said that he understands what the Celtics did because he believed they needed a "jolt of stylistic change" to help ease things for their offense, which adding Porzingis should do.
However, Lowe feels "queasy" about the pair of moves they made because he doesn't trust the Celtics' backcourt depth with Smart gone and Malcolm Brogdon dealing with an injury, feeling similarly about the Celtics' frontcourt, too.
"All three big men, I don't trust their health," Lowe said. "I'm just not 100 percent convinced that the Robert Williams-Kristaps Porzingis duo is going to be a workable thing on offense or on defense in some matchups. And they went away from the Robert Williams-Al Horford duo for a lot of last year.
"If you come out of the wash and you say, 'We just can't play two of these three guys together an enormous out of minutes,' you've just lost two of the players that are really sort of the glue between the smallest guys and biggest guys in Marcus Smart and Grant Williams."
In terms of health, it should be noted that Brogdon is expected to be ready to play by the start of the season. Porzingis also played 65 games last season and missed a handful of games as the Wizards rested him at the end of the year, though he's had injury-riddled seasons in the past. Horford has also played 69 and 63 games over the last two seasons, respectively, though the Celtics have also kept him from playing in back-to-backs and monitored his minutes as well.
As Lowe expressed "queasiness" over Boston's two big trades, he later mentioned that he still thinks the Celtics "are going to be awesome no matter what," mentioning he liked their signing of veteran forward Oshae Brissett "a lot."
The latter sentiment seems to be one expressed by many. The Celtics are the early favorites to win the NBA title next season on several sportsbooks, holding +470 odds to win the title on FanDuel Sportsbook.
Sign up for Celtics updates🏀
Get breaking news and analysis delivered to your inbox during basketball season.