Celtics
'I don't consider my time there a failure': What Marcus Smart said about his time with Celtics during Grizzlies introduction
"I've been through some stuff and it's all been in Boston, and Boston is my second home."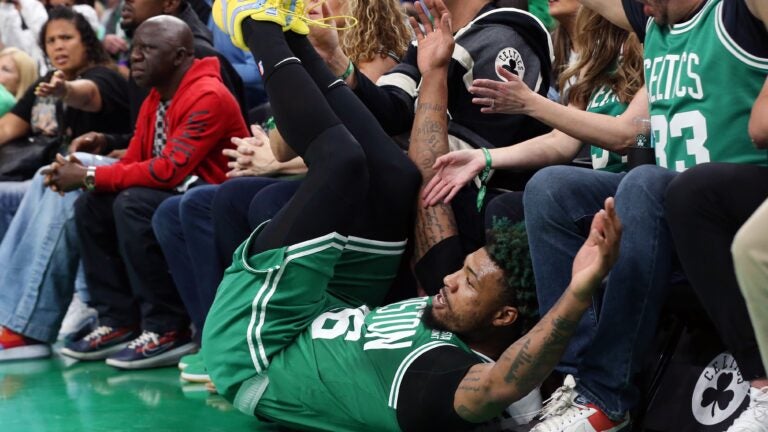 Marcus Smart was officially introduced as a member of the Memphis Grizzlies on Friday, putting an end to his time with the Celtics for good.
The point guard has already expressed his feelings about leaving Boston, but he took time to remember his Celtics journey while speaking about his new team when he met with reporters.
If he hasn't made it clear already, Smart let it be known again Friday just how much Boston means to him – something that maybe he didn't expect to happen when the Celtics drafted him in 2014.
"When I got to Boston, I was a 19-year-old kid from Dallas, Texas. It was a culture shock, it was a social shock, it was a shock to my whole life. Never been to the East Coast or anything like that, so it was all weird to me," Smart said. "But I grew up. I met some very wonderful people throughout my time there. And my experiences while in Boston, I lost my mom. My fiancée lost her dad while we were in Boston together.
"So, I've been through some stuff and it's all been in Boston, and Boston is my second home. So, it's been tough, and they're always gonna have a place in my heart."
When the Celtics selected Smart, they were in the midst of a rebuild. They just completed their first season after trading Paul Pierce and Kevin Garnett, which led to them holding one of the league's worst records in the 2014-15 season.
Upon Smart's arrival, the Celtics slowly began to turn things around. They made it back to the playoffs in Smart's rookie season, making it back to the postseason tournament in all nine years Smart was in town. After two first-round exits in his first two seasons, Smart helped the Celtics reach the Eastern Conference finals in 2017 – something they did four more times – and reach the NBA Finals in 2022.
But as the Celtics knocked on the doorstep of a title multiple times, they never pulled through. While Smart lamented that the team didn't win a title during his nine seasons there, he also took pride in what he accomplished.
"I left everything I had wearing that jersey out on that court," Smart said. "Although we didn't win the championship, in the big scheme of things I don't consider my time there a failure. I helped rebuild that team at the time when I came in and I left it better in that sense. So, I'm very ecstatic with my time there, but like I said, I'm excited for the future and what it holds for me."
Smart's mantra of leaving "everything I had wearing that jersey out on that court" made him a fan favorite in Boston, a city he also embraced during his time there.
That's why he isn't surprised by the reaction from Cetlics fans when he was traded in June.
"The fan reaction in the city of Boston was exactly what I expected it to be and what anybody who's played in Boston would expect it to be. It's all love," Smart said. "And they ride for the city hard, man. Just like Memphis, right? And that's how it should be. You're supposed to ride for your city like that. So it's all love, so I wasn't surprised by that."
That mantra Smart carries will likely make him fan favorite in his new town as well. The Grizzlies rose to prominence last decade when they prided themselves on defense as they were known as the "Grit and Grind Grizzlies," a group that helped the franchise reach new heights. Former Celtics guard Tony Allen played a major role on those teams, and Smart thinks he can follow in the footsteps of Allen and other members of that team.
"I'm excited to start a new journey in my life and in my basketball career, and what better way to than to be in a city where it fits me perfectly?" Smart told ESPN's Tim MacMahon on Friday. "Grind City. I'm a grinder; that's what I do."
Sign up for Celtics updates🏀
Get breaking news and analysis delivered to your inbox during basketball season.