Celtics
Grizzlies GM Zach Kleiman breaks down how Marcus Smart ended up in Memphis
The Celtics landed Kristaps Porzingis and picks, but it cost them Marcus Smart.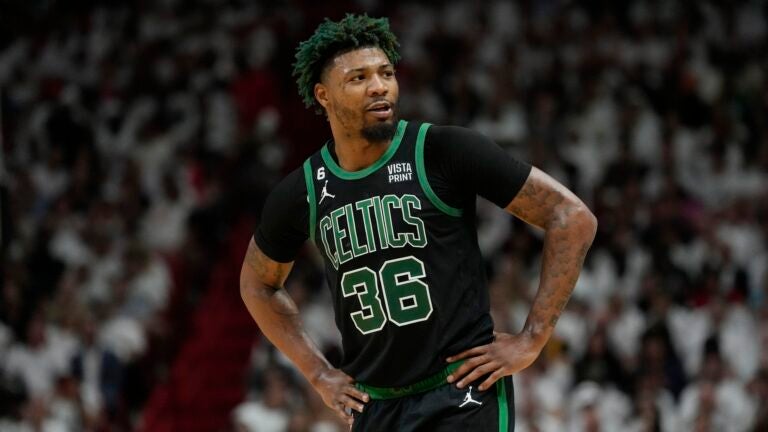 Even though trade talks with the Wizards and Clippers about a proposed three-team trade involving Malcolm Brogdon and Kristaps Porzingis fell through, the Celtics found a way to get a modified version of the deal done.
They sent Marcus Smart to Memphis, and added a pair of first-round picks while bringing Porzingis to Boston.
Grizzlies GM Zach Kleiman offered some perspective from the Grizzlies' side on how the deal came to be while speaking to reporters in Las Vegas according to MassLive's Brian Robb.
"When you come out of the season, you take a step back and you start to put things up on the board," Kleiman said. "What are the aspirational best-case scenarios for who we could potentially add to this group? How do we elevate the approach that we're taking? Who are the individuals who can really drive winning and fit in a meaningful way with our group?"
The Grizzlies, who lost one of their premier defenders in Dillon Brooks and needed a point guard to fill in for Ja Morant while he misses the first 25 games of the season, saw Smart as an ideal fit.
The Grizzlies now have the two most recent NBA Defensive Players of the Year in Smart and Jaren Jackson Jr.
"When we started to put names up on the board, there was no one higher than Marcus," Kleiman said. "And this is, early on, this is the pie in the sky if there happens to be a way that Boston would engage on this. And obviously, there was a transaction that didn't happen earlier in the day before the trade was agreed to with Boston. And you never know what could have happened if that possibility didn't come together, but we had expressed a very high level of interest and Boston knew that Marcus is someone that we have felt passionately about being able to bring into our group."
Bringing Smart to Memphis, a franchise which has branded itself based on a culture of grit and hustle, seems like a natural fit for the only player to win the NBA's Hustle Award more than once. With his defensive versatility, Smart is poised to fill the Grizzlies' need of a Brooks replacement and temporary help for the Morant situation.
The Celtics landed Porzingis and more draft capital that has reportedly positioned them well to make another big move in the trade market. The Celtics have lost part of the backcourt depth that was such a big part of their identity last year.
Porzingis's size, scoring ability, and ability to lighten the load for Al Horford and Rob Williams III gives the team a different look that could prove useful in the future.
Sign up for Celtics updates🏀
Get breaking news and analysis delivered to your inbox during basketball season.