Celtics
New Celtics assistant coach Sam Cassell explains decision to join Joe Mazzulla's staff; 'truthful' approach to players
"You've got the talent here. You've got to have health and chemistry. They are ready."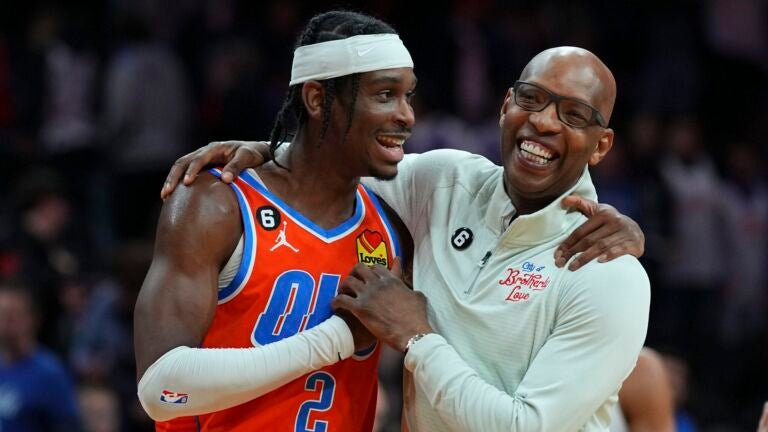 Brad Stevens made it a priority this offseason to surround 35-year-old head coach Joe Mazzulla with more veteran assistants on the Celtics' bench.
New assistant and former Celtics point guard Sam Cassell sure seems to fit the bill.
Speaking to Heavy Sports' Steve Bulpett in Las Vegas, Cassell explained how he ended up landing back with the Celtics, noting that it was his connection with Mazzulla that made it a natural fit.
"Joe made this happen," Cassell told Bulpett. "He's watched me work a couple of guys out before and wanted to understand my personality and how I link to players. We have some mutual friends that he contacted, and we just made it work."
The 53-year-old Cassell has plenty of experience in the NBA ranks, both as a player and a coach. The 6-foot-3 point guard played 15 seasons in the NBA, winning three championships with the Rockets (1994, 1995) and the Celtics in his final season in 2008.
Cassell believes his resume as an established point guard in the NBA gives him a distinct advantage now during his time as a coach, especially when it comes to communicating with players.
Of course, that messaging isn't always positive.
"I'm just very truthful with players, man," Cassell said. "Sometimes they don't like it, but I speak the truth. I speak to the game plan of the head coach, and I tell them what the head coach expects. Sometimes players try to be reluctant to take that, but I think I have a way that I can be 100% honest with a player without them taking it personally. And that's a trait that I know I have.
"I'm a great listener to players; I'm a former player, so I understand what they're going through. Like I tell them all the time, I've been each player on a team, from the top guy to the 15th player. I've been all those guys. I understand what those guys are going through mentally."
Cassell has spent the last 14 years as an assistant coach with the Wizards, Clippers, and 76ers, serving as a key resource on Doc Rivers' various coaching personnel over the years.
Both Cassell and new Celtics lead assistant Charles Lee (formerly with the Milwaukee Bucks) will look to add a steadying presence next to Mazzulla on Boston's bench.
"We've got a chance," Cassell said of Boston's title hopes in 2023-24. "You've got the talent here. You've got to have health and chemistry. They are ready. … You know, I saw how it looked when the Celtics won their last championship.
"I was a part of that team. And once we get that thing accomplished, it's a beautiful thing to win a championship in Boston. It's awesome to be back in The Bean, especially when you've won there before."
Sign up for Celtics updates🏀
Get breaking news and analysis delivered to your inbox during basketball season.