Celtics
'I'd like to get a little more depth': Brad Stevens hints at possible future roster moves, Jaylen Brown extension
Stevens said he feels "optimistic" about the Celtics' ability to extend Brown.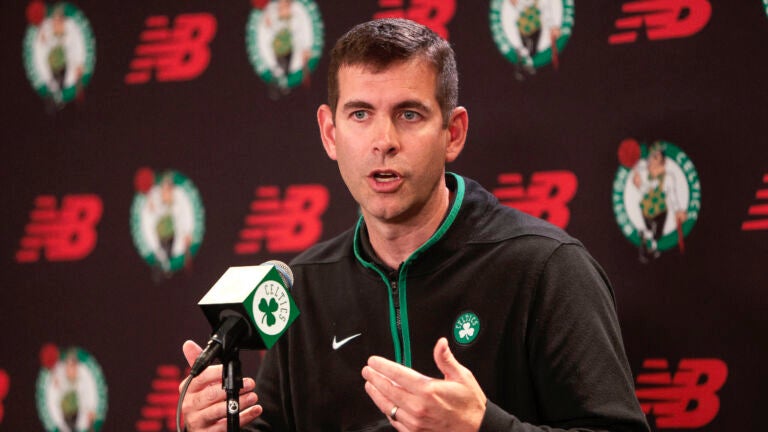 The Boston Celtics have spent their summer making considerable changes to a roster that made the NBA Finals just one year ago.
But as president of basketball operations Brad Stevens told reporters in Las Vegas on Wednesday night, the Celtics' offseason is not yet over.
"I think we'll try to add obviously a little bit," Stevens said. "I'd like to get a little more depth, maybe on the wing, and then also maybe with a 4/3 type."
Currently slotted at the wing behind stars Jayson Tatum and Jaylen Brown are sharpshooter Sam Hauser and defensive-minded rookie Jordan Walsh. While both players have shown promise and are very good at what they specialize in, they are both relatively unproven at the NBA level.
Point guards Malcolm Brogdon and Payton Pritchard are capable of backing up Brown at shooting guard, but both are better suited playing their natural positions. It makes sense that Stevens is targeting additional wing depth to round out the roster.
Stevens gave his vote of confidence to the Celtics' other position groups, especially to their bigs. They added to their big man group of Robert Williams III and Al Horford this summer by acquiring free agent forward Oshae Brissett and trading for and extending one-time All-Star Kristaps Porzingis. Stevens feels confident in that group moving forward.
"I feel pretty good about our bigs," Stevens said.
The only major loss to their big man depth was the departure of Grant Williams, who was acquired by the Dallas Mavericks in a sign-and-trade that earned the Celtics two second-round picks, one in 2024 and another in 2030, and a trade exception worth $6.3 million. Stevens conceded that, despite his confidence in his bigs, losing Williams was not easy.
"I do think [Dallas will] be a good opportunity for him and it gives us some flexibility here as we move forward," Stevens said. "But he did a good job. He's a hard guy to lose."
Another hard guy for the Celtics to lose was fan-favorite point guard Marcus Smart, who was traded in the deal that sent Porzingis to Boston. Even though the idea of Smart wearing a different team's jersey will be difficult for Celtics fans, players, coaches, and executives to stomach, Stevens believes that many other players on the team are just as good at bringing the ball up the court.
"Malcolm [Brogdon], Payton [Pritchard], Derrick [White], Tatum," Stevens said, "those will be the guys that get us into offense."
To Stevens, no one on this team has just one set position or role. Stevens views this Celtics team as positionless and does not want to limit the responsibility of initiating the offense to just the team's point guards.
"We're not really going to have that always designated like you would say, 'that is a point guard, that is a two-guard, that is a three,' Stevens said. "But they're all really capable. Jaylen as well. Those guys all bring the ball up the court."
Despite all of the changes the Celtics have made this offseason, their most consequential move has yet to be completed. This year, Brown is eligible for a supermax contract extension worth $295 million over 5 years, and the Celtics are offering him one, according to Adam Himmelsbach of The Boston Globe.
Himmelsbach also reported that Brown is seeking either a fifth-year player option, which is currently blocking an agreement. The two sides are still expected to agree on a deal, and Stevens hinted that those expectations could soon turn into reality.
"We want Jaylen to be here for a long, long time, and we've made that clear," Stevens said. "We're looking forward to all sitting down and we have time here. I probably shouldn't say anything else, but I feel optimistic."
If everything goes as planned, the Celtics will soon have Brown locked up for the next half-decade. This move, in tandem with the other moves Stevens has made this summer, would make the Celtics a very formidable team for next year and beyond.
Sign up for Celtics updates🏀
Get breaking news and analysis delivered to your inbox during basketball season.