Celtics
Jaylen Brown's extension could reportedly be worth more than originally believed
If Brown signs a max extension with the Celtics, it would be the richest contract in NBA history.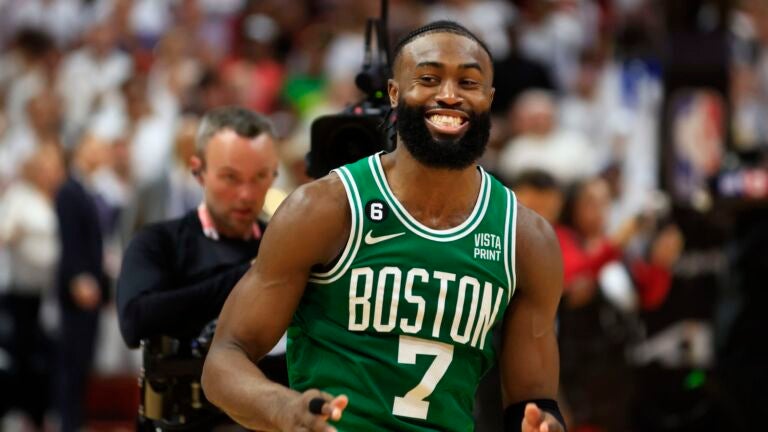 Jaylen Brown's contract extension seems to be the last major order of business for the Celtics this offseason, and the contract could be even larger than you think.
After he earned an All-NBA second-team nod for his play this past regular season, Brown became eligible for a supermax extension. It was originally reported that the supermax Brown could receive was a five-year, $295 million deal.
It could actually be even more than that. ESPN's Adrian Wojnarowski reported Friday that Brown's deal could be worth up to $304 million. If Brown were to sign a deal that rich, it would be the first $300 million contract given to a player in NBA history.
"In the final year of that deal, Jaylen Brown would be making almost $70 million," Wojnarowski said on Friday's "NBA Today," explaining the details of Brown's possible extension. "Remember, when you're negotiating contracts, it isn't just, 'Hey, are we going to give him the full amount? Is he going to get the max number?' There are trade kickers, potentially, that could be in the deal, player option years in a deal, and payment structure.
"So, there are a number of things that go beyond the max, the supermax, that Jaylen Brown is eligible for."
It appears what's holding up the finalization of the deal is indeed something different than the exact money involved. It's believed that the Celtics are offering Brown the max, but the last hurdle is "likely related to incentive structure" or a clause like a fifth-year player option, The Boston Globe's Adam Himmelsbach reported Friday.
The extension the Celtics gave Brown in 2019 wasn't a max. Rather, it was a four-year deal that gave him $103 million guaranteed at signing and the opportunity for him to earn another $12 million in incentives, per Spotrac.
Negotiations surrounding Brown's extension will be put on hold for a bit though, according to Himmelsbach. The star wing is traveling out of the country for NBPA event as he's one of the vice presidents of the union. While it's unknown how long talks will be put on hold, it's expected to be a "temporary pause," Himmelsbach added.
Celtics president Brad Stevens was hopeful of completing a deal when speaking to reporters on Wednesday.
"It's been all good discussion," Stevens said. "We want Jaylen to be here for a long, long time and we've made that clear. We're looking forward to all sitting down, and we've got time here. I probably shouldn't say anything else, but I feel optimistic."
By nature of it potentially being the first $300 million deal in NBA history, Brown's contract would be the richest in NBA history in terms of guaranteed value if he signed for the full max. He would surpass Nuggets superstar Nikola Jokic for that honor after he signed a five-year, $276 million extension last summer.
With the rising cap, it's likely Brown would hold that honor for the same amount of time Jokic did if he signs the max extension. Jayson Tatum will be eligible for a max extension in 2024 that's expected to be worth even more.
Sign up for Celtics updates🏀
Get breaking news and analysis delivered to your inbox during basketball season.