Celtics
Here's who Jayson Tatum believes is the next face of the NBA
Tatum believes he and Jaylen Brown are two of the players who will be up next as faces of the NBA.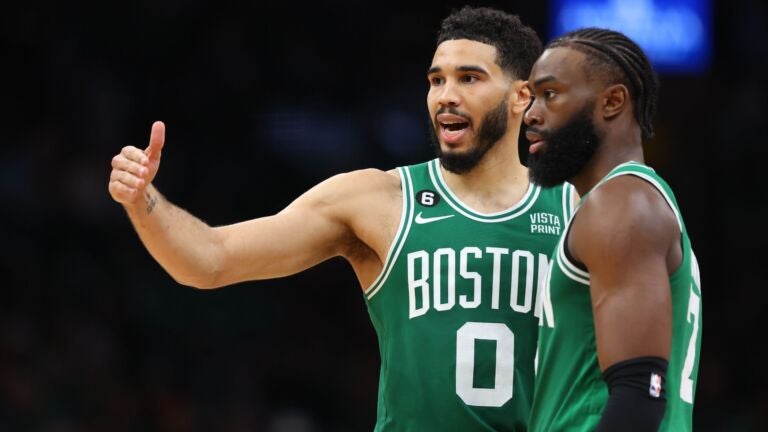 The Celtics are lucky enough to employ both Jayson Tatum and Jaylen Brown, who have been two of the most promising players in the NBA since they were drafted in 2017 and 2016 respectively.
At a recent event, Tatum was asked who he sees as the next face of the league. It was a good question: After the Lakers were eliminated from the postseason, LeBron James — who will turn 39 in December — hinted he was contemplating retirement (he pulled back from that in a recent speech at the ESPYs, to absolutely no one's surprise). Steph Curry, meanwhile, will turn 36 next season. Kevin Durant will be 35 when the 2023-24 campaign begins.
Tatum's answer covered a lot of bases.
"It's so many talented guys, young guys in this league. Embiid, Jokic, Giannis, they are still kind of young, I guess. Then you've got guys like me, Luka [Doncic], Jaylen Brown, Donovan Mitchell, younger than those guys. The league is in great hands. So many talented guys.
"And the older guys, Steph and LeBron, KD, those guys are still doing what they do. So it's very competitive."
Tatum may have missed a few names in his off-the-cuff answer — Shai Gilgeous-Alexander and Devin Booker both leap to mind — but Brown's inclusion jumps out a bit as the Celtics reportedly continue to negotiate a massive extension for their star wing. Tatum and Brown haven't always seemed particularly close, but they do work well together, and Tatum made it clear he sees Brown as a crucial part of the team going forward after the Celtics lost to the Heat in the Eastern Conference Finals.
"It's extremely important," Tatum told reporters when asked about keeping Brown in Boston long-term. "He's one of the best players in this league. Plays both ends of the ball and is still relatively young. He's accomplished a lot so far in his career, so I think it's extremely important."
For as long as LeBron James remains in the NBA, he will be the face of the league. Jokic is widely considered the best player after a dominant run to a championship. But the Celtics still have a 25- and 26-year-old, both of whom are at the beginning of their primes and both of whom can reasonably stake their claim as a face of the league going forward.
That's a good place to be, even if it costs team owners an eye-popping $613 million over the next five years.
Sign up for Celtics updates🏀
Get breaking news and analysis delivered to your inbox during basketball season.