Celtics
Joe Mazzulla's job was never in jeopardy, ESPN insider says
ESPN's Brian Windhorst reports that the Celtics are committed to building a Mazzulla-led organization.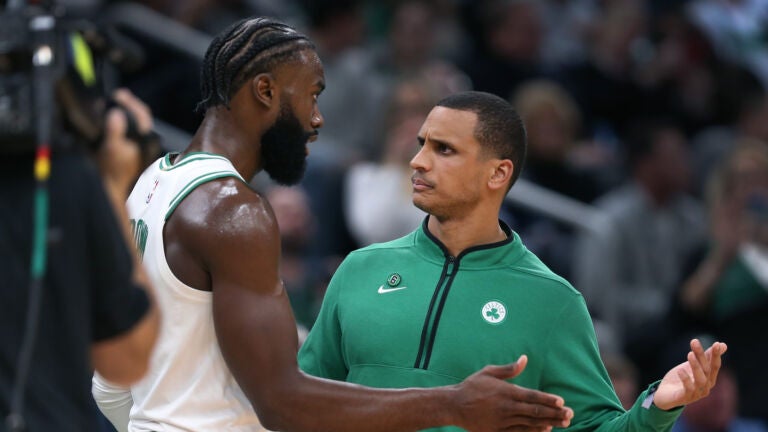 Joe Mazzulla is here to stay, and there was never any doubt within the Celtics' front office that he wouldn't.
Various ugly games and depressing losses—including a disaster Game 7 against the Heat in May that cost the Celtics a trip to the NBA Finals—have incited speculation that Mazzulla may be on the hot seat. But ESPN's Brian Windhorst reported Monday on his podcast, "The Hoop Collective," that Mazzulla's job has always been safe.
"Not only was [Mazzulla] never in trouble," Windhorst said, "Brad Stevens's biggest moves as the president of the team has been to lean into more of the way Joe Mazzulla wants to play, which is high-volume three-point shooting and offense over defense."
Stevens's actions back up this claim. One the first moves they made this offseason was to acquire stretch big Kristaps Porzingis from the Washington Wizards in a trade that sent away former defensive player of the year Marcus Smart. Roughly a week later, they dipped into the free agency pool and came out with transition threat Oshae Brissett and a talented cutter and passer in Dalano Banton.
The Celtics did add some defense to their lineup this summer, such as drafting perimeter pest Jordan Walsh. But their collective moves show what type of roster they are building and the coach they trust to lead it.
"They are absolutely headlong into the Mazzulla mindset…" said Windhorst. "This is the way Stevens and Mazzulla want to play."
Mazzulla became the interim head coach in Sept. 2022, after the team suspended Ime Udoka for the 2022-23 season due to workplace misconduct. The Celtics soon found themselves with the best record in the Eastern Conference, a title they held for months.
Stevens removed the "interim" title in Feb. 2023 to remove any uncertainty as to who would be in charge for the foreseeable future.
"I think [Mazzulla]'s done a great job, right from the get-go of…galvanizing a locker room around a mission," Stevens said at the time, per ESPN's Tim Bontemps.
Ever since, Mazulla has proven that he's not just Udoka's temporary replacement, but a legitimate NBA head coach. The Celtics believe that with more experience, a conference finals appearance is only the beginning for Mazzulla's reign.
"He's a terrific leader," Stevens said, per ESPN. "He'll only get better at anything that he can learn from this year, because he's constantly trying to learn."
Sign up for Celtics updates🏀
Get breaking news and analysis delivered to your inbox during basketball season.