Celtics
Report: Robert Williams III working on on-ball offense, being more 'selfish'
Williams has spent his summer becoming more efficient with the ball in his hands.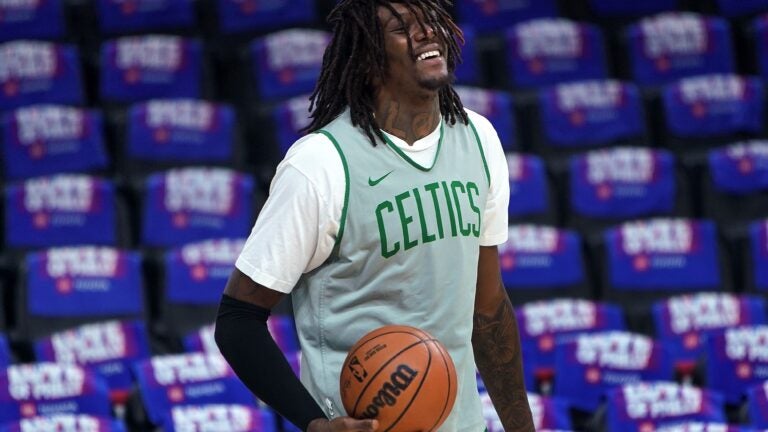 Robert Williams III has had a very busy summer.
NBC Sports' Chris Forsberg reports that Williams has been working on expanding his offensive game with skills trainer Aaron Miller. In particular, Williams has been working on his on-ball offense, a relatively unpolished skill for him.
Williams told Miller that he wishes to be more "selfish" with the ball, something that his teammates want from him.
"[Jayson Tatum is] mad at Rob when he isn't taking shots," Miller told Forsberg. "And he is mad at Rob — not mad, but holding him accountable — when he isn't taking shots and when he isn't being a threat or looking at the goal."
Williams possesses sharp instincts on defense—especially near the rim—and he has a real knack for rebounding. He is the perfect defensive role player to complement a team's star scorers such as Tatum or Jaylen Brown. But Tatum knows that Williams is more than just a rim runner. He wants his center to know that as well.
"…When Rob gets rebounds and throws it out to [Tatum or Jaylen Brown] to shoot it, I could tell you 12 other superstars in the NBA that would be so happy because they're trying to get their shot attempts up," said Miller. "But Jayson Tatum, and I don't know him personally, but just in the sense of him saying, 'Rob, we need you to shoot that, we need you,' man, I thought that was amazing for Rob's confidence moving forward."
Miller does not want Williams to limit his offensive growth to taking more shots, however. He is also turning Williams into a better roll man, especially as a playmaker in short-roll opportunities.
"With as much attention as Jaylen Brown and Jayson Tatum get in handoffs and pick-and-roll actions, I do think there is opportunity for [Williams] to expand out 2-to-3 feet with the short rolls," said Miller. "Or maybe when they're getting double-teamed to put it on the ground, find an open teammate in the corner."
The now-healthy Williams will remain this team's interior defensive anchor. In due time, Time Lord may become a genuine threat on offense as well.
Sign up for Celtics updates🏀
Get breaking news and analysis delivered to your inbox during basketball season.