Celtics
The Celtics may be more talented now, but does that make them better?
Checking in with key members of the Celtics while waiting on reinforcements.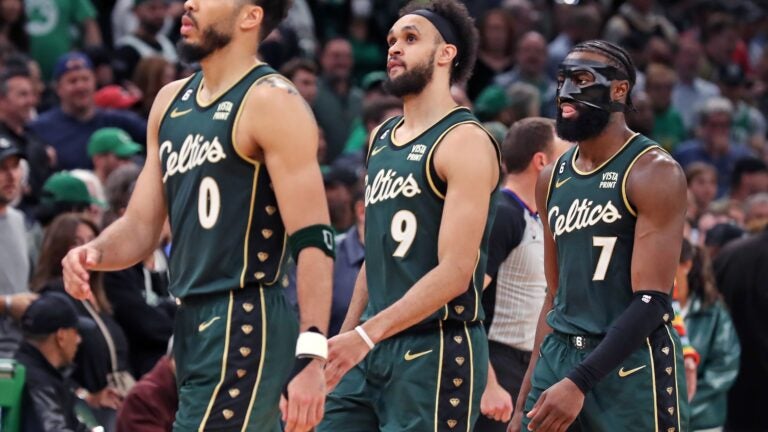 The Celtics' roster has more pure talent than the version that went quietly to the Heat in Game 7 of the Eastern Conference finals. The addition of 7-foot-3-inch Kristaps Porzingis, a once and perhaps future unicorn, has made that a truth.
But "more talented" and "better team" are not synonymous, and with the departures of flawed fighters Marcus Smart and Grant Williams, it suddenly feels like the Celtics could use one more trustworthy player at about three positions.
I'm intrigued. I'm concerned. I hope there's more clarity, and another playable depth piece or two, on the way.
While we await the addition of more reinforcements (I'd take Austin Rivers), let's check in with the key members of the cast . . .
Jaylen Brown: I don't feel great about it, but it's the truth. The longer this curious delay in signing Brown to a supermax contract goes on, the more I find myself pondering whether the Celtics would be better off if there had been an ideal trade to find a more compatible match for Jayson Tatum.
Brown is a special scorer, but I have increasing trepidation about paying roughly $300 million to a player who isn't a particularly willing or able passer (he had 68 assists and 66 turnovers in the playoffs, an abysmal ratio). More damningly, unofficially led the league last season in catnaps while his man roasted him on a backdoor cut.
Brown's regression (indifference?) on defense belies the work he has put in to hone other parts of his game — or create shots for himself, anyway. One simple way for the Celtics to improve this coming season is for the holdover players to add variety to their skill sets and repertoires.
When Brown eventually signs, hopefully he won't consider the massive contract a total validation of how he plays. There is more to be done.
Jayson Tatum: I cannot make up my mind on how it would have gone in Game 7 against the Heat had he not sprained his ankle and rendered himself practically sessile on the first possession, but I figure there are two outcomes: The Celtics would have won and completed the comeback from down, 3-0, in the series. The Celtics would have blown a 10-point lead with four minutes left and lost on a Jimmy Butler dagger. One or the other. Anyway, Tatum: He always comes back with something new in his repertoire, and the most important thing he can do this offseason is figure out how to become more efficient, especially in the midrange. I trust that he will.
Kristaps Porzingis: Concerns about his durability are legitimate, and given how frustrated he would get in Dallas when Luka Doncic would go into iso-ball mode, it's fair to wonder how he will mesh with Tatum and especially Brown. But I do think many of us — especially those still bummed that Smart is no longer here — are underestimating Porzingis's gifts as an offensive player, and it's going to feel like almost a pleasant surprise when we finally do get to watch him play.
Derrick White: His approval rating after emerging as the ultimate glue guy and, on many nights, the Celtics' second- or third-best player last season has to be 99.99 percent. And whoever it is that is accounting for that 0.01 percent is, of course, a buffoon. The Celtics could use two more Derrick Whites. Maybe three. I wish everyone on this team thought about the game the way he does.
Robert Williams: Speaking of the team improving via individual players improving, how encouraging was that video of Williams working on his perimeter game the other day that was all over social media? Williams has a legitimately deft touch around the hoop, and this is the first offseason in a while where he isn't recovering from an injury. If he can add a consistent 15-footer to his game, the Celtics will be better for it.
Al Horford: Recency bias seems to have led some fans to have buyer's remorse about signing the 37-year-old Horford to a two-year, $20 million extension in December, since that deal ostensibly kept the Celtics from being able to retain Grant Williams. I'd rather have Horford, even at his advanced age, at that bargain rate than pay Williams $54 million over four years. Horford has lost a step defensively and his shooting nosedived in the playoffs, but if his coach can resist playing him 31 minutes per game again this season, he can still be an effective player, and he will always be a smart and selfless one.
Malcolm Brogdon: I know the $22 million annual price tag is steep, but sometimes I feel like I'm the only one who remembers how essential and effective he was during the regular season. The Celtics would have won the title two years ago had he been on the roster then. The Celtics are better off with him still on the roster now, and while he was in score-first mode last season, he is capable of picking up some of the playmaking slack, having averaged more than 7 assists per game at one point in his career.
Payton Pritchard: He can help as a bench scorer, and he deserves the opportunity. But he creates better for himself than he does for others. The Celtics still need a true backup point guard.
Sam Hauser: Among genuine contributors, he's kind of the forgotten man, in part because Joe Mazzulla buried him during the playoffs. But he's a true sharpshooter and holds up well enough defensively.
Jordan Walsh: I'm probably in the minority, but I don't think the 19-year-old will be a contributor this season. His shot mechanics suggest his production from the perimeter in Summer League was a bit of a fluke. But he's going to eventually be a difference-maker on defense, and Brad Stevens clearly found a future rotation player in the second round.
And while we're on the subject of end-of-the-bench players for 2023-24, am I alone in wishing they'd bring Blake Griffin back? Talk about setting your ego aside and knowing your role. There should always be room for someone like that.
Sign up for Celtics updates🏀
Get breaking news and analysis delivered to your inbox during basketball season.