Celtics
Grant Williams compared Ime Udoka's and Joe Mazzulla's coaching philosophies
He feels as though they emphasize different things on the court.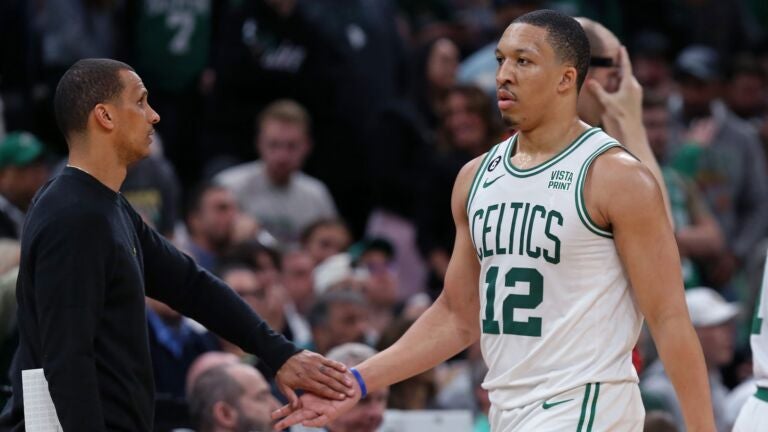 Two years ago, the Celtics finished second in the NBA in defensive rating under head coach Ime Udoka and relied on their connectivity on that end to advance to the NBA Finals.
Last season, they dipped to 10th in that category under head coach Joe Mazzulla and looked out of sorts defensively in key stretches.
On the flip side, they were ninth in offensive rating under Udoka in 2021-22 and fourth under Mazzulla in 2022-23.
Former Celtics forward Grant Williams, now a member of the Dallas Mavericks, provided some insight into why that trend may have existed.
Williams, speaking on "The Old Man and the Three" podcast with JJ Redick and Tommy Alter earlier this week, said coaches in the NBA have different philosophies or ideals. He feels as though it largely boils down to a "matter of emphasis."
Udoka relied on the notion that if an opponent scored in the 80s or 90s, the Celtics would have a really good chance to beat them. Mazzulla often preached how if the Celtics hit 20 3-pointers in a game, they'd have a really good chance to win.
"That's why I think this past year's team had a little bit less connectivity on the defensive side of the ball," Williams said. "It wasn't necessarily the priority or emphasis, while in the years prior, it had been. That's not a knock or anything like that."
Redick said that two years ago, the Celtics were as good as he's seen in the modern NBA when it came to rotations and helping the helper. He said he didn't necessarily feel that or watch that this year, and Williams didn't dispute the claim.
He also asked Williams about the Celtics' inconsistency with late-game execution. Williams said the problem sometimes stemmed from role players not hitting shots, which led to aggression downhill from Jayson Tatum and Jaylen Brown.
In the fourth quarter, Williams said, the pace slowed down, and the Celtics try to make sure they didn't lose the game rather than going out to win it. Having said that, Williams has seen major strides in that area from Brown, Tatum, and the supporting cast.
"The late game has grown," Williams told Redick and Alter. "Before, I think with our two superstars, it wasn't natural at first for them to pass and move the ball. They've gotten so much better at that, which is why I think our late-game numbers have gotten better."
Sign up for Celtics updates🏀
Get breaking news and analysis delivered to your inbox during basketball season.