Celtics
Jaylen Brown, Celtics reportedly set to continue extension negotiations in upcoming week
Brown can receive a supermax extension that would give him the largest contract in NBA history.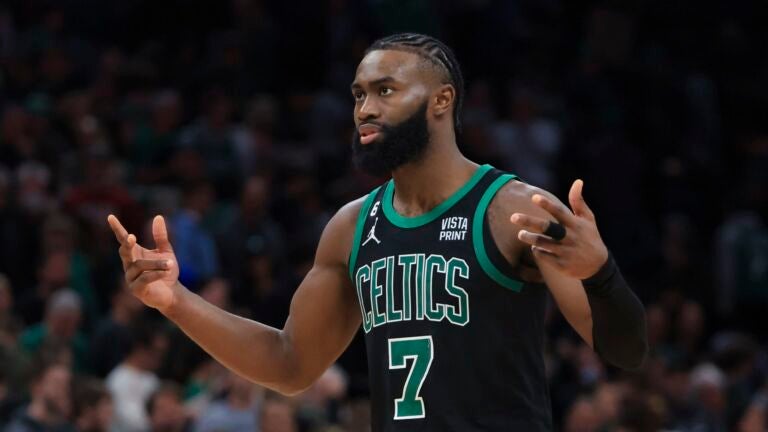 Jaylen Brown is back stateside following his NBPA retreat in Spain, taking part in a charity event in Dorchester on Friday. It also means he can get back to work with the Celtics on a possible extension.
Brown will indeed do that as both parties are expected to resume extension negotiations this upcoming week, The Boston Globe's Gary Washburn reported. Contract talks between the sides reportedly paused on July 14 ahead of Brown's trip to Spain.
The 26-year-old star has been eligible to sign a supermax extension with the Celtics since midnight on July 1. While it appears that the Celtics are offering Brown the full max, there are hangups on whether to include a player option and a trade kicker, The Boston Globe's Adam Himmelsbach reported earlier in July.
As he was back in Massachusetts on Friday, Brown helped unveil plans for a redesign of a basketball court at the Fenelon Street Playground in partnership with a Northeastern University student and Boston's Parks and Recreation Department.
Brown said at the event that "as long as I'm here, these things will continue."
"It's going to be a space where a lot of our young people play and participate, but this space also represents what needs to be done more here in Boston," Brown said. "We don't just need a fancy court that looks good for kids to play on. We need to close the wealth gap here in Boston. We need to create new jobs, new opportunities, new resources."
Prior to his event in Dorchester on Friday, Brown spoke with ABC News' Linsey Davis about his 7uice Foundation. Toward the end of the interview, Brown was asked what he sees for himself in the next year.
"I just see opportunity. A lot to learn, a lot to improve on," Brown said. "You can't take for granted the opportunities that you get. It's a privilege to be in a winning organization with a winning team, so it'll be great to bring back the guys and try to go on another run."
That answer certainly gives optimism that a deal between Brown and the Celtics can be reached. If Brown does get the supermax, it could reportedly be worth up to $304 million. That would give him the largest contract and the first contract worth over $300 million in NBA history.
Sign up for Celtics updates🏀
Get breaking news and analysis delivered to your inbox during basketball season.