Celtics
Paul Pierce discusses his 'unappreciated' career, why he was better than Dwyane Wade
"Four years earlier, you put me, Ray, and KG together, you think we're not walking away with three 'ships?"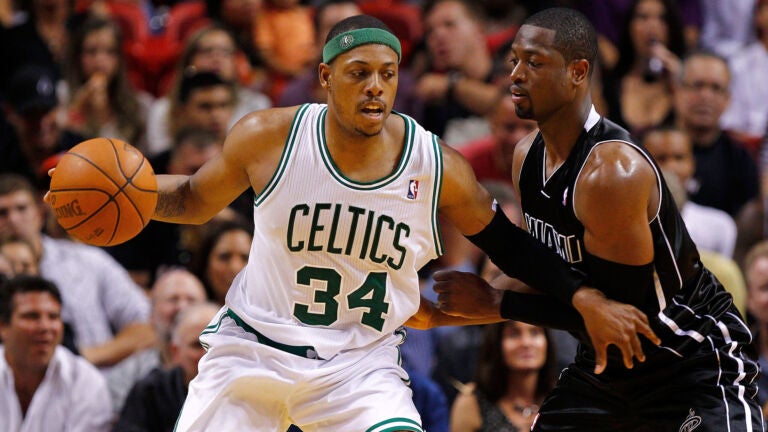 Whether it be on the court or now in his post-playing days, Celtics legend Paul Pierce has never been one to avoid speaking his mind.
Former Heat star Dwyane Wade has particularly drawn the ire of Pierce, especially in terms of their respective career comparisons.
After proclaiming back in 2019 that he was the better player over Wade, Pierce once again doubled down on his take during an appearance on rappers Cam'Ron and Mase's "It Is What It Is" YouTube series.
For Pierce, the argument in favor of his career over Wade's is due in large part to the amount of star talent that the Heat shooting guard regularly had around him in South Beach.
Even though Pierce eventually won a title with Kevin Garnett and Ray Allen in 2008, he was over 30 years old at the time.
Despite sharing the court with Antoine Walker in the early stages of his tenure with Boston, Pierce's first decade with the Celtics was primarily spent on rebuilding rosters.
"Put Shaq [O'Neal] on my team. Put LeBron [James] and [Chris] Bosh with me. I'm not gonna win one?" Pierce said. "Put me, LeBron and Bosh, we not gonna win a couple?
"For a long time, my skills went unappreciated because I didn't get to play with a lot of great players," Pierce continued. "And then I got to play with KG and Ray [Allen] past their prime. Four years earlier, you put me, Ray, and KG together, you think we're not walking away with three 'ships?"
Even though Pierce finished with more career points (26,397) than Wade (23,165), Wade averaged 22.0 points per game over the span of his impressive career. Pierce averaged 19.7 points per contest.
"Who's the better 3-point shooter? Is he a better scorer?" Pierce challenged "OK, he averaged more points than me (in his) career. I can shoot the three, mid-range. I can post up, get to the line."
Of course, the neutral stance to take here is that both Pierce and Wade forged impressive careers worthy of praise. After Pierce earned the call to the Basketball Hall of Fame in Springfield in 2021, Wade is expected to join him for the Class of 2023.
Still, Pierce stressed in 2019 that his career is likely viewed in a different light than other legends of his era due to his lack of success in Boston during the early 2000s.
"People didn't get a chance to see this before Twitter and Instagram," Pierce said on ESPN at the time. That's why I say, 'Go to YouTube, put in some of those dates, early 2000s, Paul Pierce."
Wade has not responded to Pierce's latest claim. Back in 2019, he offered up a simple response on Twitter when their respective resumes were weighed against one another.
Newsletter Signup
Stay up to date on all the latest news from Boston.com