Celtics
Carsen Edwards signs one-year deal with German club
The former Celtic will suit up for FC Bayern Munich of the EuroLeague next season.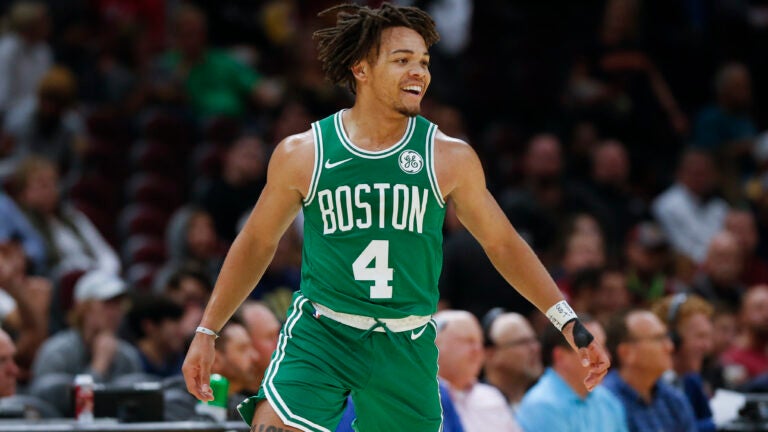 Former Celtic Carsen Edwards has signed a one-year deal with German club FC Bayern Munich of the EuroLeague on Friday, per Alberto de Roa of HoopsHype.
Edwards and FC Bayern agreed to finalize this deal on July 11, according to Donatas Urbonas of BasketNews. This upcoming season will mark his second year in the EuroLeague and his fifth as a professional basketball player.
The Celtics selected Edwards 33rd overall in the 2019 NBA Draft after he led Purdue University to the Elite 8. He led Boston's 2019 summer league team in scoring with 19.4 points per game.
Edwards appeared in 68 regular games as a Celtic, but never managed to find his footing with the team. In his two seasons in Boston, he averaged 3.6 points per game off 37.2 percent shooting from the field. The Celtics tried to go for a developmental approach with Edwards, assigning him to the Maine Red Claws, in 2020. But Edwards was ultimately traded to the Memphis Grizzlies in Sept. 2021.
The Grizzlies waived Edwards eight days after trading for him, and the Salt Lake City Stars of the NBA G-League picked him up. Edwards exploded in Salt Lake City, leading the G-League in scoring with 26.7 points per game.
Edwards impressed the Detroit Pistons, who signed him in April 2022 to a two-year contract with a team option at the end of his first year. But it just wasn't meant to be, as the Pistons declined Edwards's team option on June 30 of that year. Edwards only played four games with Detroit. His NBA career, as of 2023, was over.
The young point guard took his talents overseas, signing a one-year deal with Fenerbahce Beko Istanbul. While in Fenerbahce, Edwards appeared in 34 EuroLeague games and averaged 8.0 points, 1.3 rebounds and 1.1 assists per game. He averaged 44.6 percent from two-point range and 34.2 percent from behind the three-point line. Those numbers jumped to 13.3 points, 2.0 rebounds, and 2.1 assists per game off of 50.9 percent shooting from the two-point area while playing in the Turkish league.
Edwards has developed a reputation in Europe as a clutch postseason performer. He scored 16 points in Game 2 of Fenerbahce's series against Olympiacos Piraeus to tie it 1-1. In a Turkish championship game against Bahcesehir Istanbul, Edwards exploded for 31 points, going 6-for-10 from beyond the arc.
It looks like Edwards is here to stay in Europe, finding a new home with FC Bayern Munich. This signing will be head coach Pablo Laso's first move as Bayern's leader, and it's one he couldn't be more fond of.
"Carsen is a scoring machine," said Laso, per Basket News. "And when he came to Europe, everyone thought, 'Wow, what a fantastic transfer.'"
Laso will now have the opportunity to coach this fantastic transfer, and it seems as if he already has ideas as to how he wants to use the former Celtic.
"It will be [Edwards]' second season in Europe, and we are getting a versatile player who can fill various positions," said Laso. "He is creative and very aggressive in offense, strong and quick in defense. We have high expectations for him because he is someone who can hold his ground against anyone."
Edwards will join several former NBA players on this Bayern roster, including Isaac Bonga, Leandro Bolmaro and Freddie Gillespie.
Sign up for Celtics updates🏀
Get breaking news and analysis delivered to your inbox during basketball season.