Celtics
The burning question: What will the Celtics look like when Marcus Smart returns in February?
Kristaps Porzingis's early play with the Celtics will likely have an impact on the atmosphere when Marcus Smart returns to Boston on Feb. 4.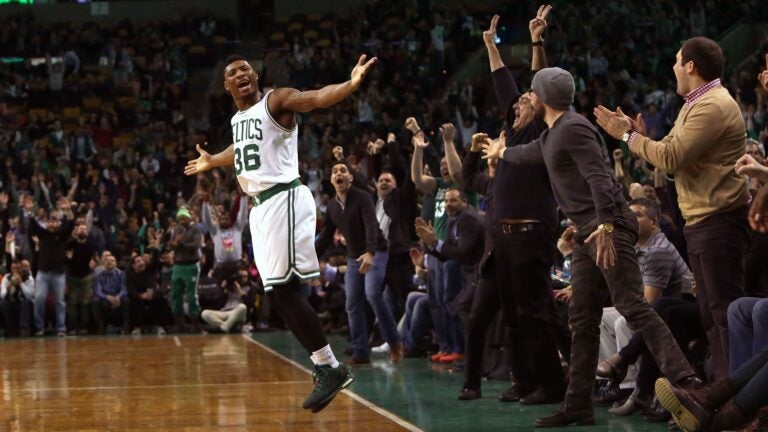 The NBA schedule-makers, anticipation-building rascals that they are, are going to make you wait.
The Memphis Grizzlies will not visit TD Garden in the coming season until Feb. 4, the 49th game of the full 82 on Thursday's freshly-revealed 2023-24 Celtics schedule.
You know what that means? The highly-anticipated Celtics season will be heading toward the backstretch before you can welcome Marcus Smart back to his old home and tell him — presumably in the form of a raucous, prolonged, and heartfelt standing ovation — how you feel.
The chance to welcome back Smart — the polarizing, passionate, hustling, dedicated, clever, erratic, always-caring-but-sometimes-misguided heartbeat of this era of Celtics before his stunning trade to the Grizzlies in June — was clearly priority No. 1 among Celtics fans (and, cynically, opportunists as well) who raced to purchase tickets after the league's schedule dropped at 3 p.m.
I hopped on the Celtics site a while later, at 4:12 p.m., out of curiosity to see if tickets for Smart's return were being snapped up. Let's just say it's the hot item of the season. The lowest-priced ticket was a single for $140, in the balcony. There was a pair in section 302, also in the balcony, being resold for $1,250 apiece. I've paid less for vehicles. And you don't even get a cool paper ticket to keep as a souvenir anymore. Can't blame you if you decide to spend this one couch-bound, watching Mike and Scal narrate the festivities.
It is a bummer fans who lack stacks of discretionary cash will have to make a sacrifice to get in, because the true Celtics diehards have always been Smart's people. But hey, at the same time, tickets for Mike Muscala and Danilo Gallinari's return with the Wizards a few days later on Feb. 9 can be had for $65, if you just want to say hello to someone who used to work here. I'm guessing they probably won't get a highlight video, though.
As NBC Sports Boston's Chris Forsberg noted, the delayed return gives Celtics fans roughly six months to emotionally prepare. (The Celtics will face Smart on his new turf in Memphis several weeks earlier, on Nov. 19.) It also leaves a lot of time for all sorts of plot twists to happen.
The Patriots are going to be better than the sports radio moon-howlers want to you to believe. The Bruins are beginning life after Patrice Bergeron and David Krejci. The Red Sox are desperate to position themselves to play relevant games in September, and maybe a couple in October if it all comes together.
And yet the Celtics, who do not play their first preseason game until they face the Sixers on Oct. 8, remain on my mind more than any other of Boston's most prominent sports franchises. The Smart trade — and the bold, risky bet on Kristaps Porzingis, who arrived from the Wizards in the three-team deal — is a fundamental reason why, along with the Celtics' standing as a true championship contender.
The schedule announcement, and the set date for the Welcome Back, Marcus show, have left me pondering a question that can only be answered once the games are being played: What will the Celtics circumstances be like when Smart comes back on Feb. 4?
Will Porzingis, who is wisely sitting out the FIBA World Cup tournament while he recovers from plantar fasciitis, have smoothly acclimated to the Celtics' offense? I'm convinced one of the reasons Brad Stevens traded Smart was because he was complicit in the annual May/June habit of the Celtics' offense coming apart at the seams at the worst possible time. Porzingis can get so many easy buckets, and in an ideal world, that should make life easier on Jayson Tatum and Jaylen Brown.
But they have to share the ball. I'm not sure what to expect there with Porzingis. Tatum improved his passing last offseason, and he must figure out a way to become more efficient heading into the coming season. Brown, for all that he brings, has never been a particularly able or willing passer, and I worry that early in the season he may try to validate, in a counterproductive way, his new $304 million contract.
I don't want to dwell on lousy-case scenarios, and besides, that's stuff to watch for when the games begin. For now, it's best to maintain hopes in the broader sense — that the deeply-talented Celtics stay healthy . . . that Joe Mazzulla will make the sophomore leap as a coach . . . and that championship aspirations are still on track when Marcus Smart finally comes back, with no laments to be heard among the cheers.
Sign up for Celtics updates🏀
Get breaking news and analysis delivered to your inbox during basketball season.