Celtics
Celtics' Jayson Tatum reportedly tried recruiting Damian Lillard to Boston after trade request went public
"I know Jayson Tatum has called him, try to get in his ear."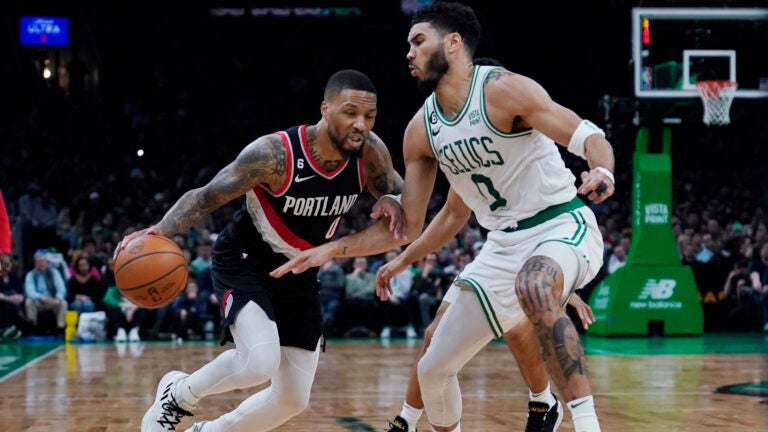 It seems like a matter of when, not if when it comes to disgruntled Trail Blazers star Damian Lillard's inevitable trade to the Miami Heat.
The 33-year-old point guard and seven-time All-Star has had a standing trade request in place since the start of July, with the Heat standing as his targeted destination as he looks to move on from Portland.
Lillard's fixation on the Heat is so strong that the NBA had to send a memo to all 30 teams after Lillard's representatives reportedly told interested teams that he was only interested in approving a trade to Miami.
But even though Lillard and his camp remain fixated on trying to facilitate a deal to join Jimmy Butler in South Beach, that didn't curtail Celtics star Jayson Tatum from making a concerted pitch to the high-scoring guard.
In an interview on the "Sports by Northwest" podcast, ESPN's Marc Spears reported that Tatum called Lillard after his trade request went public and tried to sell Boston as a potential destination for him.
Despite Tatum's best efforts, Spears added that Lillard remains focused on landing in Miami.
"He's kind of got that kind of like military basketball mentality. He wants to work. Also, the stability of the organization, the winning, like they've been to the Finals what, seven times since 2006? Obviously, Bam, and Jimmy helps, no State tax helps, sunshine helps," Spears said of Lillard's view of the Heat.. "And I think at 33 years old, he looks at the landscape of the West and it's like Mmmm… I think my chances are better to go out East, and if Miami is able to make the Finals without somebody like myself, what can they do with me?' So, you don't make that move unless it's certainly a calculated risk.
"And I know that Boston, I know Jayson Tatum has called him, try to get in his ear, but his focus is definitely on Miami."
Even if the Celtics kicked the tires on a potential Lillard blockbuster earlier this summer, it reportedly didn't lead to much traction.
"Whether it's the Clippers, whether it's the Celtics, those are among the two teams that have had a level of interest in Dame Lillard," NBA insider Shams Charania said back in July. "The answer has been a resounding no. He wants to be in Miami, period. And if you trade for him, I think there's the risk of trading for a disgruntled player."
"You don't want to trade for a guy that you could bring in and he's either going to be disgruntled, not happy, [and] could ask out again."
Tatum and Lillard have plenty of history together, as the two played together for Team USA during the 2020 Summer Olympics (eventually played in 2021), eventually winning a gold medal in Tokyo.
Back in 2021, Tatum acknowledged that Lillard and Kyrie Irving were the two other NBA stars that he'd choose to take the final shot in a tight game.
Even though Lillard's scoring touch will boost the Heat (or whatever team he eventually lands with), the Celtics moved on quickly after Lillard focused all of his attention on Miami. Boston eventually added another star to pair with Tatum and Jaylen Brown by dealing for big man Kristaps Porzingis back in June.
Newsletter Signup
Stay up to date on all the latest news from Boston.com