Celtics
Rajon Rondo explains why he considered a trade request as a Celtics rookie
"We lost 18 straight games, I just wanted opportunity."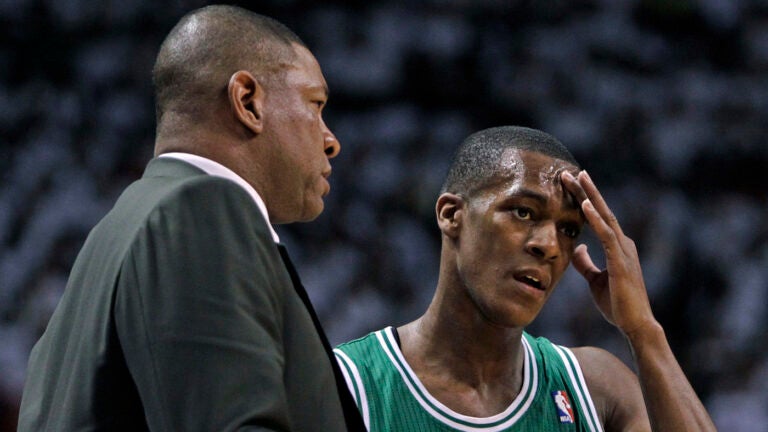 Rajon Rondo established himself as one of the top point guards in Celtics history during his nine seasons in Boston.
Over 527 games with Boston, Rondo won an NBA title (2008), earned four All-Star nods, four All-Defensive Team selections and ranks third in franchise history in steals (990) and fourth in assists (4,474).
But the former All-Star admitted during a recent appearance on JJ Reddick's "The Old Man and the Three" podcast that he initially wanted to ask for a trade out of Boston in the midst of his rookie year with the team in 2006-07.
Despite Rondo's potential as an effective floor general and playmaker, Rondo saw limited time on a Celtics team that went 24-58 that season.
While things improved the following offseason when Danny Ainge acquired both Kevin Garnett and Ray Allen, Rondo admitted that his first foray in the NBA was often a struggle.
"I always believed in myself and I believed in the work I put in and just ready for the opportunity because the year before I was asking for trades," Rondo said of his shifting fortunes in his first two seasons with the Celtics. "We lost 18 straight.
"Wait, you asked for a trade your rookie year," Reddick interjected.
"I felt like, we lost 18 straight games, I just wanted opportunity," Rondo explained. "Doc [Rivers] would tell me things and then come game time, it wouldn't happen. I was frustrated in that process.
"Coming from Kentucky, I wasn't accustomed to losing like this. I wanted to help the team so every day in practice I would bust my butt, try to figure it out and still wasn't producing in the game or wasn't getting a chance to produce in a game. I was asking for trade, I'm glad I didn't obviously."
Rondo added: "I didn't actually go to the front office but I talked to my agent Bill Duffy and my mentor Doug Bibby. They told me, 'The cream rises to the top.' I was in trade talks with Minnesota that summer for KG.
"Luckily, I didn't go and I was fortunate to stay there. Going into that summer, I just wanted to work my butt off, try to get better each day, talked to a lot of different players and mentors about how to be a better player and how to be a leader at such a young age. I would try to win those guys over."
Rondo's patience paid off.
As one of the few young assets who wasn't dealt to either Seattle or Minnesota in the Allen/Garnett blockbuster trades, Rondo quickly established himself as the starting point guard on the 2007-08 Celtics squad that won 66 games en route to the franchise's 17th championship.
Sign up for Celtics updates🏀
Get breaking news and analysis delivered to your inbox during basketball season.
Newsletter Signup
Stay up to date on all the latest news from Boston.com