Celtics
5 things to know about new Celtic Svi Mykhailiuk
The five-year NBA veteran has already had a prolific, record-setting career in basketball.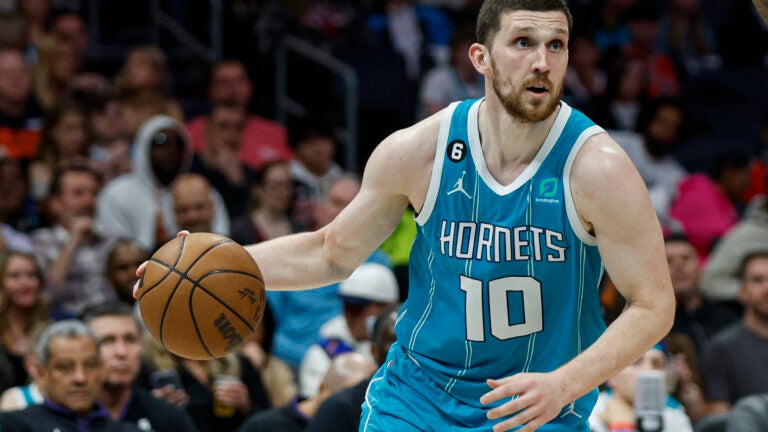 The Boston Celtics have bolstered their wing depth and rounded out their roster on Thursday by signing free agent Svi Mykhailiuk to a one-year deal.
Mykhailiuk started last season with the New York Knicks before he was dealt to the Charlotte Hornets at the 2023 NBA Trade Deadline. In total, he has played for six teams in five seasons in the NBA.
Prior to this signing, rumors had surfaced that Mykhailiuk was leaning towards signing with Panathinaikos Athens in Greece, but had been mulling over a minimum deal the Celtics offered him. Mykhailiuk's decision to take Boston's offer surprised some, since a contract with Panathinaikos would have been more lucrative. But he shifted course to stay in the NBA, and Boston got their guy.
The Celtics had two available roster spots before signing Mykhailiuk, but recent history suggests that president of basketball operations Brad Stevens will leave one roster spot open for flexibility purposes, although it is not known if he will. If this is the case, the Celtics have recently worked out a number of wings for what is essentially their final roster spot, including Glenn Robinson III, Louis King, T.J. Warren and Lamar Stevens. But they gave that spot to Mykhailiuk, who fits their desire to have more established players in their locker room as training camp draws closer.
But who is Svi Mykhailiuk? What does he bring to the Boston Celtics, and why did they choose to sign him over the plethora of forwards they worked out?
He is an elite shooter.
Mykhailiuk's calling card has always been his deadly shooting range. Throughout his NBA career, he has shot 36 percent from behind the three-point line. Last season was the best shooting season of his career, shooting a combined 42.4 percent on 3.7 attempts per game from beyond the arc with the Knicks (60 percent on 0.8 attempts per game) and 40.4 percent with the Hornets (40.4 percent on 4.7 attempts per game).
The Celtics know all about Mykhailiuk's shooting prowess. Sean Grande posted on X, the platform formerly known as Twitter, that Mykhailiuk has shot a career 44 percent from three against Boston in his career. He's made 24 three pointers against the Celtics this season, which is the highest number of threes he's made against any one team. The Celtics are very aware how lethal Mykhailiuk is from beyond the arc, and it seems likely that Mykhailiuk will primarily serve as a sharpshooter off the bench alongside Sam Hauser, torching opponents from far away.
He started playing professionally over a decade ago.
Despite not making his NBA debut until the 2018-19 season, Mykhailiuk is no stranger to professional basketball. When he was just a teenager in 2012, the Cherkasy, Ukraine native began his career by playing for his hometown club, Cherkaski Mavpy of the Ukrainian Basketball SuperLeague, the best league in his country.
Mykhailiuk played for Cherkaski Mavpy from 2012-14 against much older and more experienced competition. The team had finished in the middle of the standings during his time there, but the young Mykhailiuk had begun to garner national praise. In his final season with the club, he represented Team Ukraine in the 2014 FIBA World Cup, where he averaged 1.8 points in just 8.3 minutes per four games.
He set records while at the University of Kansas.
Fresh off of playing for Cherkaski Mavpy, Mykhailiuk moved to the United States in 2014 and turned down offers from schools such as Virginia and Oregon to play for Kansas, one of the most storied teams in college basketball. But Kansas wasn't storied enough for Mykhailiuk to make his mark on the organization, or even its conference, as at that year he became the youngest player to ever play in the Big 12, at just 17 years old.
Mykhailiuk's young age did not seem to faze him, as he was used to playing against older players. That wouldn't even be the only record he would set while in college. Mykhailiuk made 115 threes during his senior season at Kansas, which is the most any Jayhawk has ever made while at the university.
He was drafted by the Celtics' biggest rival.
Mykhailiuk put his name in the 2018 NBA Draft when his time at Kansas ended, and the Los Angeles Lakers used their 47th overall pick to select him. He signed a three-year deal with the Lakers and played in 39 total games with them, averaging 3.3 points on 10.5 minutes per game.
"I feel like it's just a blessing to be part of the Lakers and be part of the NBA," Mykhailiuk said after he was drafted. "With all of the Lakers' history, it's just a blessing to be part of the team."
But Mykhailiuk's best days would come after leaving Los Angeles. Just before that year's NBA trade deadline, the Lakers traded the rookie to the Detroit Pistons, where his minutes doubled and scoring numbers tripled by the end of the following season. He was a Piston until he was dealt to the Oklahoma City Thunder in 2021, the year his rookie contract he signed as a Laker ended.
He has publicly advocated against Russia's 2022 invasion of Ukraine.
Millions of Ukrainians were displaced after Russia invaded Ukraine on Feb. 24, 2022, which initiated a brand new conflict between the two countries. On that day, Mykhailiuk and center Alex Len, the only two active Ukrainian players in the NBA, released a joint statement condemning the invasion and extended prayers for those who resided in Ukraine.
"A great tragedy befell our dear homeland Ukraine," they said. "We categorically condemn the war."
In their statement, Mykhailiuk and Len described the country they love as a "peaceful, sovereign state inhabited by people who want to decide their own destiny." The two ended their statement by encouraging those people to stay strong amid this terrible conflict, one that is still going on today.
"Dear fellow Ukrainians," they said, "Hold on! Our strength is unity! We are with you!"
Sign up for Celtics updates🏀
Get breaking news and analysis delivered to your inbox during basketball season.