Celtics
Marcus Smart's wedding turned into a Celtics reunion featuring Jayson Tatum, Brad Stevens & more
Smart celebrated his wedding day alongside his wife, Maisa Hallum, on Saturday.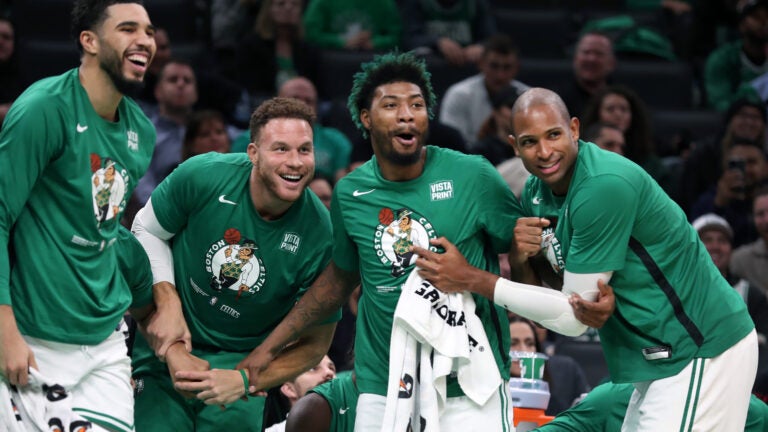 Marcus Smart will take to the court with the Memphis Grizzlies this season following his trade from Boston earlier this offseason.
But the longtime Celtics point guard was able to reunite with several of his Boston teammates and coaches on Saturday as he celebrated his wedding day alongside his wife, Maisa Hallum.
"Wow- never thought I'd see the day," Smart posted on Instagram over the weekend. "From a boy to a man, starting this new chapter with u is a blessing and more! Thank u for fighting with me. When times get hard we never waver. Here's to Mr and Mrs Smart…I love you."
Plenty of Celtics were on hand to celebrate with Smart, including Jayson Tatum, Jaylen Brown, and Derrick White. Celtics co-owner Wyc Grousbeck, coach Joe Mazzulla and president of basketball operations Brad Stevens were also in attendance.
Tatum shared a few candid photos on his Instagram during the festivities, including one with both Mazzulla and Stevens — all three with their arms folded.
Smart announced on Christmas Day last year that he and Hallum were engaged. The announcement came hours after Smart dished out eight assists in the Celtics' win over the Bucks.
Speaking back in July, Smart offered up high praise for both his teammates in Boston and the Celtics fanbase in an interview with Chris Vernon of Grind City
"I have cried. I've cried because of the special relationship I have with the guys," Smart said of his reaction to the trade. "I grew up with Jayson [Tatum] and Jaylen [Brown] their whole career, all of those other guys, even Al [Horford]. Like I said before, a lot of those guys, Al, Jaylen, Jayson and those guys, when my mom passed away they were there. They've been through tough times with me so it was tough. Not only that, I've been there my whole life so that was tough."
Smart added: "The fan reaction in the city of Boston was exactly what I expected it to be and what anybody who's played in Boston would expect it to be. It's all love. And they ride for the city hard, man. Just like Memphis, right? And that's how it should be. You're supposed to ride for your city like that. So it's all love, so I wasn't surprised by that."
Sign up for Celtics updates🏀
Get breaking news and analysis delivered to your inbox during basketball season.
Newsletter Signup
Stay up to date on all the latest news from Boston.com