Celtics
Report: Malcolm Brogdon upset with how Celtics handled his injured elbow
"There is a question of when he might be available, how's he's available."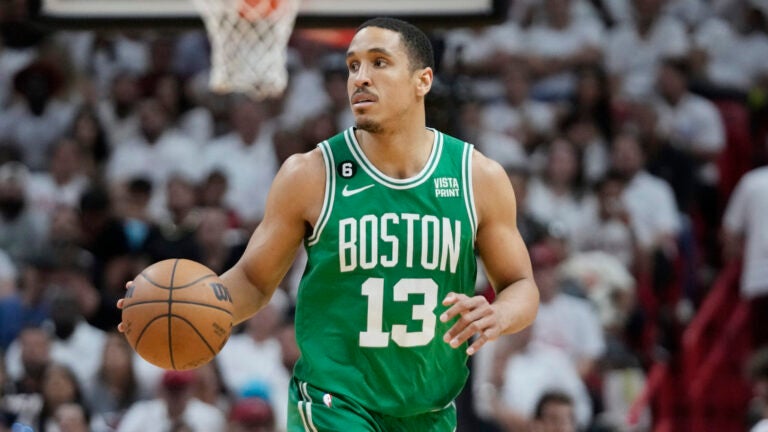 The Celtics and reigning Sixth Man of the Year Malcolm Brogdon might be on shaky terms entering the 2023-24 season.
Reports earlier this week noted that the veteran guard's relationship with Boston took a hit this offseason, especially after Boston was close to dealing him to the Clippers in a three-team trade that ultimately fell through.
It's natural for there to be some ill will and hard feelings after spotting your name in trade rumors.
But ESPN's Ramona Shelburne added a new wrinkle to the Brogdon saga on Thursday, reporting that his frustration with his team has more to do with how the Celtics handled the elbow injury that he played through during the 2023 playoffs.
"I don't think the bad feelings are over including him in any trade discussions," Shelburne said. "He's a pro, he knows this stuff happens, he understood why those discussions are happening. If anything, there's an expectation those discussions might restart.
"Any time your name is out there, it's a little uncomfortable. I think a lot of this has to do with what's going on with his elbow. He had that golfer's elbow during the playoffs. There was some sense he might need to get surgery on it and he did not do that. There is a question of when he might be available, how's he's available. This is what you are going to pay Joe Mazzulla and Brad Stevens big money for. You have to mend some fences here. He's on the team and I don't think those trade talks restart anytime soon."
Brogdon, who is under contract for the next two seasons, is expected to once again be a key piece off the bench for Boston in 2023-24, serving as the next man up after Derrick White in Boston's backcourt.
But it remains to be seen what exactly Brogdon's status will be going into the new season, especially in terms of his recovery from that elbow injury.
Even though Brogdon tried to play through the ailment as the playoffs carried on last spring, he was a shell of himself by the end of the Eastern Conference Finals. In Boston's season-ending Game 7 loss to the Heat at TD Garden, Brogdon was 0-for-3 from the field and only played 7:05.
Brogdon might not be happy with the Celtics, but it doesn't seem like Boston has any interest in cutting ties with the talented guard, especially with a new season just weeks away.
"Brogdon and his camp have been quiet this summer, and members of the Celtics front office have mostly avoided or deflected questions about the Sixth Man of the Year. Something about the situation just feels slightly off," Adam Himmelsbach of The Boston Globe wrote in his latest notebook on Thursday. "But the indications I've gotten are that the Celtics are not considering trading Brogdon any more than they are considering trading any other player.
"His sour ending to last year aside, it is worth remembering Brogdon's value to the Celtics last year. And Smart's departure figures to only increase his role."
Sign up for Celtics updates🏀
Get breaking news and analysis delivered to your inbox during basketball season.
Newsletter Signup
Stay up to date on all the latest news from Boston.com