Celtics
What does the Damian Lillard trade to the Bucks mean for the Celtics? 5 takeaways
The Eastern Conference got stronger with the Lillard trade, but not in the way everyone expected.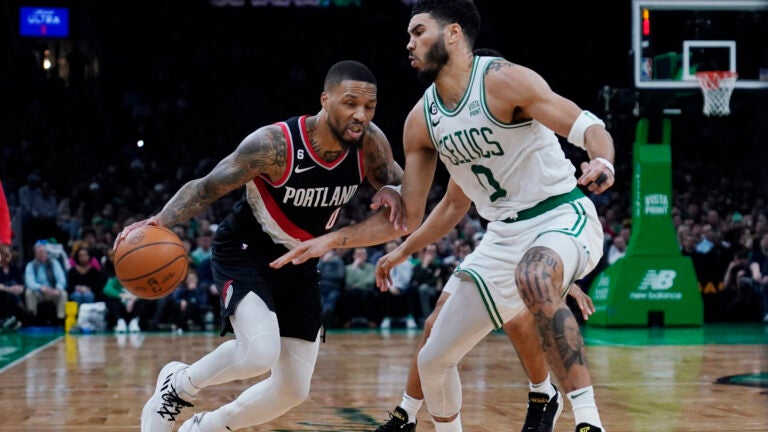 Just as we all expected, Damian Lillard has been traded to an Eastern Conference contender – an already muscular rival for the Celtics that juiced their roster significantly with a blockbuster move on Wednesday afternoon.
What none of us expected – with the possible exception of TNT's Chris Haynes, who seemed to hint he had an inkling – is that Lillard's new home will be Milwaukee instead of Miami. Lillard made it repeatedly and abundantly clear that he wanted to play for the Heat – so much so that the NBA threatened discipline this summer if he didn't knock it off.
In doing so, Lillard might have made sure he never got his wish. The Blazers were understandably annoyed that their long-time superstar decimated his own trade value, while the Heat may have been lulled into a false sense of security insisting that they wouldn't trade an overwhelming package. Lillard might have only wanted a trade to the Heat, but despite his protests, the Blazers found one of the very few teams that might reasonably interest him.
There's a lot to consider here across the board, but let's stick to a Celtics-centric view. Here are five instant takeaways from the stunning deal:
1. Lillard to the Heat would have been a frightening proposition for the Celtics. The Heat beat them last year behind what proved to be unsustainable 3-point shooting by Gabe Vincent and Caleb Martin. Vincent is a career 33.9 percent 3-point shooter who hit an unsustainable 51.6 percent of his triples in the Eastern Conference Finals before crashing back down to 33.3 percent in Miami's Finals loss to the Nuggets. Jimmy Butler and Bam Adebayo are excellent players, and the Heat's defense was puzzling for the Celtics, but the haymaker that set them up for a knockout blow was the outlier 3-point shooting.
Lillard's 3-point shooting, on the other hand, is about as sustainable as 3-point shooting gets. He made 244 in just 58 games last year, and if he repeats that number this season, he will move into fourth all-time behind Steph Curry, James Harden and Ray Allen. If Curry didn't exist, a case could be made that Lillard – with his ability to shoot off the dribble from Hail Mary yardage behind the 3-point line – is the greatest 3-point shooter of all time. That would have been a devastating addition to a core of Butler and Adebayo, who showed just how far reliable 3-point shooting could carry them last season. Instead, the Celtics can look ahead to facing an aging Heat core minus Vincent with (presumably disgruntled) defensive liability Tyler Herro healthy once again.
2. Still, one contender's loss is another's gain. Jrue Holiday is a very nice player, but the Bucks gave up a package that on its face appears directly spiteful to the Heat – Holiday, Grayson Allen, an unprotected pick in 2029 and unprotected pick swaps in 2028 and 2030. The Bucks buried a nasty little time capsule for themselves at the end of the decade, but from our vantage point here in 2023, that draft capital is just a blip. They still have Giannis Antetokounmpo. They still have Khris Middleton. They still have both Lopez brothers. They still have Pat Connaughton and Bobby Portis.
It's unclear who will slot into the starting lineup – both Allen and Holiday started for the Bucks last year – but adding Lillard to that mix will stress every opponent's defense enormously. Packing the paint against Antetokounmpo proved effective, especially for the Celtics with Grant Williams and Al Horford, but Horford turned 37 in June and Williams signed with the Mavericks.
Even without a floor spacer like Lillard, Antetokounmpo promised to be a greater challenge for the Celtics this year. Now the Bucks have an additional All-NBA-caliber way to make opponents pay. How do you deal with an Antetokounmpo/Lillard pick-and-roll, with Antetokounmpo galloping down the lane and Lillard eyeing the rim from 40 feet away as he curls off the screen? Our best wishes to Joe Mazzulla.
3. Going from Holiday to Lillard is an upgrade, of course, but it is a significant defensive downgrade. The Celtics have historically been able to find cracks in the Bucks' armor, and they averaged 134 points in three games last season. The Bucks are going to score a lot – and losing Marcus Smart this offseason must sting the Celtics a bit in light of Wednesday's news – but it's unclear how much resistance the Bucks will put up defensively against the Celtics.
The addition of Porzingis will be fascinating overall, of course, but especially in this matchup. He doesn't provide the girth and positioning of Williams, and it's unclear how much Antetokounmpo realistically even notices rim protection, but Porzingis can space the floor several feet behind the 3-point line himself, and he might make it difficult for Brook Lopez to stay on the floor. Meanwhile, the Bucks still have no one who can deal with Jayson Tatum, and fewer realistic options against Jaylen Brown.
Matching up against Antetokounmpo is a bruising proposition, but Celtics-Bucks games might be a shootout this year.
4. The Blazers are expected to trade Jrue Holiday, which is a little interesting from a Celtics perspective given that Malcolm Brogdon is reportedly less than pleased with the offseason's drama, but a Brogdon-Holiday swap would likely need to involve one of Horford or Robert Williams to make salaries work. Given the potential fragility of the Celtics' frontcourt, the guess here is that they will opt for big-man depth over a move for Holiday.
5. Finally, let's take a minute to admire and appreciate the pure drama here at the end of the Damian Lillard saga. The Bucks improved their roster, acquiesced to Giannis Antetokounmpo's demand to bring in more star talent (thereby giving him more reasons to sign an extension), and stuck a finger in the eye of the team that eliminated them from the playoffs last year in catastrophically embarrassing fashion. Meanwhile, not only did the Bucks yank the Lillard rug out from under the Heat, they also made it significantly less likely that their own flight risk – Antetokounmpo – will be available within any reasonable window for the Heat.
The Celtics have their work cut out for them in any matchup against the Bucks, but fans still upset by last year's Eastern Conference Finals debacle can bask in schadenfreude at Miami's expense. Wednesday was not a good basketball day for South Beach.
Sign up for Celtics updates🏀
Get breaking news and analysis delivered to your inbox during basketball season.
Newsletter Signup
Stay up to date on all the latest news from Boston.com