Celtics
Jrue Holiday to the Celtics would be difficult to pull off. Should they try?
Holiday is available after the Damian Lillard trade on Wednesday, but should the Celtics make an offer?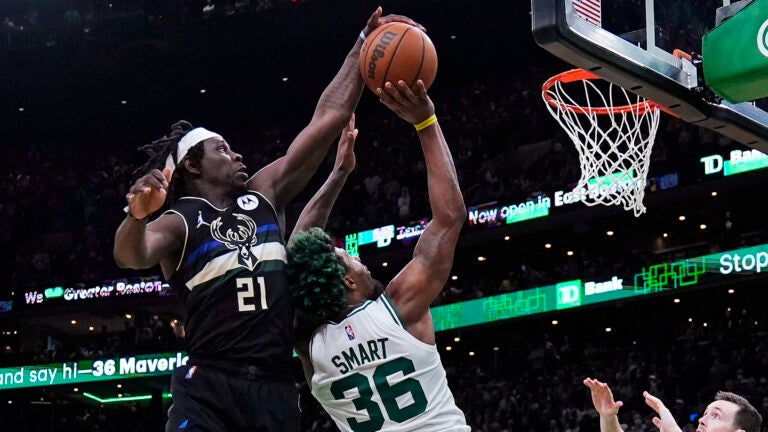 In the aftermath of the three-team blockbuster trade that sent Damian Lillard to the Bucks on Wednesday, one question emerged that had nothing to do with the future Hall-of-Fame guard: What does this mean for Jrue Holiday?
Just one day after Holiday said he wants to retire in a Bucks jersey, the franchise dealt his $36 million contract to the Blazers to match Lillard's hefty salary. The Blazers, however, have little use for a veteran on a team steering into a deep rebuild — they are better served allowing young guards Scoot Henderson and Shaedon Sharpe to putter around the parking lot for a while.
Naturally, some Celtics fans perked up when reports of Holiday's availability trickled out. The 33-year-old, after all, is a very talented player – one of the best defenders in the league, and a solid offensive threat who can both run an offense as the lead guard and knock down 3-pointers (at least during the regular season), and he is widely regarded as one of the league's better people. With Lillard in Milwaukee and Marcus Smart in Memphis, the logical follow-up question is "wait, should the Celtics make a move?"
A deal wouldn't be easy, but according to Adam Himmelsbach of the Boston Globe, the Celtics are indeed expected to "explore" the possibility. So how would that trade work?
Next season, Holiday is guaranteed to make just under $35 million with nearly $2 million in likely incentives, which add up to a $36.86 million cap hit. He is entering what will likely be the penultimate year of his contract — the deal includes a player option for next season, and given that Holiday will be 34 next summer, he will presumably pick it up at slightly under $40 million. In other words, trading for Holiday means taking on a cap hit of more than $76 million over the next two years.
The Celtics, meanwhile, are about to get very expensive. Kristaps Porzingis just signed a lucrative contract, Jaylen Brown's extension kicks in next summer, and Jayson Tatum will – if all goes according to plan – ink his own massive extension next summer as well. Wyc Grousbeck and the Celtics' ownership group have shown a willingness to spend now that the team has emerged as a fully-formed contender, but as the Celtics bump up against the second apron, they have limited options.
Any trade for Holiday would have to match salaries. A popular call from fans on Twitter is to "bring in a third team," but that does nothing to change the math — for the Celtics, bringing in Holiday requires that (at minimum) 100 percent of Holiday's deal goes out the door as well.
That rules out a 1-for-1 Holiday-for-disgruntled-Malcolm-Brogdon deal that makes some sense on paper if the Celtics added the requisite draft assets to sweeten the pot for the rebuilding Blazers. A serious pursuit of Holiday might indicate that the Celtics' relationship with Brogdon is irreparably frayed, but that would be a bit of a surprise given Brogdon's reputation for professionalism — as difficult as trade rumors are for a player to deal with, they are a reality of life in the NBA, and Brogdon only has one year left on his deal anyway.
Still, if the Celtics are willing to explore the possibility of trading for Holiday, everyone involved knows that any potential deal has to be built around Brogdon's contract as a starting point.
So what could the Celtics add to make salaries match? Therein lies the problem.
The gap between the Holiday and Brogdon contracts is significant – Brogdon will make $22.5 million this season. Adding Al Horford to a potential trade, for instance, does not get the job done – his $10 million deal still leaves the Celtics roughly $1.1 million short. That gap can be bridged, of course, but the Celtics would probably need to include one of Luke Kornet (big depth) or Sam Hauser (wing depth). Furthermore, that iteration leads one to wonder why the Celtics would acquire Holiday to help deal with Lillard only to trade Horford and make themselves more vulnerable to Giannis Antetokounmpo.
A trade involving Brogdon and Robert Williams works from a contractual standpoint, but the Celtics' bigs have not exactly been durable over the years. Dealing away depth at that position has to be a consideration, especially given how remarkably durable Derrick White has been at Holiday's precise position and role (big defensive-minded pass-first lead guard who spaces the floor).
Meanwhile, several Celtics players can't be traded until Dec. 14 (Dalano Banton, Svi Mykhailiuk, Oshae Brissett). Perhaps some collection of contracts could be assembled, but it would have to involve Brogdon, Hauser, Kornet and Payton Pritchard (plus more), which gashes the Celtics' depth and would force Brad Stevens to make other moves in a dry late September market.
And, finally, don't forget: The Blazers don't want Horford or Brogdon (for the same reasons they don't want Holiday), they don't need Williams (they just acquired Deandre Ayton from the Suns as part of the Lillard deal), and they probably don't want to take a bunch of contracts onto their roster just before the offseason comes to an unofficial end with Media Day. Any of these trades would also need to include enough draft capital to outbid any other suitors (which incidentally is where a third team would actually likely come from in the deal — presumably Williams or Horford would be re-routed to a third team in exchange for more picks).
So to recap, the potential deals would be:
Brogdon + Horford + (matching contract — potentially Kornet or Hauser) + (draft picks)
Brogdon + Robert Williams + (draft picks)
Brogdon + (most of the depth chart) + (draft picks)
Of those trades, the one involving Williams might be the most realistic if the Celtics are building with the Bucks in mind — Williams simplifies the cap math without further denting the depth, and he would not help against Antetokounmpo as much as Horford. But the Bucks are not the only team the Celtics will face next season, and lineups with Williams outscored opponents by 10.6 points per 100 possessions last year. Dealing a 25-year-old high-ceiling big coming off one of his first healthy summers to date feels questionable at best, especially given how well he might fit next to new acquisition Kristaps Porzingis.
Is keeping Holiday away from other Eastern Conference contenders (such as the suddenly-jilted Heat) a major consideration? Will Holiday make 3-pointers in the playoffs? Is getting rid of Brogdon utterly imperative? Is the defensive upgrade from Brogdon to Holiday worth all the depth and draft compensation? Would losing Horford or Williams negate the upgrade? Do the Celtics even need to upgrade to beat a Bucks team with significant defensive holes?
If the Stevens is really exploring, these will all be difficult questions in need of an answer. Trading Marcus Smart for Porzingis signaled that any move is on the table if it improves the roster around Tatum and Brown, and Holiday is an excellent player. But he would not be cheap, and our guess — without direct knowledge of Brogdon's level of dissatisfaction — is that the Celtics will decide the price tag is too hefty.
Still, this summer has been surprising, and it isn't quite over yet.
Get the latest Boston sports news
Receive updates on your favorite Boston teams, straight from our newsroom to your inbox.